March 18, 2020
Since Roy Campbell first teamed up with Jeremy Tracey in 2017, it was clear that they had the makings of a championship doubles partnership. And although they often came close (including 2nd place at the 2018 World Crokinole Championship doubles, and 3 consecutive top four finishes at the Ontario Doubles Crokinole Championships), they never were able to quite get over the top. That all changed on Sunday at the 4th annual Paddyfest Crokinole Tournament, when Roy and Jeremy were both playing near flawless crokinole on their way to their first doubles championship, including a dominating 11-3 victory over Ray Beierling and Andrew Hutchinson.
The theme of the Paddyfest tournament is always a mix of casual and serious competitors, folks dressed in green in honour of the Emerald Isle, loud music, louder celebrations, and plenty of beer. And despite the smaller turnout this year, all of the above elements remained. Originally, 29 teams had signed up for the 2020 edition but due to the rapidly spreading impact of Covid-19 (more on that topic later), a number of teams chose to withdraw beforehand, leaving a field of 18. The Paddyfest organizers should always be commended for their work in organizing this festival, but especially this year. Like event organizers across the globe, they were faced with the tough decision of whether to run or cancel not just the crokinole tournament, but a slew of events that are popular with the community. In the end they decided to run the smaller events while cancelling the larger events, including the end-of-festival concert. In challenging times, the Paddyfest organizers made the best of the situation and ran a first-rate event.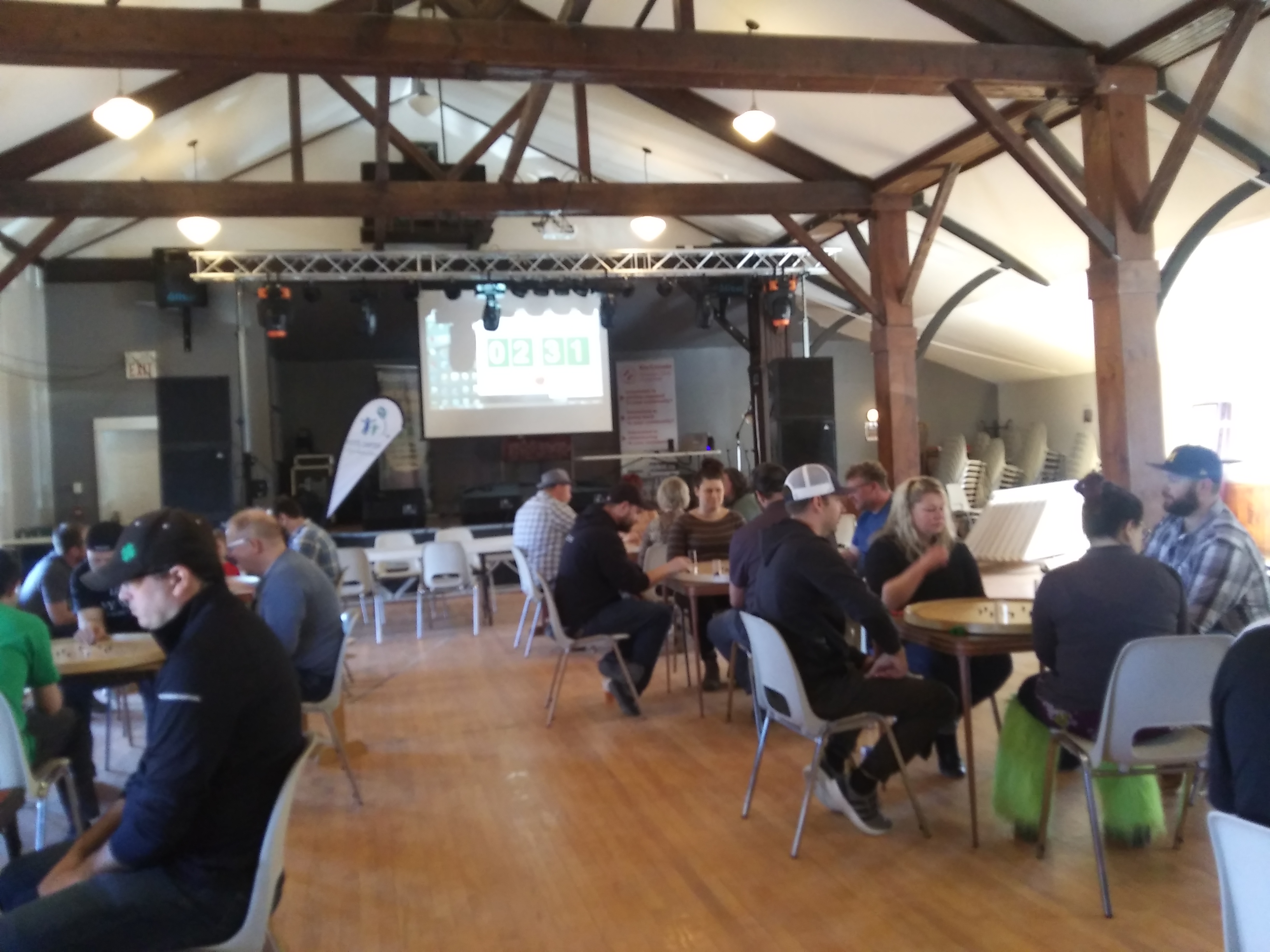 The 18 teams started the day in a WCC-style rotation where half the teams rotated clockwise and the other half rotated counterclockwise for 7 total games. After the games, the results were tabulated and teams were broken into 3 groups of 6 teams each: A group, B1 and B2 groups. These three groups would play a full round robin, with the top 2 teams in A advancing to the A finals, and the B1 and B2 group winners playing off in the B finals. The preliminary round saw the 4 teams with regular NCA competitors (Ron Langill and Peter Carter, 50 pts; Thunderstruck - Ray Beierling and Andrew Hutchinson, 49pts; High and Tight - Reid and Nolan Tracey, 47pts; and Hot Shots - Roy Campbell and Jeremy Tracey, 43 pts) advancing to the A group, along with a couple of the local contingent: (Doug's Boys, 37 pts and Phickin Pucks, 36 pts). The B1 and B2 groups would be equally divided between the remaining 12 competitors, which included some impressive preliminary scores from: Bumper Bruisers, 30 pts; Jeff and Robert, 29 pts; and Kaila and Mike Martin and the Finger Puppet Mafia, each of which ended with 25 pts.
After a quick lunch, the teams reconvened in 3 groups. At the end of the 5 game round robin, B1 saw Bumper Bruisers (29 pts) narrowly edge out the Finger Puppet Mafia (27 pts) and handily surpass Net Flicks, who were chilling in 3rd with 18pts. In B2, Jeff and Robert retained their strong form with 33 pts, easily surpassing the closest rivals Kaila and Mike Martin (27 pts) and Just for Laughs (19 pts). In the end, Jeff McKeen (who recently made his NCA debut with a strong finish at the Golden Horseshoe Crokinole Championship) and Robert Nicol (who was participating in his first tournament ever) comfortably bumped off the Bumper Bruisers to claim the B Championship.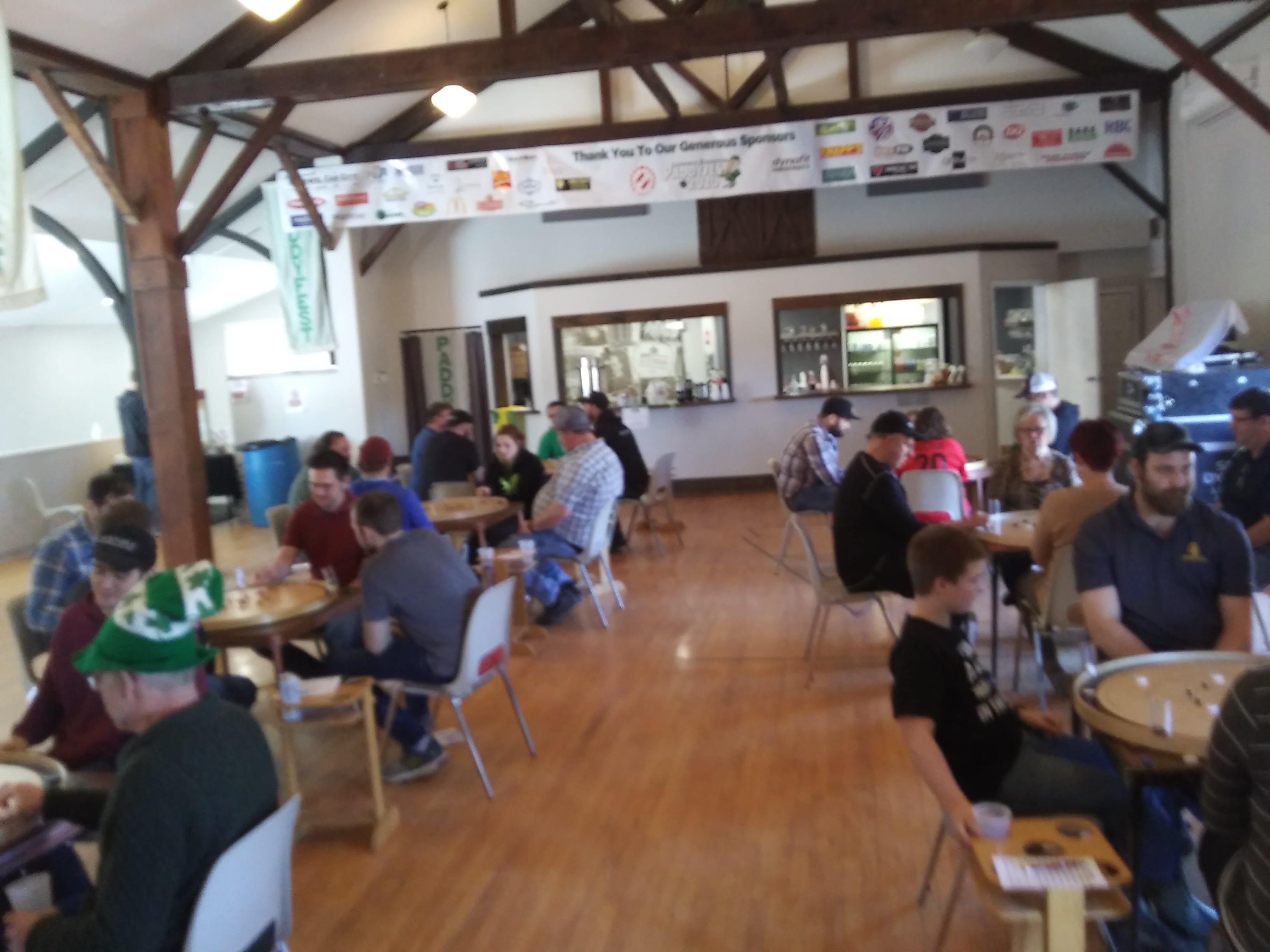 The A group saw 2 teams jump to early leads after the first 3 of 5 games. Campbell/Tracey scored 22 out of a possible 24 points. Not to be outdone, Beierling/Hutchinson earned all possible 24 points. At this point, it was clear that the 2 spots in the finals would come down to a 2-team race, the question would be who would earn first seed. The 2 favourites faced each other in the fourth game with Campbell/Tracey earning a 5-3 victory (and avenging a 6-2 loss in the preliminary round). When the round robin was complete, Campbell and Tracey earned the first seed with 35 points, Beierling and Hutchinson had 31 points to easily secure second place. Third and Fourth place belonged to the Tracey boys with 22 points and Peter and Ron with 18 points. Rounding out the A group were Doug's Boys with 9 points and Phickin Pucks with 5 points.
Thus, after the preliminary round and the A group round robin, two teams were left standing. Roy Campbell and Jeremy Tracey, who were in their first Paddyfest finals (they had finished 2nd in 2017 to Jon Conrad and Andrew Hutchinson, when the champion was decided by a round robin, and had missed out on the finals in 2018 and 2019). Facing the perennial partners, were the interesting pairing of Ray Beierling and Andrew Hutchinson. Ray, of course, is well known as one half of the most successful doubles team, as he has always partnered with his brother Jason for the last 20+ years. However, due to a curling tournament, Jason was not able to make it. Ray was interested in playing in his first Paddyfest tournament, so was looking for a partner for the day. Andrew Hutchinson, on the other hand, has never had a consistent doubles partner; he has mostly played with Jon Conrad (with whom he partnered to win the 2017 and 2018 editions of Paddyfest, as well as the most recent ODCC tournament) but has also played with a couple of other top players in tournaments, namely Connor Reinmann (2018 ODCC) and Jeremy Tracey (2019 US Open Doubles). So Ray and Andrew joined forces in what appeared to be a promising partnership. And they lived up to that promise until they ran into the wrecking ball that was Campbell/Tracey in the finals.
The finals was set up as a first to 11 affair, and with top seed Campbell/Tracey had earned the right to first hammer which they used to gain a 2-0 lead. Three more wins saw them jump to a quick 8-0 lead. All of these rounds followed a similar pattern: Beierling/Hutchinson struggled with their open 20s, giving Campbell/Tracey an early lead to work with, which they defended with precise defensive leaves. Beierling/Hutchinson, in turn, were forced to take chances which either set their opponents up, or when successful, their adversaries simply answered back with an open 20 which Campbell/Tracey were strong on all game. Beierling/Hutchinson were starting to enter desperation territory as they began the 5th round without the hammer, and again they were first to miss an open 20 and were forced to fight back from behind. This time, however, they were able to crawl back into the round, and put the pressure on the leaders. Yet, Campbell and Tracey continued to hit open 20s, including Tracey's hammer shot that clinched a tied round after each team hit 9 20s. Beierling/Hutchinson were down 9-1 but had finally managed a point. However, they were not able to build on the momentum of their strong 20 shooting the previous round, quickly finding themselves behind in the next round. It looked like Campbell/Tracey were going to win the round and the championship, until Campbell scored a 20 for the opponents on his last shot to turn the round in Beierling/Hutchinson's favour, allowing them to pull to within a score of 9-3. And while Beierling/Hutchinson were hoping that would be the break they needed to surge to an epic comeback win, it ended up to be a mere hiccup for Campbell/Tracey, who proved to be like a cat playing with a mouse for sport before going in for the kill. Campbell/Tracey didn't allow the previous round's error to get to them, and continued their near flawless play, winning the deciding round handily to cement the championship game by an impressive 11-3 score.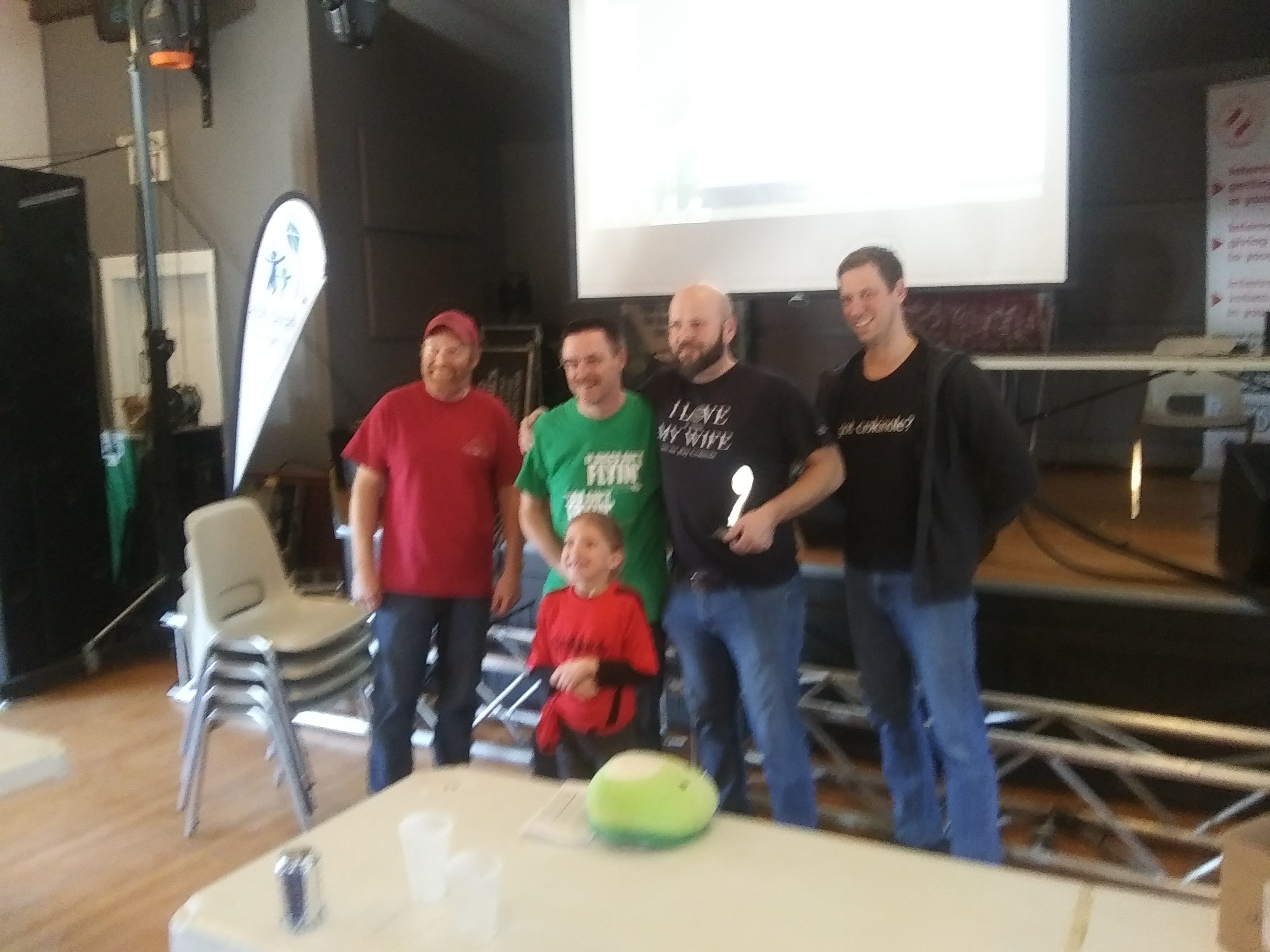 Closing Thoughts:
Roy Campbell and Jeremy Tracey winning a doubles championship together has always seemed to be a matter of not if, but when. Individually, they both have all the building blocks of championship players: when they're on they can hit open 20s with the best of them, they are strong with angles and defensive roles, and they are as good as anyone with double takeouts. But above that, they also have the ability/creativity to imagine and make almost unreal shots that most others don't see or aren't willing to try. Put them together at the same board, and this last talent seems to magnify. Up until this point, they have always had strong showings in doubles, but haven't been able to do quite enough to get over the top. This day, however, we saw them at their best. If they can show this form again, they should have plenty more opportunities over the years to celebrate doubles championships together.
I had the chance to help Ray Beierling run the day-of portion of the tournament, which was my first time helping to run a tournament. There are a lot of behind the scenes aspects that as a participant we don't necessarily notice, but which are required for a well run tournament. So I just want to thank all those who have done the hard work of organizing and running crokinole tournaments throughout the years - our sport depends on people like you, so keep up the good work!
My personal reflections on Covid-19: The Paddyfest crokinole tournament took place in the midst of a string of cancellations due to the emergence of Covid-19. For many of us, Paddyfest will likely be the last larger social gathering that we'll attend for a while (who knows how long). In recent history (the last couple of generations), whenever we've had traumatic events or disruptions (eg. past viral outbreaks, wars, etc.) we have also had events and activities that help to keep life 'normal'. Arguably, the first sign that things would be different with Covid-19 was when the NBA suspended their season. And significantly, to the crokinole world at least, a couple of days later the London Crokinole Club decided to postpone their annual championship, the next leg in the NCA tour. One thing that keeps us grounded and helps us keep going during difficult times is the distractions that sports provides. Even during the most challenging times, we can follow our favourite sports team or spend a Saturday away competing at a crokinole tournament. In the current context, however, we are temporarily losing these distractions. When life returns to 'normal' I will treasure the joy of again gathering with a group of fellow crokinole competitors and partaking in a tournament, with all the laughs and fun that go along with the day. And in the meantime, to survive the current reality that we live in I am seeking to discover and develop other distractions and joys...and also practicing my open 20s, because sooner or later I trust those will come in handy again.