March 18, 2020
CrokinoleCentre has already had a couple posts reviewing the 2010s with the fine lens of hindsight, and this penultimate post about the previous decade will look at the best performances of the decade.
Previously the best CrokinoleCentre matches were ranked, and this post will expand from looking at solo matches to looking at a player, or team's, total performance throughout a single tournament.
Defining Impressive
For the purposes of this post, impressive will be an all-encompassing term that could include performances that range from surprising, to dominating, to admirable. To reach for examples from the more commercially popular sports, examples that exemplify these criteria would be Tiger Woods US Open victory with an injured knee, Lewis Hamilton's dominating win at the 2008 British Grand Prix, Michael Jordan's flu game, and Bobby Baun's overtime winner with a fractured ankle. Most of those sports are nowhere near as exciting as crokinole, so it tells you how incredible the performances were that the achievements remain memorable today.
Since crokinole's greatest achievements aren't hammered into the public eye with front-page newspapers and repetitive advertising campaigns from a multinational sportswear corporation, their respective prestige has been carried forward through the collective memories of the crokinole community. And now here they can be somewhat officially recognized.
They'll be no ranking of these achievements, due to irrepressible subjectivity, so instead they will be listed chronologically.
2010 Ontario Doubles Crokinole Championship - Brian Cook and Fred Slater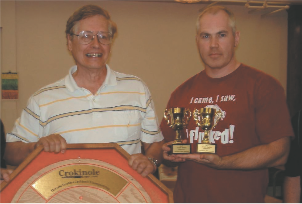 In the Fall of 2010 the Beierling brothers held the first edition of a soon to be staple event on the crokinole calendar when they hosted the Ontario Doubles Crokinole Championship. Brian Cook and Fred Slater partnered together for the first time, which offered the crokinole world the chance to see Cook back in doubles action (something he had not participated in for many years at the World Championships).
It was expected they would make a formidable pair being that Cook was undoubtedly near the top of the game, and Fred Slater had partnered with Justin at the 2009 Worlds to finish 3rd and prove his own doubles prowess. They earned the top seed for the playoffs with 87 points, one point ahead of the Beierlings, and a decent ways ahead of Conrad/Kiggins and Brown/Brown.
In the championship final 4 round robin, they were nearly perfect. Cook and Slater won 22 out of a possible 24 points, and ultimately won the ODCC title by 12 points ahead of Conrad/Kiggins in second, for one of the most dominating doubles playoff performances in competitive crokinole. (Just edging out the 2017 ODCC playoff performance from Connor Reinman and Nathan Walsh who scored 20 out of 22 possible points in the semifinals and finals that year.)
2011 World Crokinole Championship - Julian Chalmers
Throughout the decade there were a number of surprise storylines that came from unknown, or at least unheralded, players. Some of those strong performances were the first of many, while for others it would be their crowning achievement of the decade. Several come to mind, such as Eric Miltenburg's 2011 London runner-up finish, Ray Haymes 2nd place at the 2013 World Championships, Andrew Hutchinson's 2016 Hamilton finals appearance, Connor Reinman's trip to the final 4 at the 2017 Worlds, and Darren Carr's title challenge at the World Championships in 2019.
Considering performances of this ilk, the most impressive has to be that of Julian Chalmer's 5th place finish at the 2011 World Championships. At the time there was a near-mystery surrounding a supposed group of Canadian teachers, working in China and organizing their own self-titled Chinese Crokinole Championship. According to a source (unnamed not for anonymity, but rather failing to remember), it was there that Julian Chalmers honed his skill and even won his first tournament.
Even after Chalmers finished 3rd at the 2011 BC provincial event (behind Fred Slater and Quin Erzinger) few would have expected a terrific World Championship performance. That's in part because he was living in BC and few have travelled that distance to the WCC. Which is when the 2011 WCC's biggest storyline became to emerge, as a fundraiser was setup and ultimately was successful in sending Chalmers to Tavistock on the first Saturday of June.
He impressed immediately by winning the Intermediate division, and was granted special exemption to participate among the adults. After making the Top 16, finishing 12th out of 81, Chalmers put together a valiant effort to score 30 points in the round robin, but miss making the final 4 by 1 point. It was Ray Beierling and Tom Johnston who finished ahead of him, but by Chalmers surpassing Nathan Walsh, Ab Leitch and Justin Slater, he certainly proved age wasn't a factor.
2012 World Crokinole Championship - Jon Conrad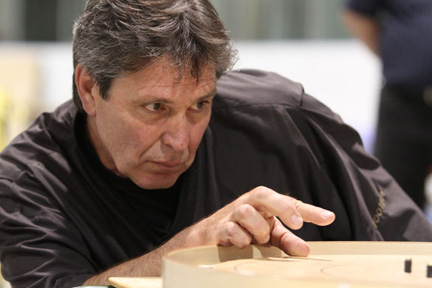 Conrad's 2018 World Championship run could have easily made this list. It wasn't widely talked about, but days before the event Conrad was overcoming a bout of vertigo that put his participation in question. Amazingly not only did he play, he soared to finished 2nd in the preliminary round, 2nd in the Top 16, 1st in the Top 4, and then nearly came away victorious in the classic final match against Justin Slater.
It's the 2012 performance though that stands out remarkably, as the most dominating WCC victory.
In the morning play, Conrad teamed up with Tony Snyder to win the doubles event (their first as a pairing) as Conrad was halfway to becoming the first to win the doubles and singles events on the same day.
Conrad's singles preliminary round was beyond believable when it was posted that he scored 77 out of a possible 80 points to take 1st place by a huge 9 point margin (over Justin Slater).
In the top 16, Conrad finished 1st in Pool A with 41 points, finishing 10 points ahead of Ray Beierling in 2nd. (Justin Slater scored 43 to finish 10 ahead of Cook.)
Conrad took the top spot after the final 4 with 17 points to Slater's 16.
To cap it all off it was Conrad who came away victorious in a 4-6, 6-0, 6-4 win over Slater to claim the 2012 WCC title in the most thoroughly dominant performance in the history of the World Championships.
2014 Joseph Schneider Haus Museum Crokinole Tournament - Nathan Walsh
The crokinole tournament that takes place at the Schneider Haus Museum (formerly known as the Joseph Schneider Haus Museum) is one-of-a-kind. Players compete as clubs, scoring points through singles matches against every member from every other team. While the team scoring is the most celebrated part of the tournament, their is a prize and prestige for finishing with the highest individual score.
However, scoring the highest individual point total is not always a fair competition. Since a player avoids playing members of their own team, it can be advantage to have a strong team so as to miss out on some some tough competition.
In 2014 the Waterloo team had a rough year and finished last in the tournament, with their individual players occupying 3 of the bottom 5 spots (including last and second last). The lone bright-spot was Nathan Walsh.
Walsh finished 1st in the event, scoring 46% of his team's total score, beating out players like Jon Conrad, Fred Slater, Roy Campbell, Louis Gauthier, Jason Beierling and Ab Leitch, all of whom played among the top 3 teams at the event.
The 2014 win was the first of a hat-trick of victories for Walsh at the Schneider Haus, but he was given much more support from his teammates in 2015 and 2016.
2014 World Crokinole Championship - Brian Cook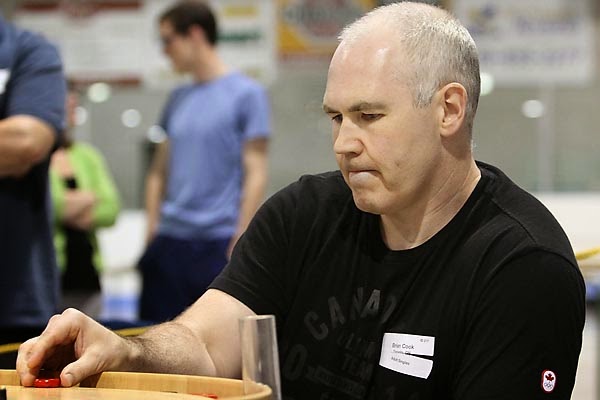 Brian Cook is certainly no stranger to success, and in the entire decade one could point many impressive tournaments from the crokinole legend. For example:
The 2011 Schneider Haus event where not only did Cook win, he did so by a margin of more than 20 points over 2nd place (in only 16 games).
The 2019 World Cup in Budapest where he played his first tournament in over 4 years and won both the doubles and singles categories.
The 2011 Belleville Crokinole Challenge where Cook won the tournament and scored a Grand Slam (a new term I've come up with to signify when a player scored the most points and most 20s in every stage of a tournament).
For Cook there has certainly many dominant victories, but it's the 2014 World Championship title that goes down as the most admirable. Here's the story:
In 2014 Justin Slater and Nathan Walsh were coming in as favourites to win the World title. Slater had finished ahead of Cook in both the 2012 and 2013 WCC events, as well as when he won the preceding St. Jacobs event one month prior.
Nathan Walsh also came in with an upper hand on Cook. Walsh had defeated Cook the previous Fall at the Belleville event, and then eliminated Cook from the recent St. Jacobs event with a 6-0, 6-0 semifinal victory.
While Cook had a tremendous history at the World Championships, his streak of success had recently been snapped. In 2012 his 8-year streak of finals appearances was broken, and in 2013 his 9-year streak of final 4 finishes was stopped.
In the Round of 16, Cook took the top spot in Pool A, but Walsh and Slater set the Pool B field ablaze. Walsh and Slater scored 45 and 44 points respectively, which still stands today as the record as the highest and second-highest ever point totals from that stage of the tournament. Both where carrying in massive confidence, with Slater having won the doubles event in the morning, and Walsh having finished 2nd in doubles, travelled to Waterloo to write a university exam, and returning for singles action. To the outside observer, Walsh and Slater were on a war-path that would only stop in the finals.
After Cook lost to Slater in the first game of the final 4 he got revenge against Walsh with a 6-2 win that earned him 2nd place and a spot in the finals.
And in finals Cook rose to the challenge once more, this time being superior over Slater, and winning the match 6-2, 6-4.
At many times over the decade Brian Cook was deemed a favourite to win every tournament he played. He was often rightfully bestowed that favourite tag, which is what makes that one event in which he was the underdog so impressive.
2014 Ontario Doubles Crokinole Challenge - Jason Beierling/Ray Beierling
The Beierling Brothers won many doubles tournaments in the decade, so there was a lot to choose from, but 2014 takes the crown as their title that day never did seem in doubt.
In the 12-team preliminary round the Beierlings scored 70 points in 11 games to finish 14 points ahead of second place and easily earn the top seed for the page playoffs (the ODCC briefly used the page playoff format that's typically only seen in curling), in addition to their tournament-high 160 20s.
In the 1-2 page playoff game the Beierlings comfortably beat Justin and Fred Slater 12-6 to advance directly to the finals. In the finals they would once again play the Slaters, but this time they came away with an even more commanding victory as they won 13-3 to cap off an incredibly strong performance.
2015 Scenic City Crokinole Classic - Roy Campbell
By the Fall of 2015 Roy Campbell had already deservedly earned the credential as one of the game's strongest competitors, but without yet having made an NCA final he wasn't looked at as a massive threat to win individual tournaments.
In Owen Sound he started the day as expected by finishing 5th in the preliminary round to advance to the A group, but was facing tough competition against the likes of Ray Beierling, Jon Conrad, Nathan Walsh, Jason Beierling and Brian Cook. In that second round Campbell was the class of the field, scoring 39 points in 7 games for 1st place, and advancing into the final 4 by a margin of 13 points.
The impressiveness of his play only rose from there, when he scored 18 of 24 possible points in the final 4 against Brian Cook, Jason Beierling and Robert Bonnett, easily taking the top seed into the finals. And he sealed his maiden NCA title with a 12-8 victory over Jason Beierling to finally cement himself as a legitimate title contender.
2016 Forest City Flickers Crokinole Tournament - Ray Beierling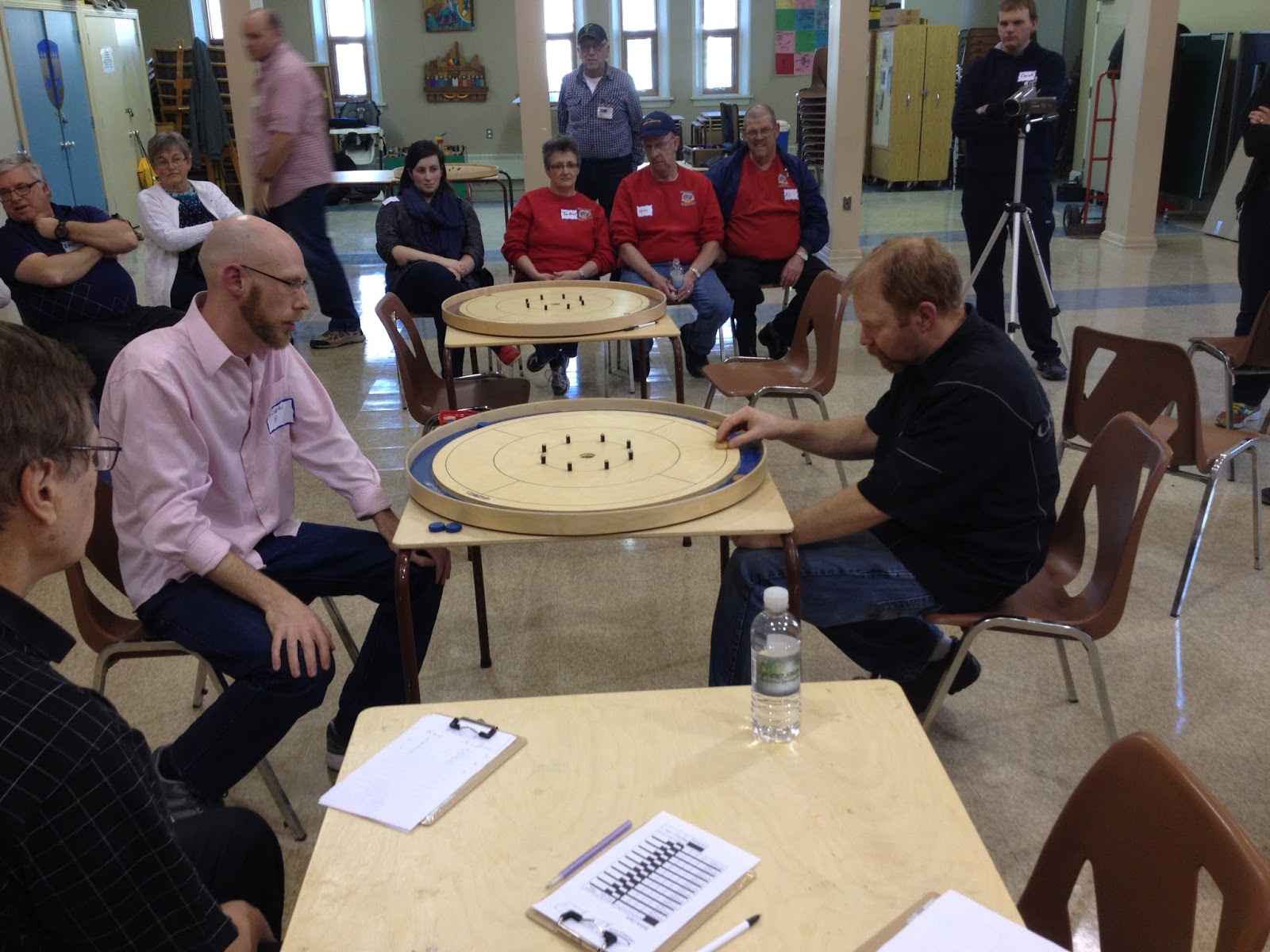 Everyone knows that Ray Beierling's home tournament is his best tournament. No one has been victorious in London on multiple occasions, with the exception of Beierling who has won 5 times. Certainly when you come to London you know Ray Beierling is going to make it a tough fight, but in 2016 there was really no point in even showing up.
In the preliminary round Beierling scored the most points (56) and 20s (78) after 9 games, then followed that up finishing 1st in Group A in the afternoon by a margin of 6 points (he'd fall just short of a Grand Slam due to Rex Johnston and Fred Slater scoring 2 more 20s).
For his 1st place seed it looked as though he would be unluckily matched up against Jon Conrad, who was looking quite strong after just winning the most recent event in Hamilton. But the response from Ray Beierling was the most dominant playoff singles performance of the decade when he scored 20 of 22 possible points to beat Jon Conrad 10-2 in the semifinal, and then beat Andrew Hutchinson 10-0 to take the London title.
2017 World Crokinole Championship - Clare Kuepfer/Nathan Walsh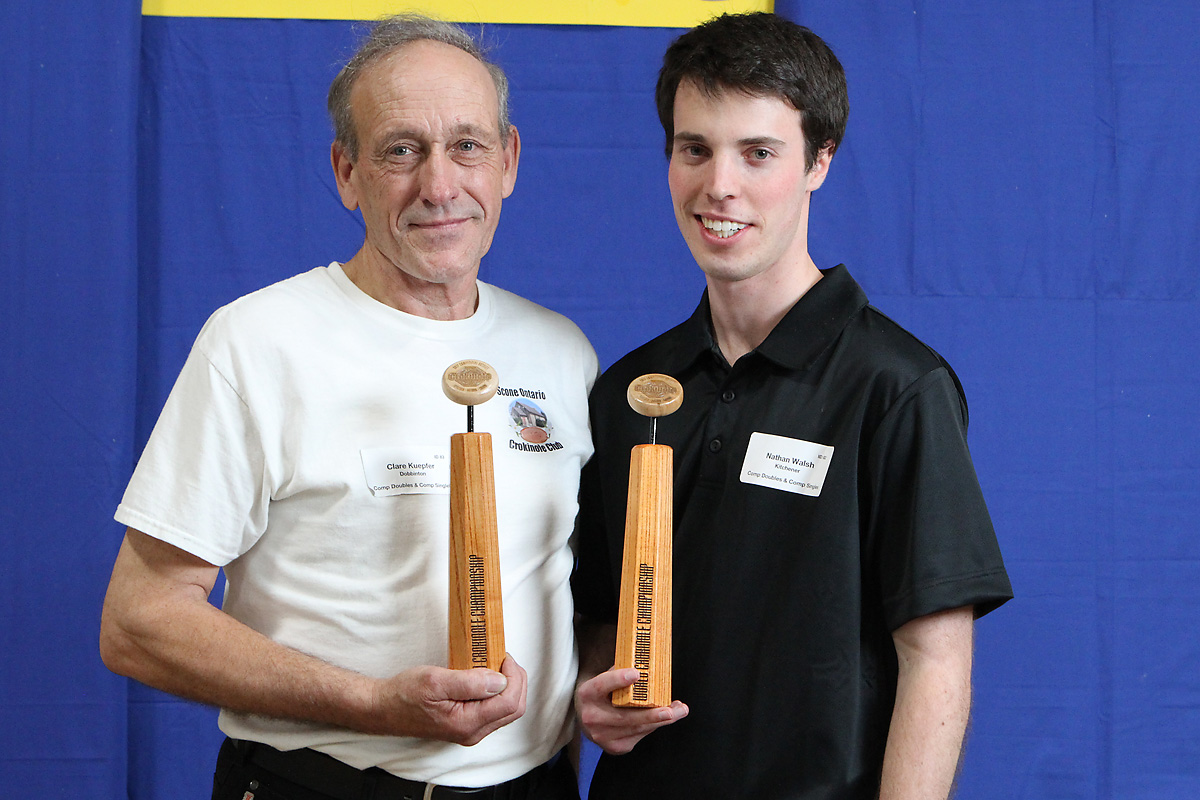 Clare Kuepfer and Nathan Walsh doubles partnership formed by a simple stroke of happenstance, when the two both independently decided to attend the PEI Provincials and needed a convenient choice for a doubles partner. They had an extremely successful day, scoring 61 out of 64 possible points in the preliminaries, and then winning the finals 6-2, 2-6, 6-2 over the Island's top team in Wilfred Smith and Lawson Lea. Conveniently they were both looking for partners for the World Championships at the time, and decided on that April day in PEI to team up.
While they would make the top 6 in the WCC Doubles competition a total 5 times in the decade, they would lament (like many other teams) that they couldn't find their best game in the playoff round. That certainly wasn't the case in 2017.
Kuepfer and Walsh completed the 5-game playoff round robin with 5 wins, 0 draws and 0 losses to score 30 points and win the WCC title by a margin of 10 points over Tony Snyder/Dave Meijer and Jason Beierling/Ray Beierling. The 10 point margin of victory is the largest in recorded history of the World Championship doubles event.
2019 Golden Horseshoe Crokinole Tournament - Justin Slater
There were a number of performances from Justin Slater over the decade that were awe-inspiring. In 2010 he ended Cook's 3-year run as World Champion. In 2012 he raised the level of what was thought possible with 142 20s in the WCC preliminary round. And in 2018 he pulled off several spectacular shots to stay alive and eventually claim victory in the 2018 WCC final.
However, one performance stands alone as jaw-dropping.
At the end of 2018 it was general knowledge that the World Record for most 20s scored belonged to Justin Slater, but this was debunked due to some concerted digging into old statistics that ultimately set the record straight revealing that Brian Cook still held the record. Justin Slater went on a mission to reclaim the title, and he left nothing to chance in Hamilton in 2019.
After easily making the afternoon A Pool, Slater racked up 68 points in 11 games (the 6th best points-per-game performance of any NCA Group A event in history), while simultaneously scoring 181 20s. That translated to 164.5 20s averaged over 10 games, and smashed the old world record.
Eager to complete the triumph of the day, Justin Slater then raced through the playoffs, winning 6-2, 6-4 over Reid Tracey in the semifinals, and cruising through the finals 6-2, 6-0 against Roy Campbell.