February 4, 2023
Wilmot, Owen Sound, Elmira. Three tournaments entered by Connor Reinman. Three tournament victories for Connor Reinman. And if the scores can tell the story there's no one particularly close to his level.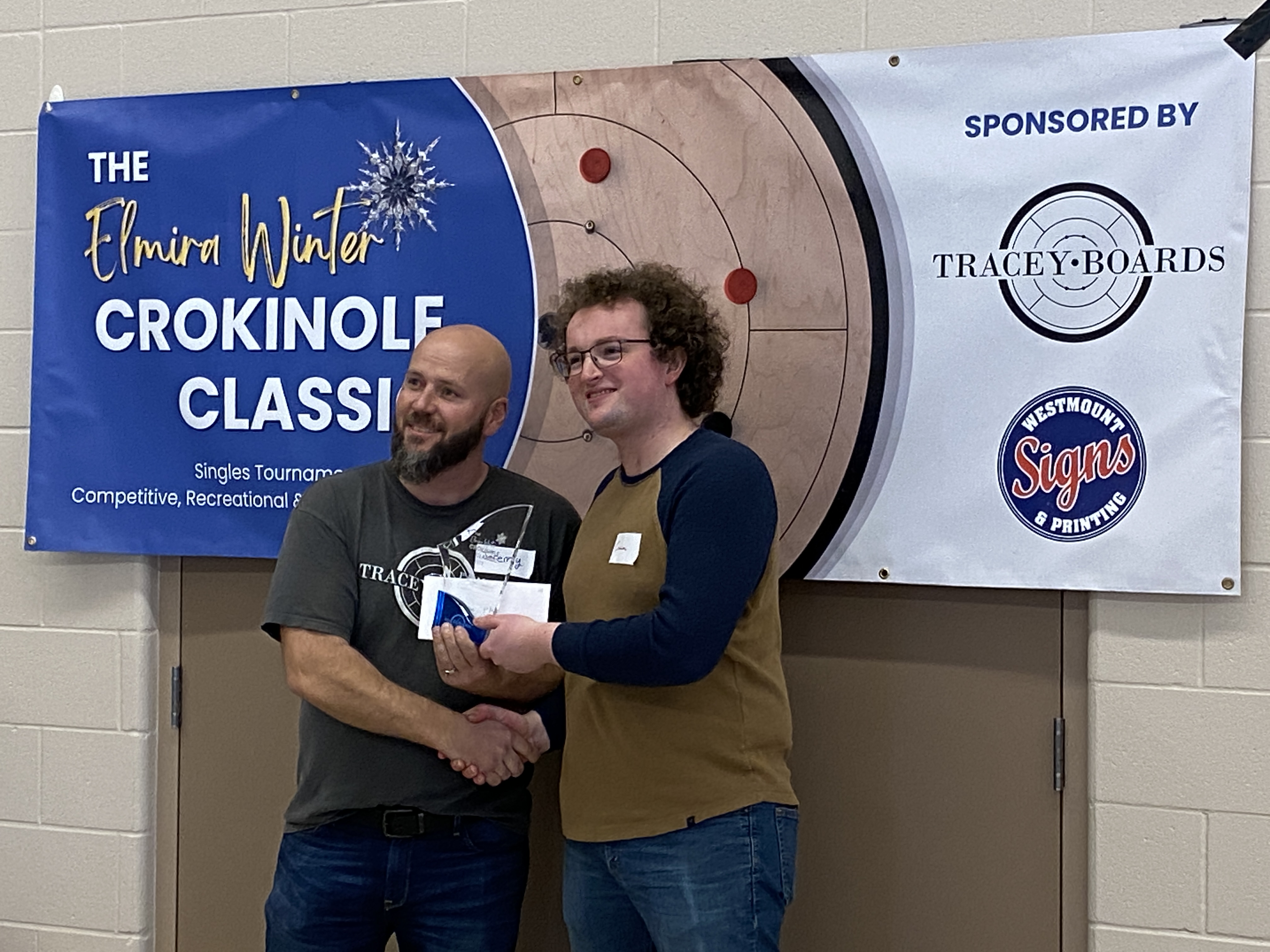 After a long break due to covid, organized crokinole's return has not been uniform. Some clubs and events came back early, with others still waiting. Fortunately, the demand and enthusiasm for crokinole is hotter than ever. The January fixture on the NCA Tour has long been the Golden Horseshoe event in Hamilton, but it was confirmed in December that the event would not return in 2023. A determined Jeremy Tracey was not prepared to let the opportunity for Winter crokinole slip away and immediately set out to host a tournament on less than two months of preparation.
The result? The largest attended crokinole event outside of the World Championships.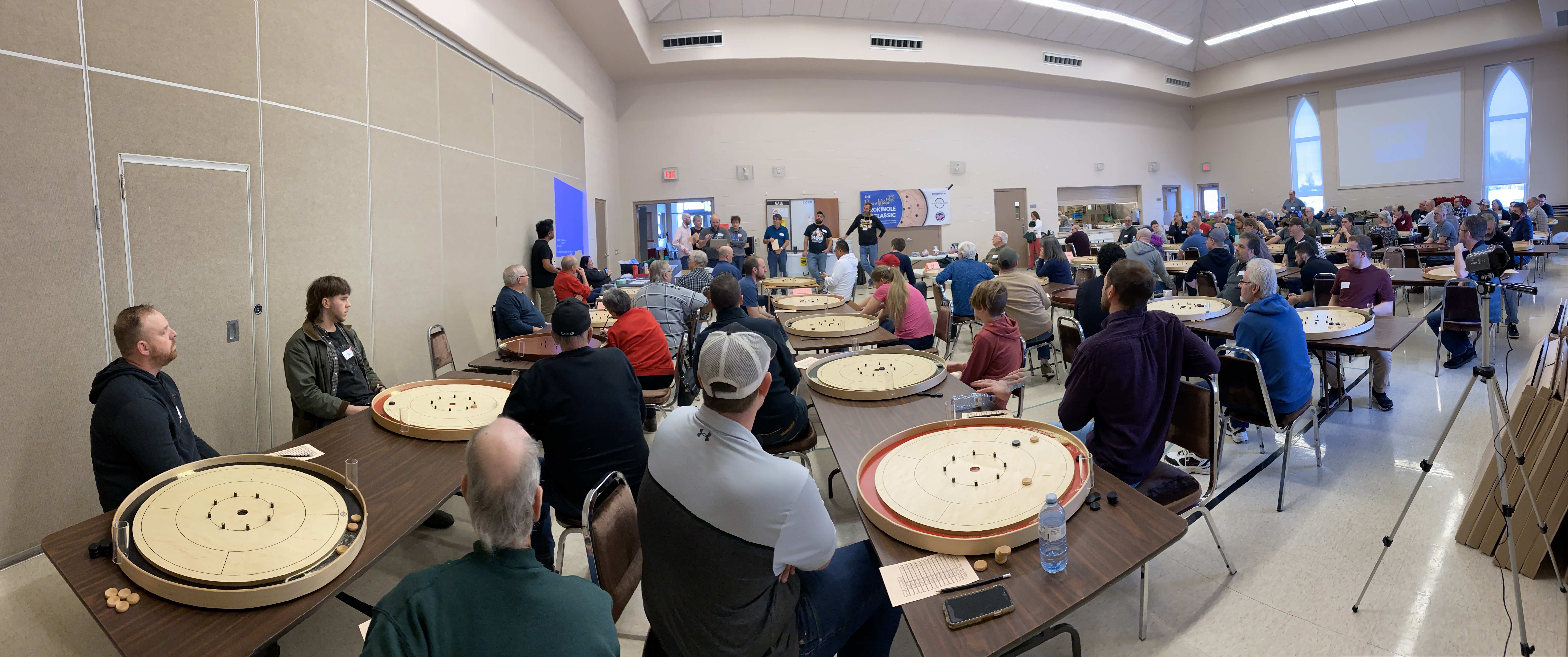 Impressive, to say the least, it was to see 88 crokinole players file into the Gale Presbyterian Church for the Elmira Winter Crokinole Classic. To CrokinoleCentre's knowledge this was the first big crokinole event hosted in Elmira, since the Ontario Crokinole Championships were held in Elmira in 1960.
Cues
At that 1960 edition of the provincial championships both fingers and cues players competed in the same division, and while that's a novelty not seen in modern crokinole, it was fitting that this Elmira event also featured a Cues division with a number of the top competitors one would see at the World Championships.
This list included Lorraine Proud (4-time World Champion), Oscar Weber (2-time World Champion), Dave and Dennis Brubacher (2-time Doubles World Champions, and both past runner-ups in the singles), and Josh Carrafiello (1-time runner-up for the World Championship).
The 19 players were split into 2 preliminary round pools. Dave Brubacher, Marilyn Berge and Josh Carrafiello were the high scores out of Pool A, while Dennis Brubacher and Jon Brubacher scored the highest in Pool B.
In the afternoon Pool B category, Oscar Weber recovered from a sub-par morning to get the top seed for the B Final. He was joined by Art Proud who edged out Jeremy Brubacher in the tie-breaker for the second spot. Weber then won the B title with a 10-6 victory over Art Proud.
Lorraine Proud only made the afternoon A group by a slim 3 points from the preliminary round, but win in fine form scoring 50 points in 9 games for first place in the pool. Josh Carrafiello finished 2nd with 46 points, followed by Dave Brubacher at 45. The final spot in the semifinals came down to Dennis Brubacher and Mary Kreutzer, who both scored 42 points, but it was Brubacher who got the playoff spot on tiebreaks.
While all four semifinalists have been around the Cues game for a number of years, both of the semifinal matchups were first-time elimination matchups. Dennis Brubacher defeated Lorraine Proud 9-5, while Carrafiello denied the all-Brubacher final by defeating Dave Brubacher 10-6.
Dave Brubacher avenged a 2019 World Championship loss to Lorraine Proud by winning the 3rd-place game by a narrow 10-8 margin. Meanwhile in the championship match Carrafiello was unstoppable winning the match 10-0 to claim his first ever Cues tournament victory.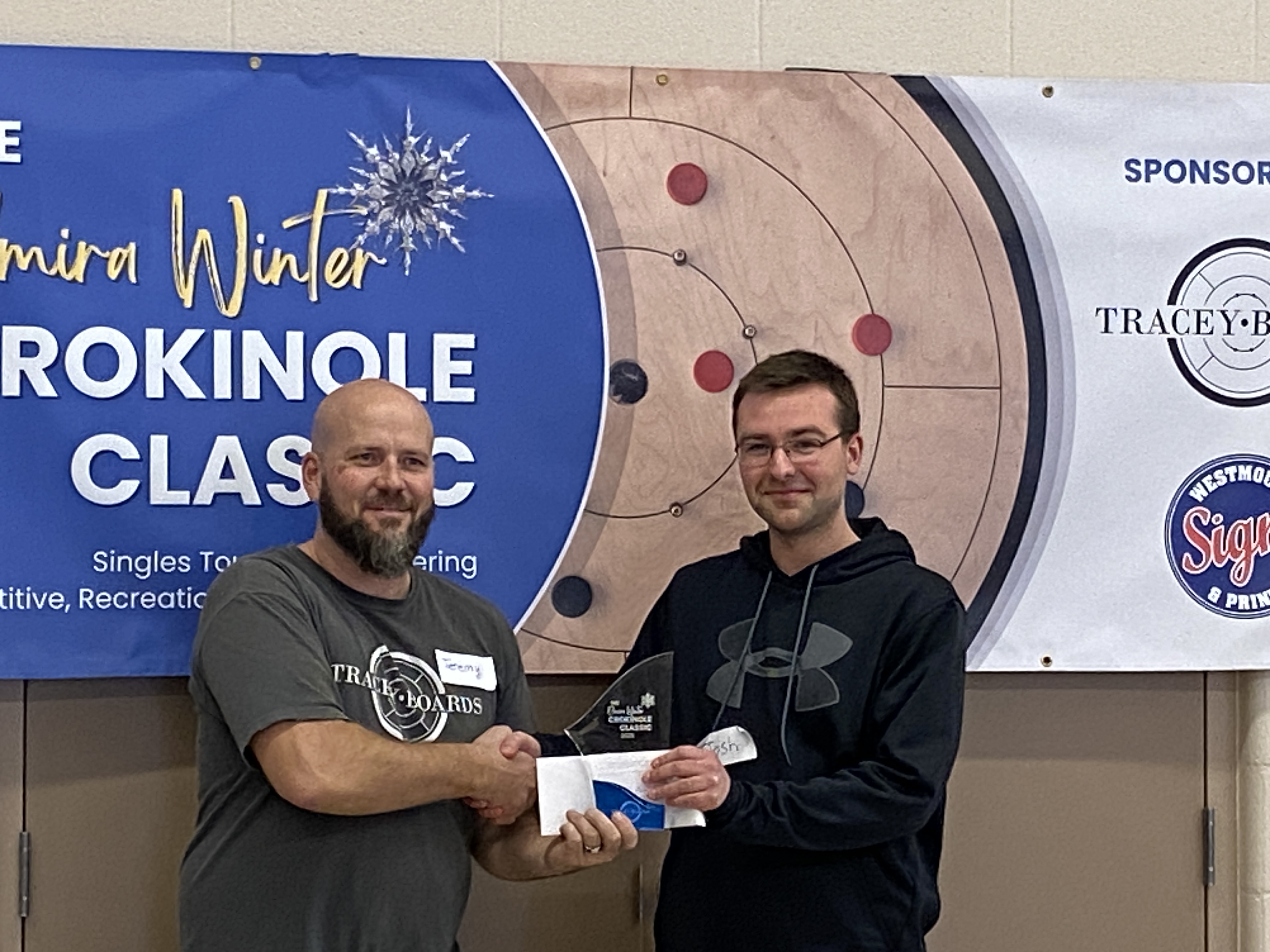 With this being the first cues tournament since the 2019 World Championships, and perhaps the last before the 2023 World Championship, it was great to see the competitive fire alive with so many of the players, and sure helps to bring excitement prior to the World Championship tournament.
Fingers
The Fingers play brought in competitors from Ohio, Indiana and New York, along with many new players from in and around Elmira.
The Recreational division was won by Jo-Ann Carter, in a tight final game over Graham Gaessler 9-7. Tournament new-comer Peter Stokoe had an impressive outing to finish 4th, defeated 10-4 by Vuth Vann in the 3rd-place match. Garth Harrison won the B title over Nolan Bechtel, and Crystal Campbell won the C title over Reuben St. Louis.
In the Competitive division the players were set into 4 groups for the preliminary round with 16 advancing to the A group in the afternoon. Top scores from the morning all came in around an average of 6-points per game. Kris Flossbach, Ron Langill and Justin Slater scored 61, 60 and 59 points respectively in 10 games from Pool A. While Nathan Walsh (54 points), Jeremy Tracey (53) and Ray Beierling (55) were the top scores in Pools B, C and D through 9 games.
The cut-off for the top 16 was tight. The top 3 scorers from each group, plus the next 4 highest scorers advanced. The top 3 in Pool A were a run-away, but Paul Brubacher and Peter Carter both managed to earn spots in the top 16 as well with 50 and 47 points. In Pool D Connor Reinman and Nolan Tracey tied for 3rd (10 points back of 2nd), but both managed to advance into the top 16 also with 44 points in 9 games (pro-rates to 48.9 over 10). Jason Malloy earned the final spot with 41 points from Group C (pro-rates to 45.5 over 10 games). In Group B James Medway and Simon Dowrick had tied with 40 points for 3rd-place, but Dowrick unfortunately lost on the tie-breaker and trailed Malloy by 1 point for the final top 16 entry.
In the afternoon Kevin Bechtel had a storming round robin showing in Pool D, with 42 points in 7 games, but Dan Hepburn (who only scored 9 points less in the round robin) won the D title with a 10-8 win in the finals.
Bob Jones, playing in his first tournament since November 2019, got into the C finals via a tie-break over Clare Kuepfer, and then defeated Reid Tracey 10-6 to win the C pool.
In the B pool, Tyson Kuepfer got the 1st seed in the finals with 40 points in the 9 games, but was followed by a log-jam of Simon Dowrick at 38, Jeff McKeen at 37, and Fred Slater and Raymond Kappes at 36. Tyson Kuepfer would win the B pool final by a score of 9-5 over Dowrick.
The top 16 group playoff was structured in the same way as the World Championships with the 16 players split into two pools of 8, and players in both pools needing to finish in the top 2 to make the semifinals.
Both pools saw comfortable margins emerge between the two advancing players and the rest of the field. Nathan Walsh and Connor Reinman scored 39 and 38 points, with Andrew Hutchinson finishing 3rd in the group at 31 points, followed by Nolan Tracey at 27. In the other group Justin Slater scored 43 points followed by Ron Langill at 37 points, with a 6-point gap back to Roy Campbell at 31 points, and Jeremy Tracey at 27.
That setup the semifinals between Connor Reinman and Justin Slater, and Ron Langill and Nathan Walsh. The Reinman v Slater match was the highlight of the event in terms of quality of play, even featuring a double-perfect-round which you can watch on the Tracey Boards YouTube channel. Reinman came away victorious with a 10-4 win over Slater to make the finals. The Walsh v Langill semifinal featured less precise play, but did have some drama when Langill, leading 8-2, missed on a final takeout shot, leaving his opponents disc in the 15 but, thanks to a flashlight review, his shooter just barely stayed in the 15 as well to win the match 9-3. Slater rebounded in the 3rd-place game and continued his dominating streak over Nathan Walsh with a 10-2 victory.
That left Connor Reinman going for his 3rd tournament win, and a commanding lead, on the 2022-2023 NCA Tour, against Ron Langill in his first ever singles championship game.
Through the first half of the match Langill was the better shooter on open 20s but Reinman was able to keep a fighting chance in each round with superior board play. In round one Reinman equalized with a takeout-20, but missed a hanger-20 entirely giving Langill an opening. Langill was unable to convert a touch combination 20 and Reinman took the round for 2-0. Round two Langill was again better on Open 20s but missed chances on two heavy-hangers to tie or win the round and trailed 4-0. Langill scored a comfortable win in round 3 to cut the deficit to 4-2, but lost the 20-race in round 4 and was forced to play 5 more shots before getting play back into the middle. From there he got a slim chance on another heavy-hanger to tie round, but missed and Reinman led 6-2.
In the last half of the match Reinman was equal or better on open 20s, and was able to always maintain an advantage in the board play. In round 6 there was a narrow opening for Langill on a tough ricochet-20, but otherwise the chances were minimal. With Reinman leading 10-2 Langill had a lead, but left a hanger-20 for Reinman who tied the round and then won it a few shots later for a 12-2 championship victory.
With the win Reinman moves into first place on the 2022-2023 NCA Tour. No one has more than one tournament victory on this year's Tour, except for Reinman was has three. But there are still four events on the Tour with Chatham up next at the end of February.
With the day rounding to a close, Jeremy Tracey took a moment to express gratitude for those who made the tournament a reality. Thanking the church group that provided lunch, along with Andrew Hutchinson, Roy Campbell and his wife for extensive efforts in tournament organization. And Tracey also thanked Willard Martin, who came donned in his World Crokinole Championship jacket, for his mentorship in Tracey starting his crokinole business, which no doubt was the first of many steps that led towards a tremendously successful 2023 Elmira Winter Crokinole Classic.
By the way, Jeremy Tracey is on a road-trip through the US making stops at various crokinole groups. Follow along on this Facebook page.