July 4, 2019
It was a near magical run for the unheralded Darren Carr who put together a string of surprises to move within a few points of becoming World Champion, but ultimately it came to an end as an unshakable Justin Slater forever stamped his legacy on the World Crokinole Championships by winning the event for the 5th time.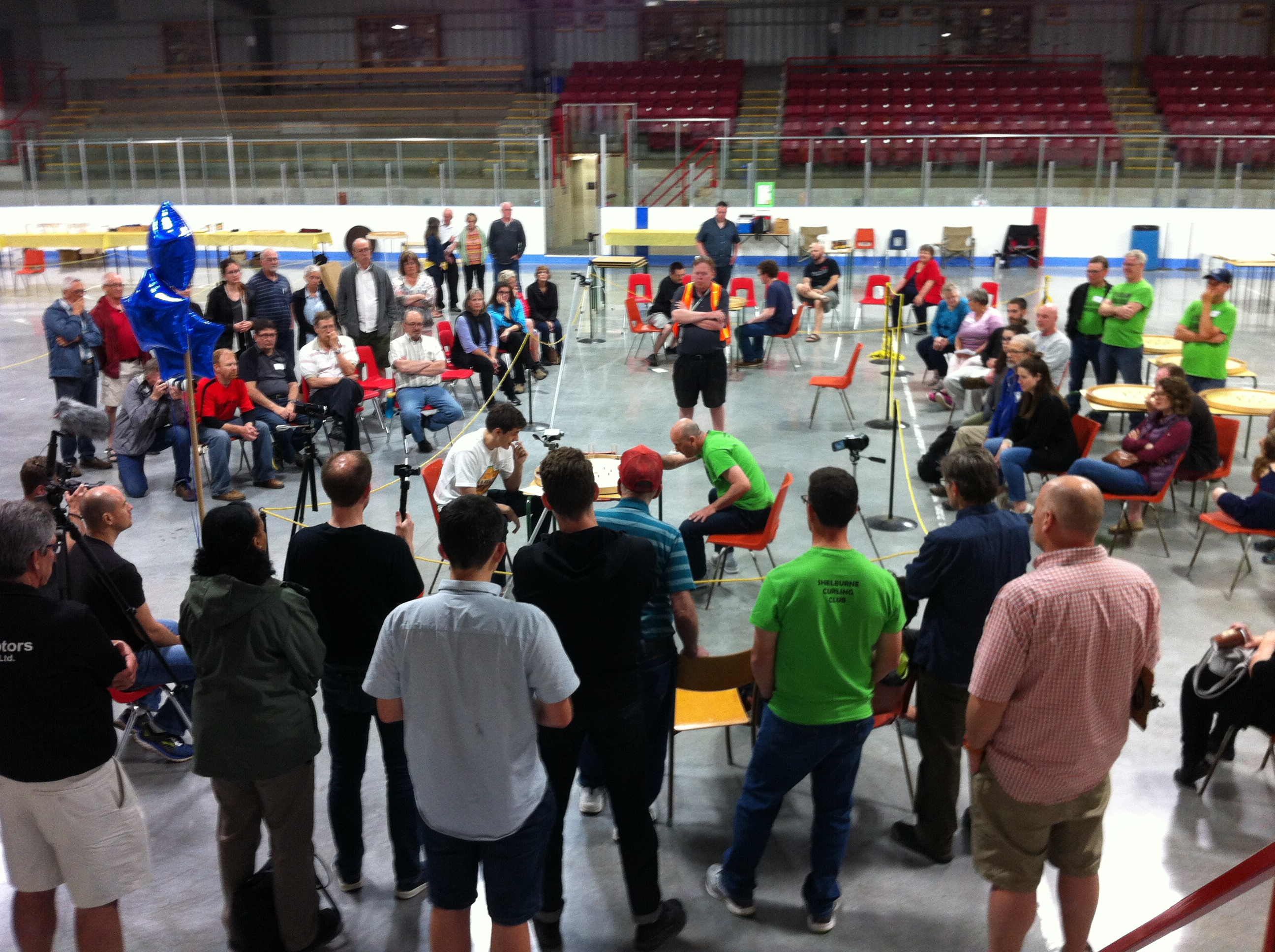 The 2019 World Crokinole Championship brought to light crokinole's ever increasing appeal and popularity as the tournament smashed attendance records with just under 400 players competing in the 21st annual edition. The surge in attendance provided challenges for the W/cc/ organizational committee as the Singles competition sold out weeks before the June 1st tournament. On tournament day, the Tavistock arena floor was decorated with 127 crokinole boards, leaving no boards, chairs, tables, or even physical space, to be spared.

The record attendance was comprised mostly of Ontarians, but also featured players travelling from PEI, Newfoundland, the Northwest Territories, and the Tuscarora Iriquois nation in New York. Once again a large number of Americans were in competition, with 30 players representing 7 states, deriving mostly from the crokinole clubs The City Flickers (Georgia), The Cambridge J's (Massachusetts) and The Extra Pint Crokinole Club (New York).
The couple, and doubles team, of Joert Edink from the Netherlands and Jane Manson, residing in the Northwest Territories, respectively claimed the distinction of having travelled the farthest globally and domestically for the 2019 World Championships. Both were competing in their second crokinole event after first having played at the 2018 European Crokinole Championships in Budapest. Additional European representation came as Tom Collins travelled from Guernsey to represent the UK crokinole contingent. For more regarding these international competitors, you can find the 2019 WCC recap written by Bill Gladding of the Tavistock Gazette.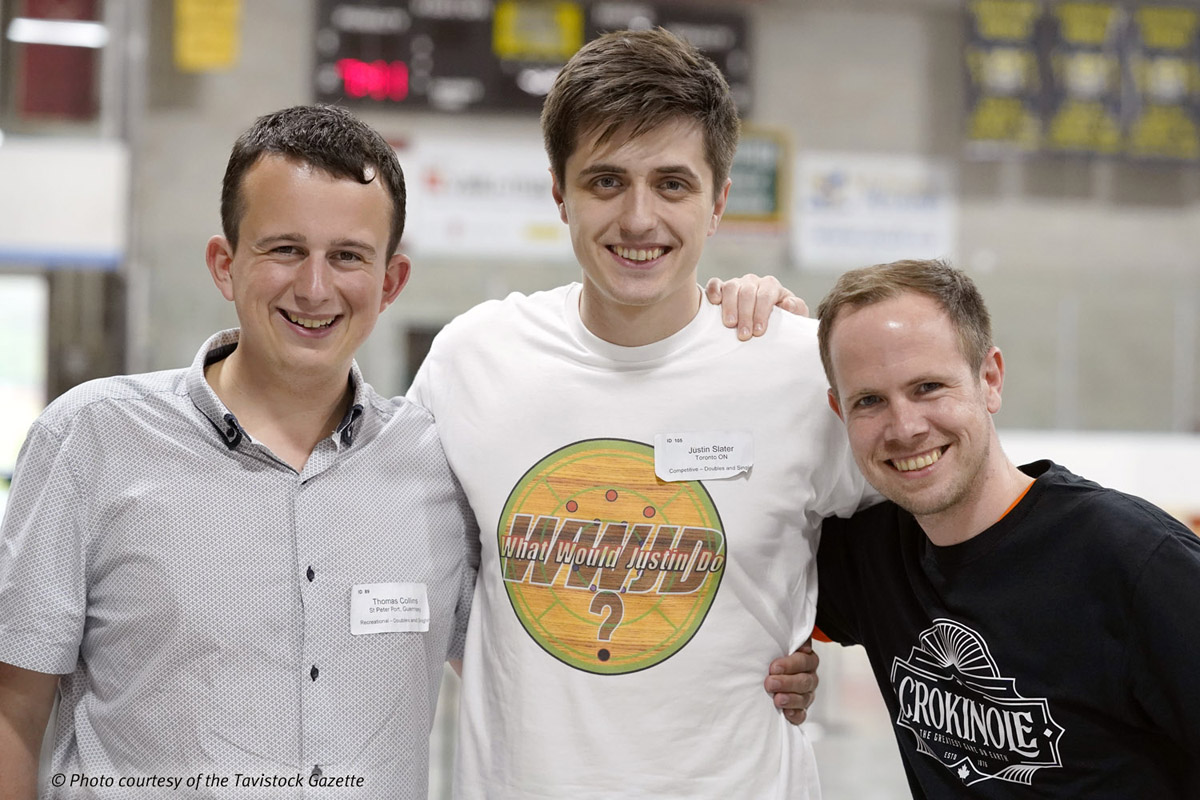 Doubles
46 competitive doubles teams entered the preliminary round aiming for an entry into the top 6 doubles playoffs. Favourites, and reigning World, Ontario and US Open doubles champions, Jason and Ray Beierling, led the preliminary round with 55 points and 99 20s. Their points and 20 scores are both the 3rd highest in the tournament history since the WCC switched to an 8-game doubles preliminary round in 2015. (Unsuprisingly, the Beierlings also own the highest scores in points and 20s in the doubles preliminary round with 57 and 115 respectively, both scored in 2017.)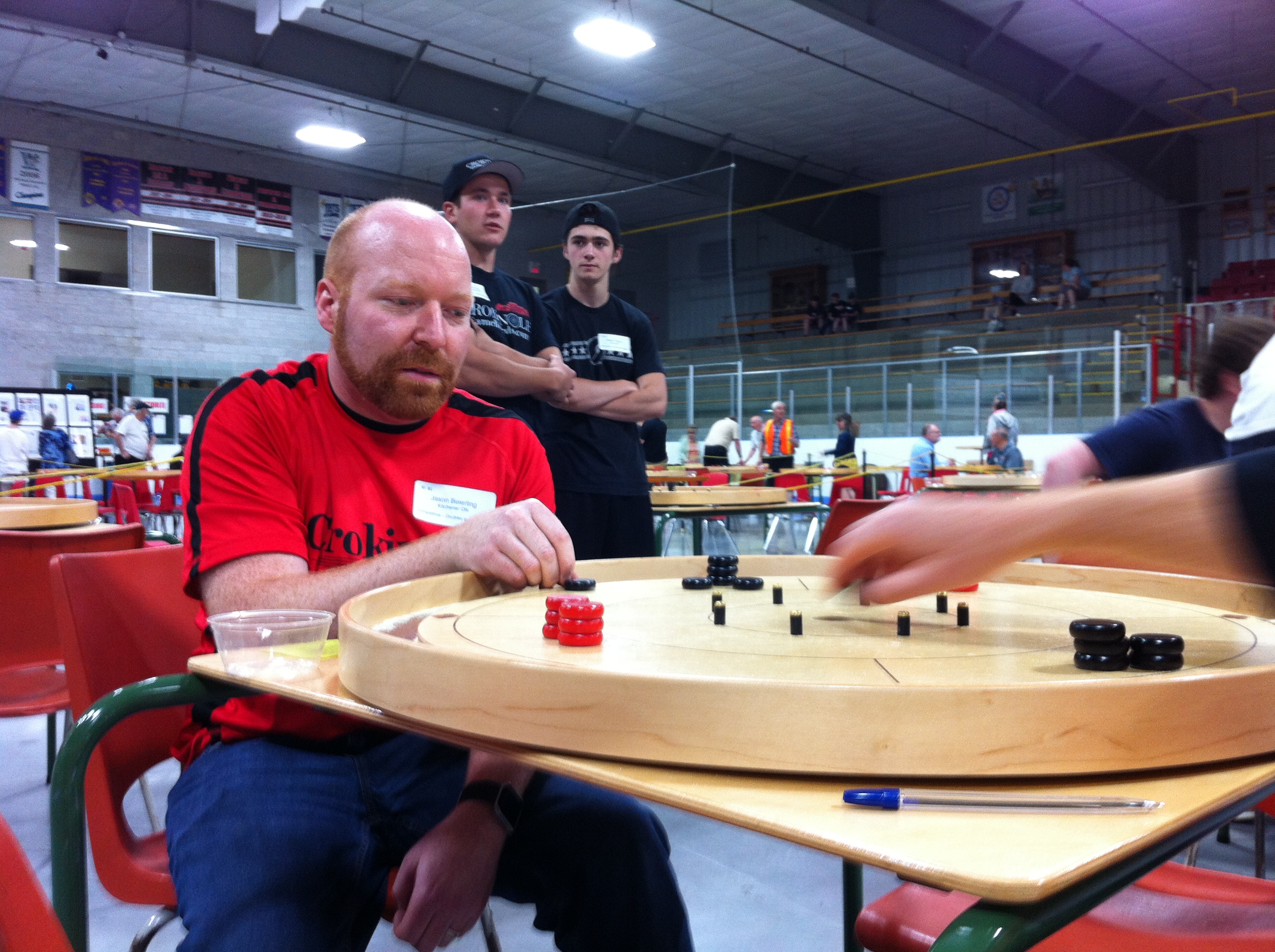 Jon Conrad and Connor Reinman partnered for the second straight year, and advanced to the playoffs with 53 points for the second seed (bettering their debut 2018 performance where they scored 48 points for 4th). The youngest doubles team in the competition, Reid and Nolan Tracey, earned their first top 6 appearance with 51 points for 3rd. PEI's Lawson Lea and Wilfred Smith, 3rd place finishers from 2018, once again finished as the top non-Ontario team, by qualifying for the Top 6 by scoring 50 points. Their top 6 place was secured as they defeated their friends and long-time rivals, Clare Kuepfer and Nathan Walsh, 5-3 in the final game of the preliminary round.
Justin and Fred Slater rebounded from an 8-0 defeat, to the Traceys, in the first game of the preliminary round to score 48 points for 5th, and return to the top 6, after a 2 year absence, for the 8th time. The final spot in the top 6 went to the newly formed team of Wayne Gingerich and Rex Johnston, also at 48 points. For Johnston it was his 5th top 6 finish (the previous 4 coming with brother Tom), while it was Gingerich's 2nd top 6 finish (previously qualifying in 2009 with Paul Brubacher).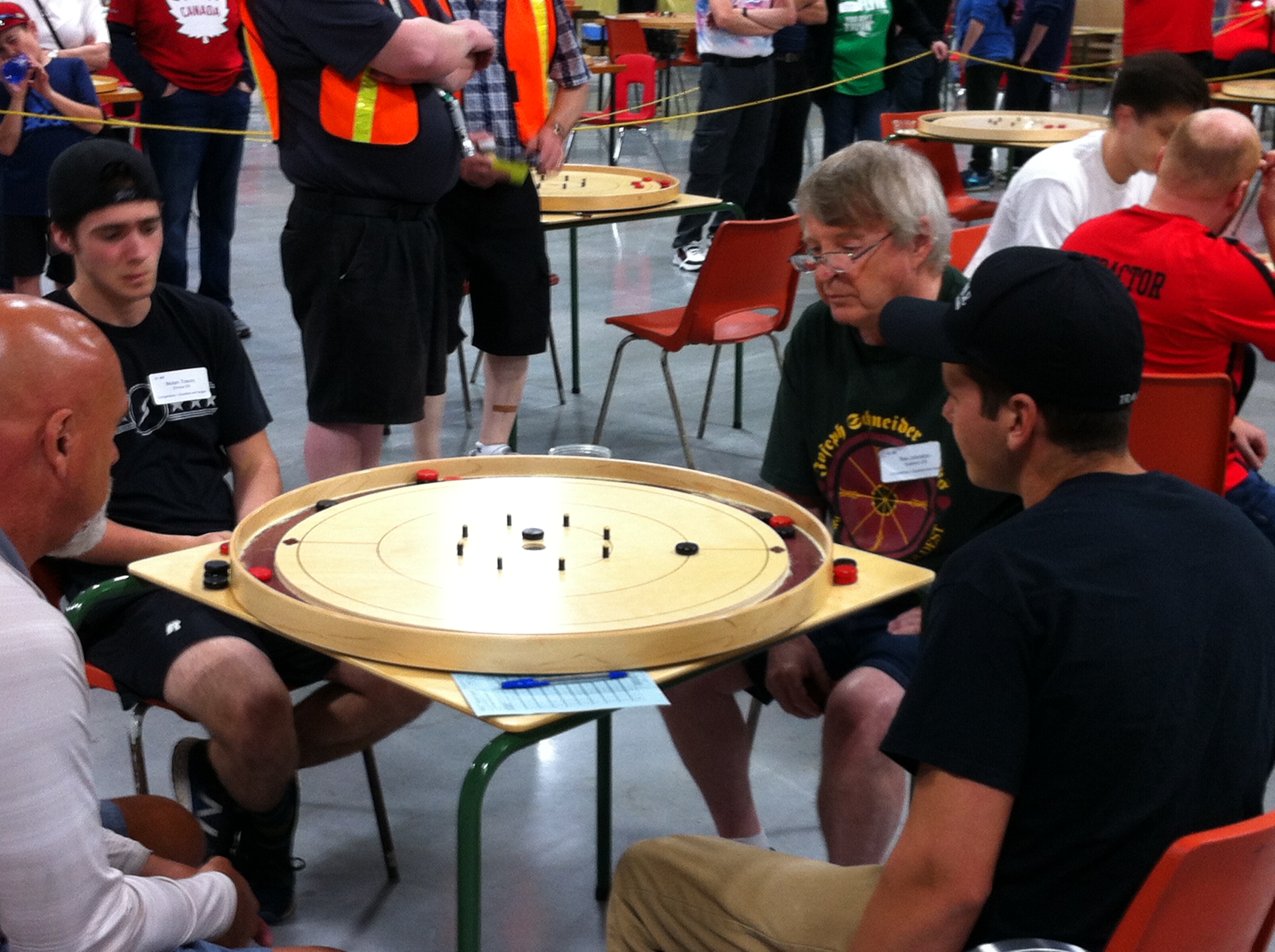 Missing out on the top 6, but still qualifying for the B playoffs, included:
the 2018 2nd place finishers, Jeremy Tracey and Roy Campbell, scoring 47 to miss the playoffs by one point
Howard Martin and Paul Brubacher, who scored 46 points to make the top 12 for the 2nd time as a team after a 5th place finish in 2011
Ron Langill and John Lichty, who scored 46 points in their first time partnering at the WCC
Matt and Dave Brown, making the top 12 for the 8th time in the last 9 years, scoring 45 points
Dwayne and Christina Campbell (44 points), finishing in the top 12 for the 2nd time in a row, and
Brian Simpson and Dave Ripka (44 points), who literally formed a doubles team minutes before the competition began that Saturday morning
Just missing out on playoff action were Clare Kuepfer and Nathan Walsh, who's 42 points was only enough for 13th, ending their 5-year streak of top 6 finishes, and Rob and Bob Mader who's 41 points weren't enough to return them to the top 12 for the first time since 2015.
Jeremy Tracey and Roy Campbell were easily the class of the B playoffs, as they scored 33 points to easily secure the 7th place world ranking. Paul Brubacher and Howard Martin finished 2nd in the pool (thus finishing 8th in the tournament) with 23 points, while Dwayne and Christina Campbell were 3rd at 18 points.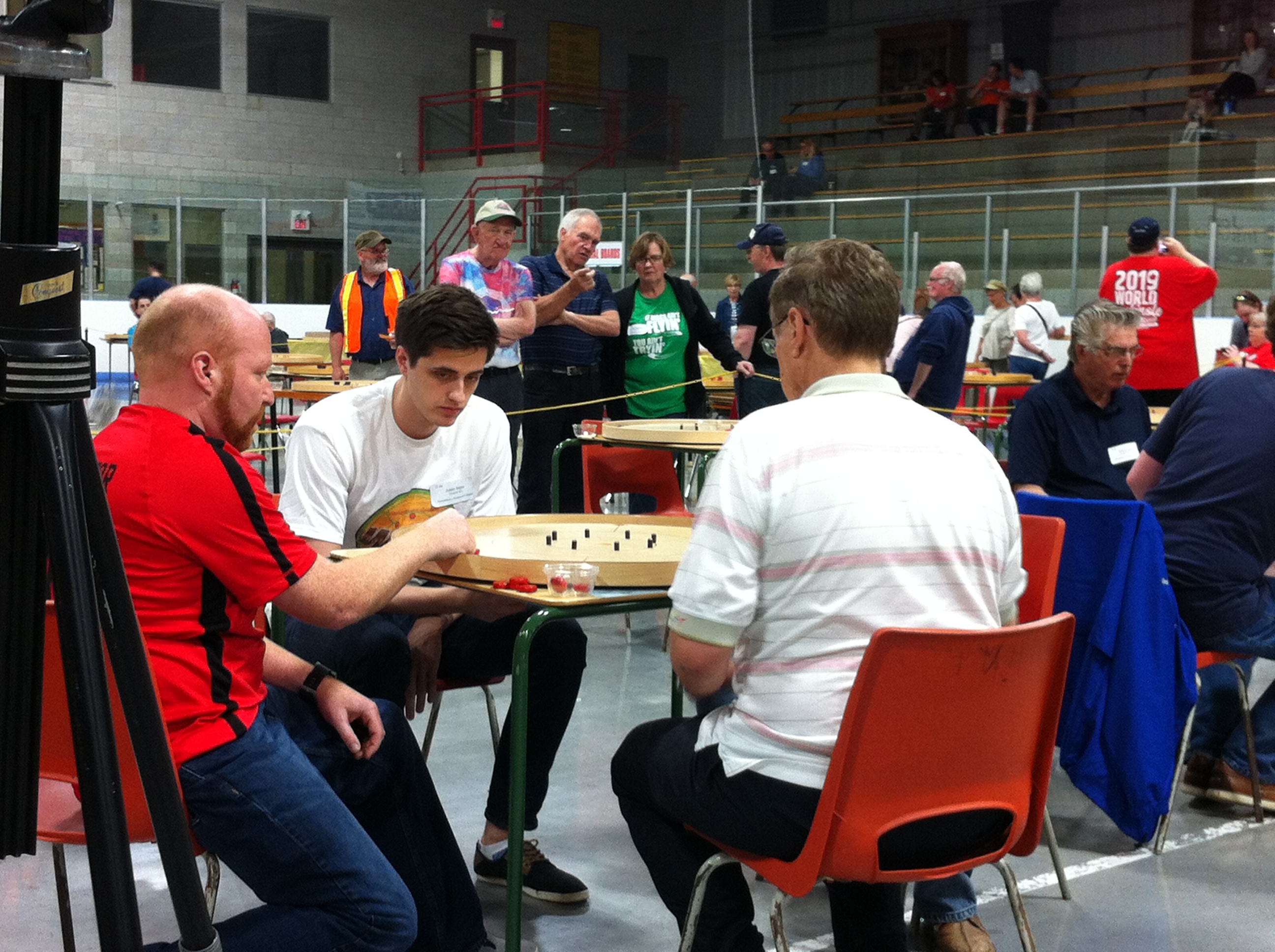 In the A playoffs the Tracey/Tracey team had a terrific start to lead the way at 14 points after two games, followed by Beierling/Beierling and Conrad/Reinman who were tied at 11, with a significant gap to the remaining three teams. Game 3 of the 5-game round robin would be critical as the Slaters returned the favour from their earlier head-to-head with the Traceys, beating them 6-2, which allowed the Beierlings to vault into first after a 6-2 victory over Conrad/Reinman. The game 3 win for the Slaters helped to propel them into the money, as they'd finish the playoffs in 4th place with 18 points.
After the Beierlings and Traceys tied their game 4-4, the Beierlings would go into the final game with 21 points, just leading the Traceys at 20 points, and Conrad/Reinman at 19. It looked as though the final game matchups would be favourable for the Beierlings, as Tracey/Tracey had to play Conrad/Reinman, while the Beierlings were set to face Lea/Smith, who had been struggling and were sitting in 6th place at the time.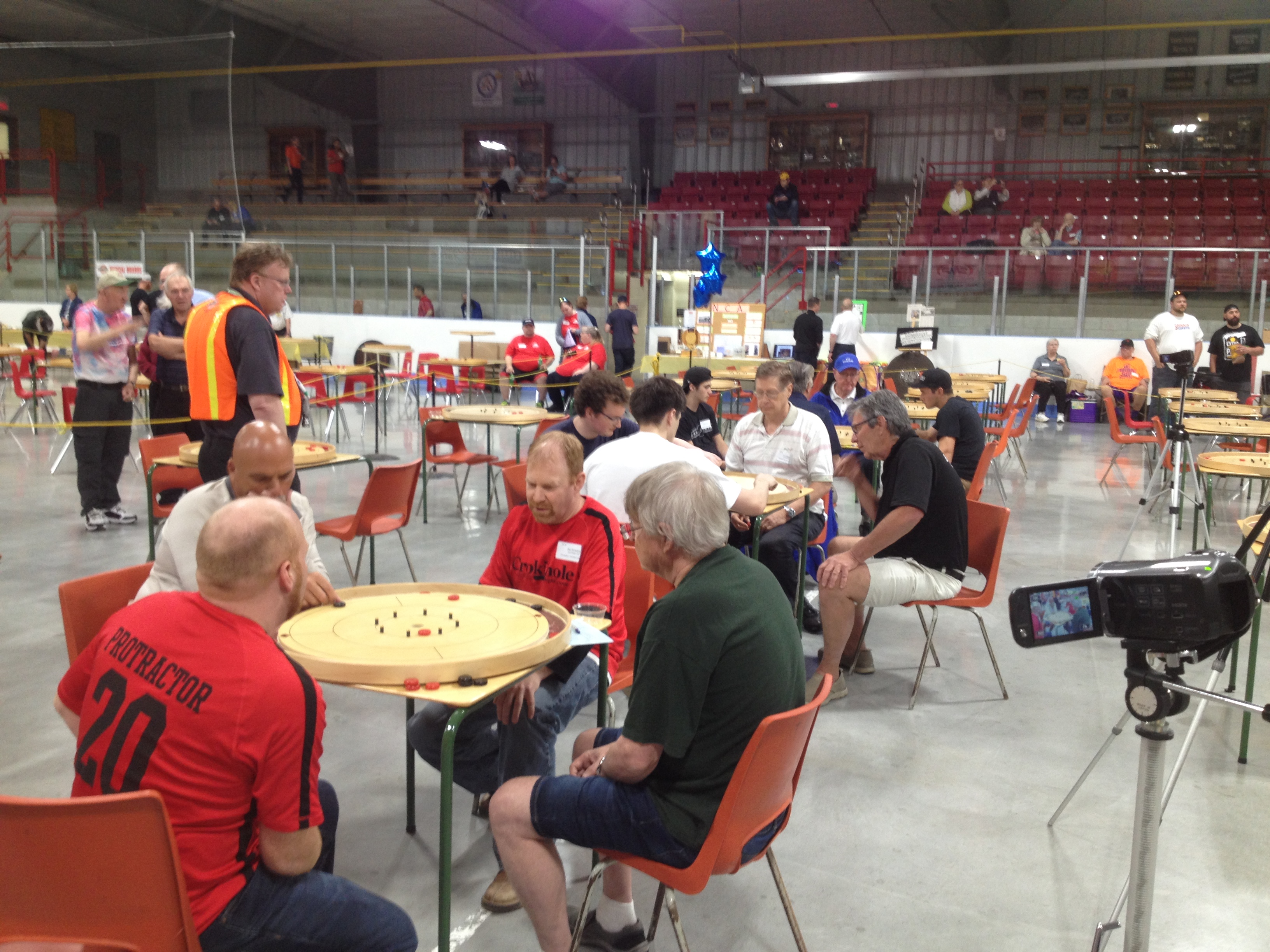 The Beierlings needed at least 3 points in their final game to have any hope of winning the world title, but were trailing 4-2 going into the final round as Lea and Smith had found their groove. The Beierlings were able to summon a tremendous final round in which they scored 10 out of a possible 12 20s to draw the game 4-4 and finish with 25 points, but they sat in a state of grim anticipation, knowing the final result was out of their hands, and they'd need a favourable finish on the other table to be world champions.
While they couldn't have known it at the time, both the Tracey/Tracey and Conrad/Reinman teams were within striking distance of their partnership's first world title. In a roller-coaster game, the teams would eventually split 4-4, leaving Conrad/Reinman at 23 points for 3rd place, Tracey/Tracey at 24 points for 2nd, while the Beierlings 25 points would be sufficient to win the world championship.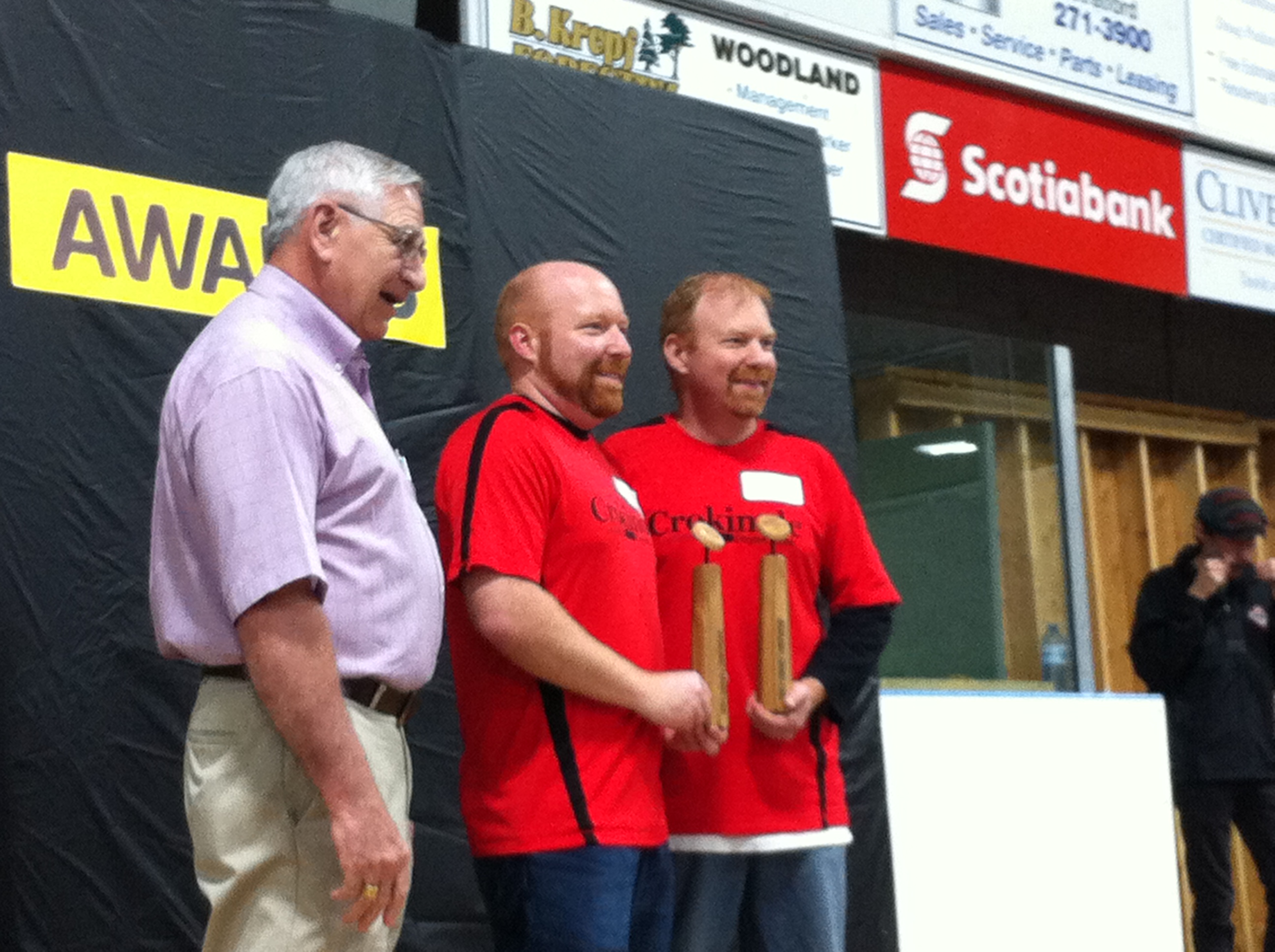 The 4th place finish by the Slaters is their 8th top 4 finish, as they are now a perfect 8-for-8 of finishing in the money after advancing to the top 6 playoffs. Jon Conrad and Connor Reinman's 3rd place finish is an improvement on their 4th place from 2018, and Jon Conrad's 11th top 4 finish (culminating from 4 different partnerships over the years).
The Traceys, at a combined age of 36, are the youngest team to finish in the top 4 of the doubles playoffs since Chris Leitch and Nathan Walsh, also as a combined age of 36, finished 3rd in 2010. The Traceys' 2nd place finish is impressive for a team making the top 6 for the first time, as they are only the 3rd team to finish as high as 2nd in their first top 6 finish, and you have to go back to the early years of the tournament to find a team that won the world title in their first playoff appearance.
The Beierlings' 2019 victory is their record-extending 8th world title. Jon Conrad sits 3rd in world championship doubles victories at 4, followed by Tony Snyder and Justin and Fred Slater at 3. While the 25 points they scored to win the world title is a very slim margin (no team on record has ever won the world title with less than 25), this is actually the 5th time since 2011 that 25 points has been the world championship winning score. Dating back to the 2018 WCC, the Beierlings have now won the last 4 doubles events they've entered (2018 WCC, 2018 ODCC, 2019 US Open and 2019 WCC). It remains to be seen if they can extend that streak further throughout the rest of 2018.
Singles
The world championship action continued with the afternoon singles tightly packing in the arena floor as players competed in the main event, aiming for the $1000 top prize.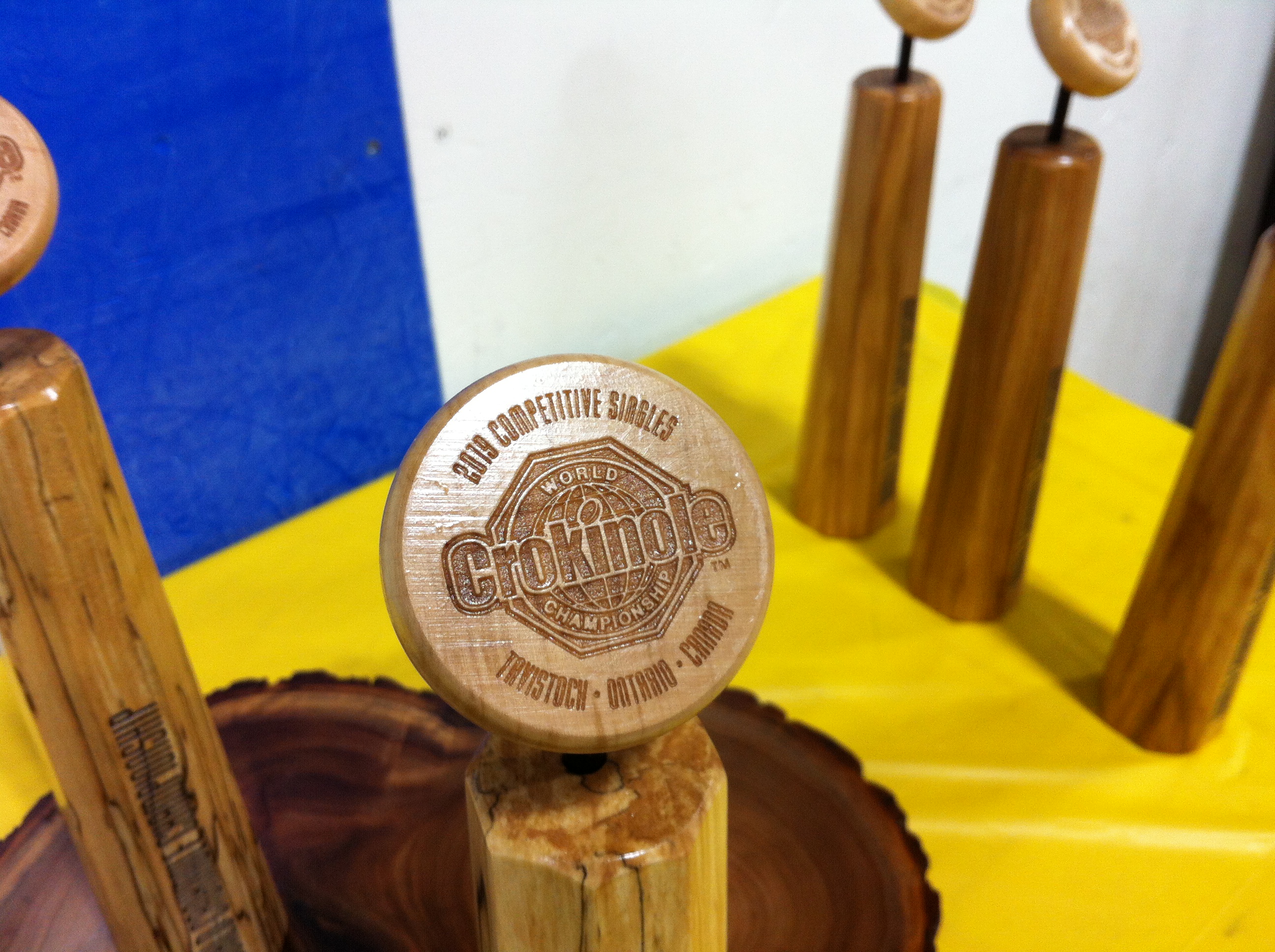 Andrew Hutchinson quickly dropped his cue and exercised his finger to finish with the top score in the preliminary round, 70 points in 10 games, for the second year in a row. He would also score 103 20s, which would be good enough for 3rd overall in the 20s race. Jason Beierling finished 4th in 20s scoring with 102, as only 4 players exceeded the 100 mark. Ray Beierling and Justin Slater were the other 2 to exceed 100 as they extended the streak to 12 years since a player other than Ray Beierling or Justin Slater has won the 20s title.
Unsurprisingly, it was another 1-2 finish in 20s scoring (which has happened 6 times in these last 12 years), but the question remained about who would claim the top spot. Ray Beierling scored a solid 108 20s through 10 games, while Justin Slater only sat at 84 20s going into the final game of the preliminary round. Fortunately, he sat opposite Ron Langill, and the two traded 20s at a remarkable pace for all 4 rounds. In that final preliminary round game, Ron Langill would score 27 out of a possible 32 20s (he finished 8th in 20 scoring at 88), while Justin Slater scored 29 20s to finish the preliminary round with 113. That gave Justin Slater his 5th 20s title, and he now sits two back of Ray Beierling for the all-time record of 7.
The battle of the Karin Jeske award as the top women's finisher was settled in the preliminary round, and ended up being very tight. Beverly Vaillancourt maintained her remarkable record, winning the title for the 7th straight year with 43 points in 10 games. Jennifer Carstairs was right behind, also scoring 43 points, but losing out based on the 20s tiebreaker. Christina Campbell finished 3rd at 40 points, just ahead of Janet Waite in 4th at 38 points.
Top 16
After the preliminary round, the pools were set for the playoff Top 16 round robin to begin.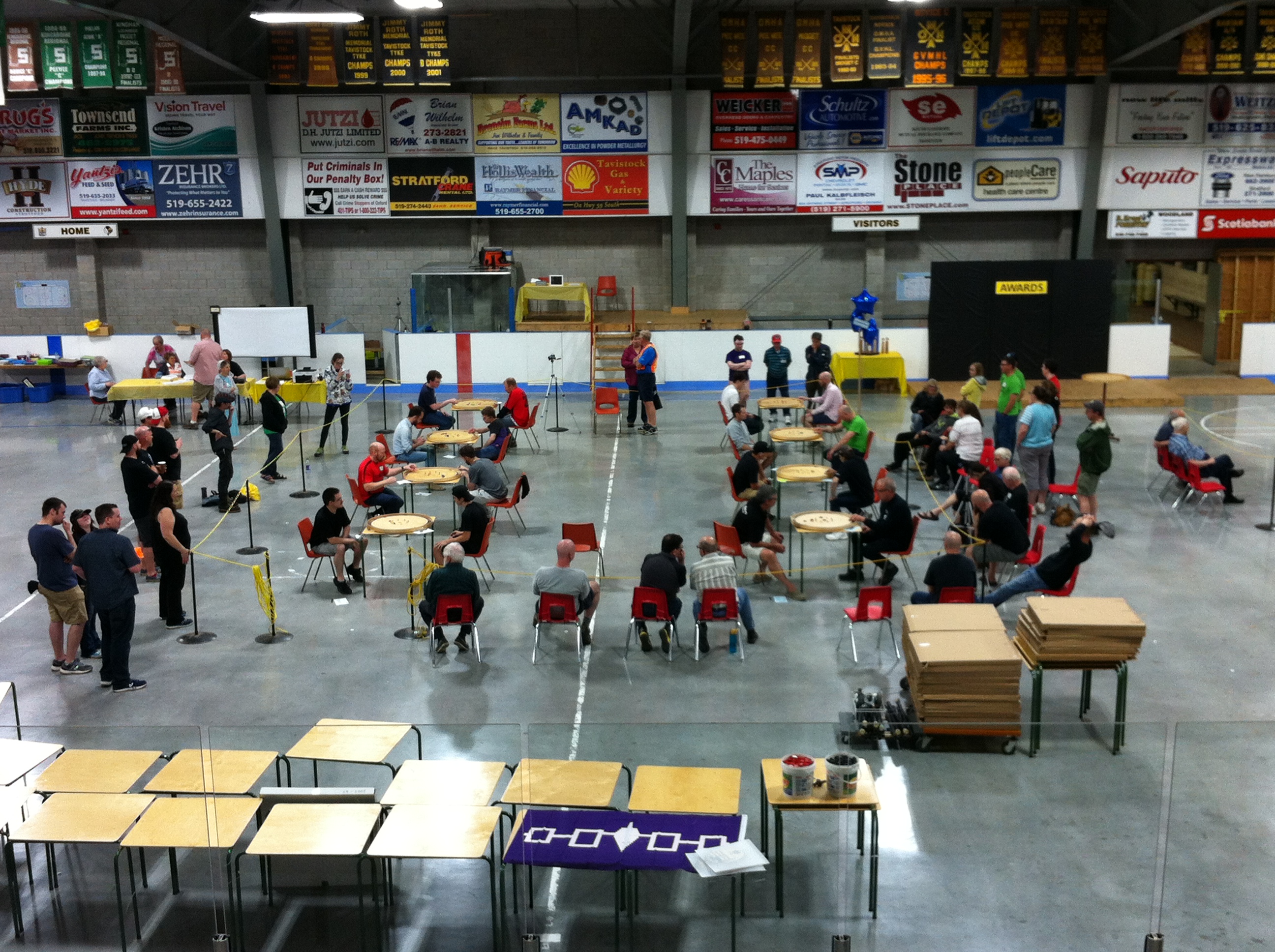 Pool A
Andrew Hutchinson (preliminary round top scorer for the 2nd year in a row, and 3rd top 16 appearance in 3 attempts)
Justin Slater (4-time and defending world champion, making the top 16 for the 10th time in a row)
Ray Kappes (2003 champion, earning 13th top 16 finish)
Jon Conrad (2-time champion, 2017 and 2018 runner-up, making 14th top 16 appearance)
Reid Tracey (2nd straight top 16 finish)
Roger Vaillancourt (6th top 16 finish)
Dwayne Campbell (7th top 16 finish)
Darren Carr (1st top 16 finish, in first appearance in the competitive division after winning the recreational division in debut 2018 tournament)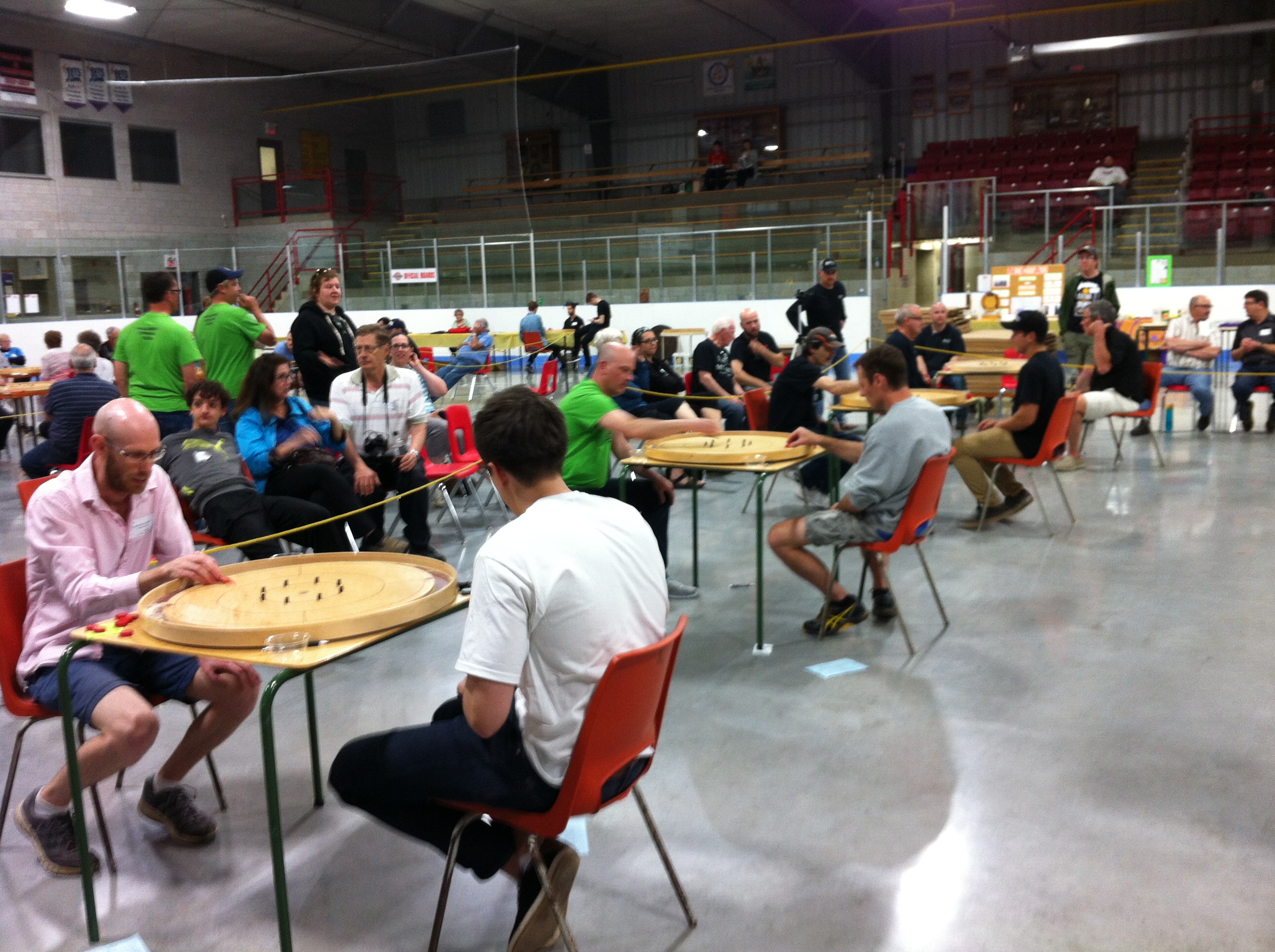 Pool B
Ray Beierling (2011 champion, 19th top 16 finish and 18th in a row)
Connor Reinman (2nd top 16 finish after finishing 3rd in 2017)
Roy Campbell (4th top 16 apperance with best finish of 3rd in 2015)
Nolan Tracey (first top 16 finish)
Jeremy Herrmann (2nd straight top 16 finish)
Jason Beierling (2006 champion, 11th top 16 finish)
Wouter Kool (first top 16 finish)
Tyson Kuepfer (first top 16 finish in competitive after winning the recreational division in 2017)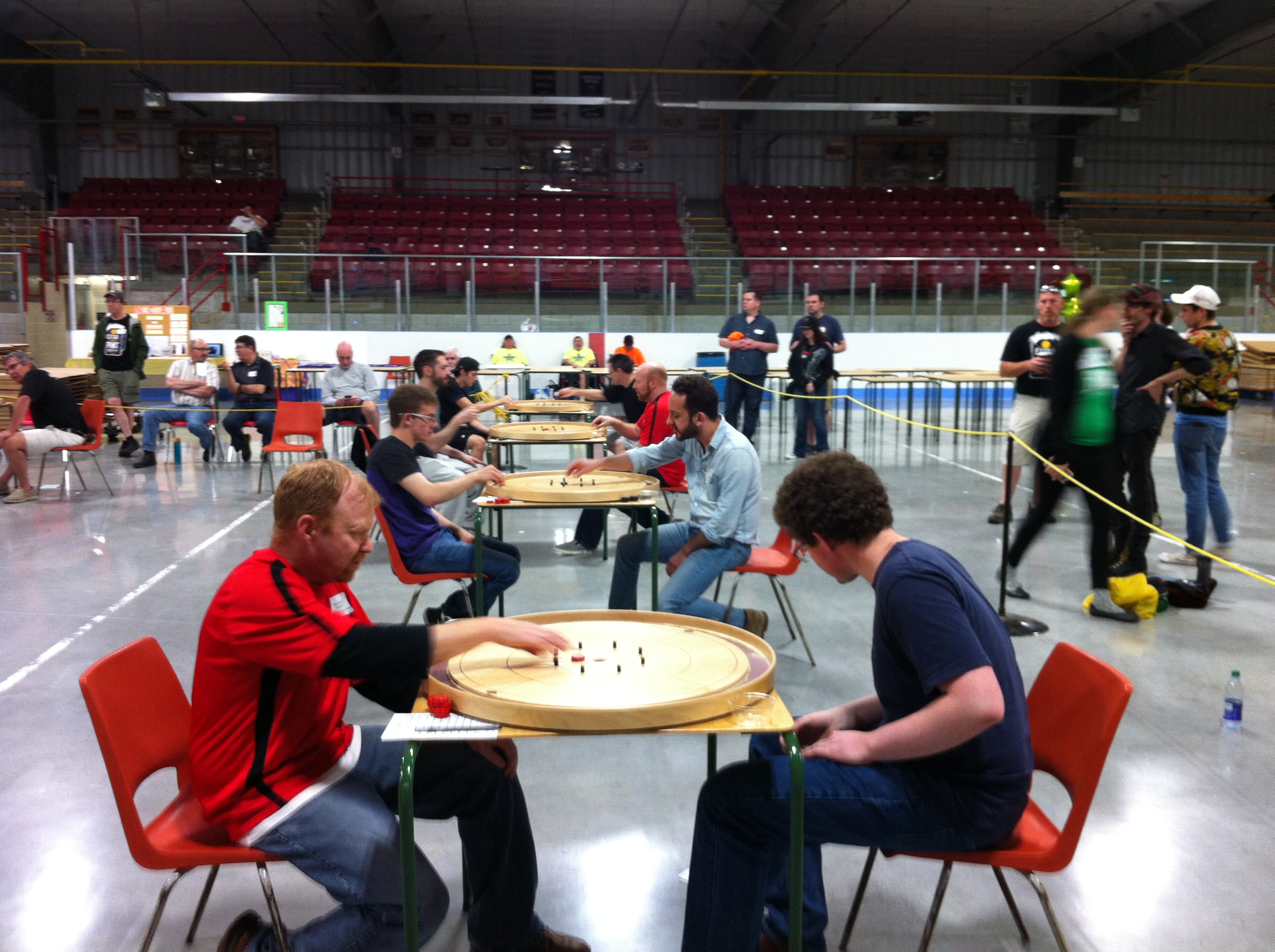 While Darren Carr and Tyson Kuepfer narrowly advanced to the top 16 with 56 points, Eric Miltenburg was the unfortunate 17th place finisher at 55 points, followed by Rex Johnston in 18th at 54 points.
Both pools in the top 16 action seemed to mirror each other and unfold in similar ways, with one individual from each pool soaring to a comfortable first place, while 3 others battled for the remaining spot in the top 4. In Pool A it was Justin Slater who was in first by a decent margin going into the final game, and although he did lose 6-2 to Hutchinson in that last game, he would top the Pool A scores at 36 points. Behind him were Jon Conrad, Reid Tracey and Darren Carr. Carr and Tracey surged ahead of Conrad thanks to wins in their final games, but Carr's victories were just slightly larger than Tracey's, and Carr's 34 points would eclipse Reid Tracey to earn him a shocking final 4 finish in a very tough pool.
In Pool B, it was Connor Reinman who was leading the pack throughout the round robin, as he finished well ahead at 41 points for first place. Jason Beierling, Ray Beierling and Roy Campbell all went into the final game separated by as much as two points, but it was only Roy Campbell who managed a victory in the final game to score 34 points for the 2nd seed in the pool (Campbell's 34 points equalled Jason Beierling's score, but Campbell advanced by virtue of the head-to-head tiebreaker).
Semifinals
The 2019 World Crokinole Championship saw the first year of a slight playoff change, as the tournament moved away from the final 4 round robin, to the more exciting semifinal/final format, which certainly kept the spectators attention throughout the balance of the playoffs.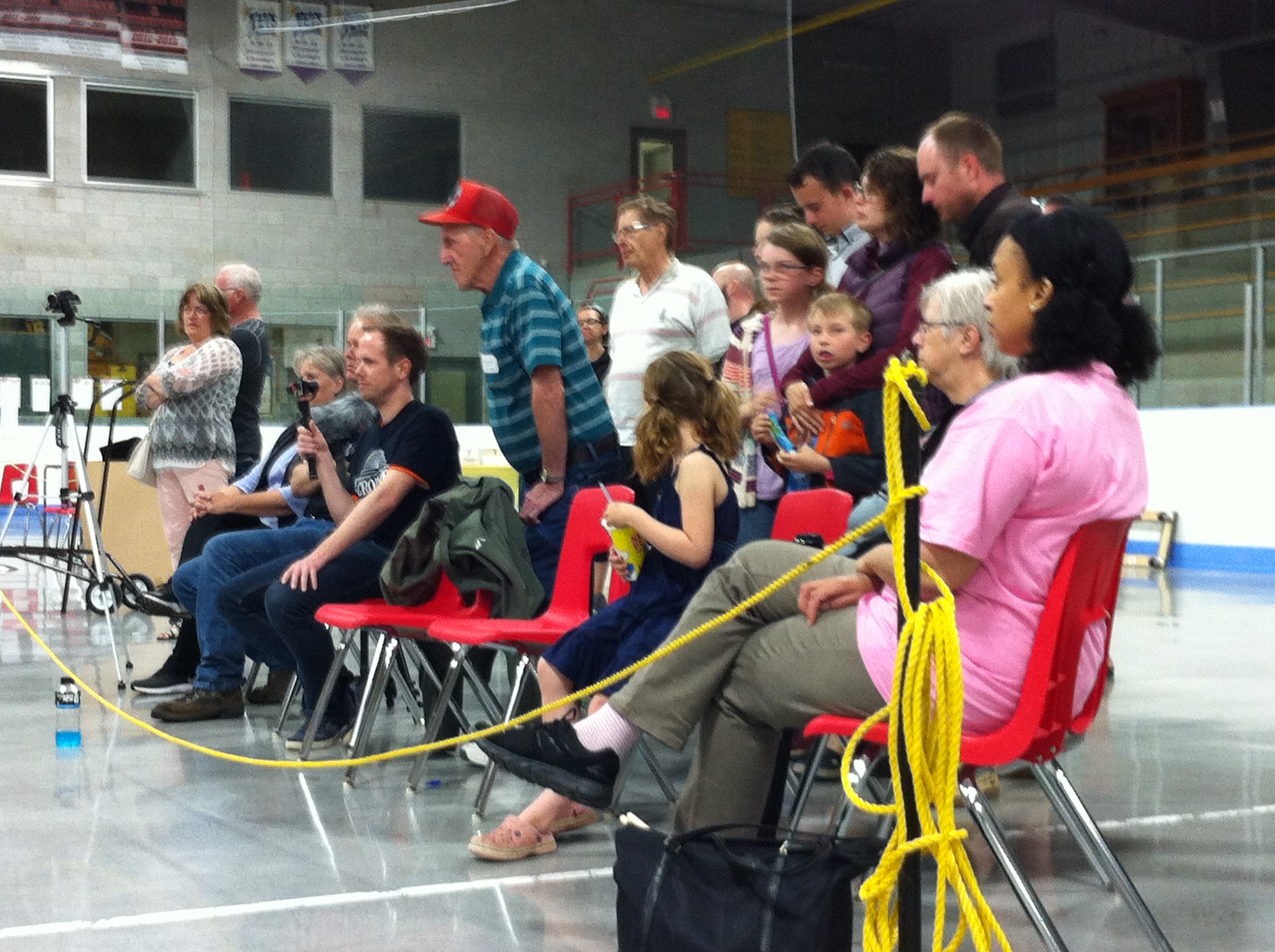 Justin Slater, as the top seed from Pool A, was matched up with Roy Campbell, the second seed from Pool B. The semifinal would be their 6th meeting in an elimination game (3 previous singles meetings, 2 in doubles) and Justin Slater carried a 5-0 historical record into the match after wins in the 2017 and 2018 Ontario Doubles semifinals (Justin partnered with Fred Slater, Campbell with Jeremy Tracey on both occassions), the 2016 Ontario Singles final, the 2018 Turtle Island final, and most recently, the 2019 Hamilton final. In the previous meetings, Slater had gained the early lead and maintained it successly in each match.
Campbell would make an effort to deny a routine victory for Slater and had applied pressure early in the match. The pressure would force Slater to miss his final shot of both the first and second rounds. In round one, Slater needed a hit and roll from the 10 into the 15 to tie the round, but he overhit the shot and his shooter rolled through the house to stop in the 10 on the other side and give Campbell a 2-0 start. In round 2, Slater caught a peg going for a takeout that would have given him a very good chance to win the round. Fortunately for Slater, Campbell's ricochet 20 attempt missed, causing the round to just end in a tie, and a 3-1 lead for Campbell.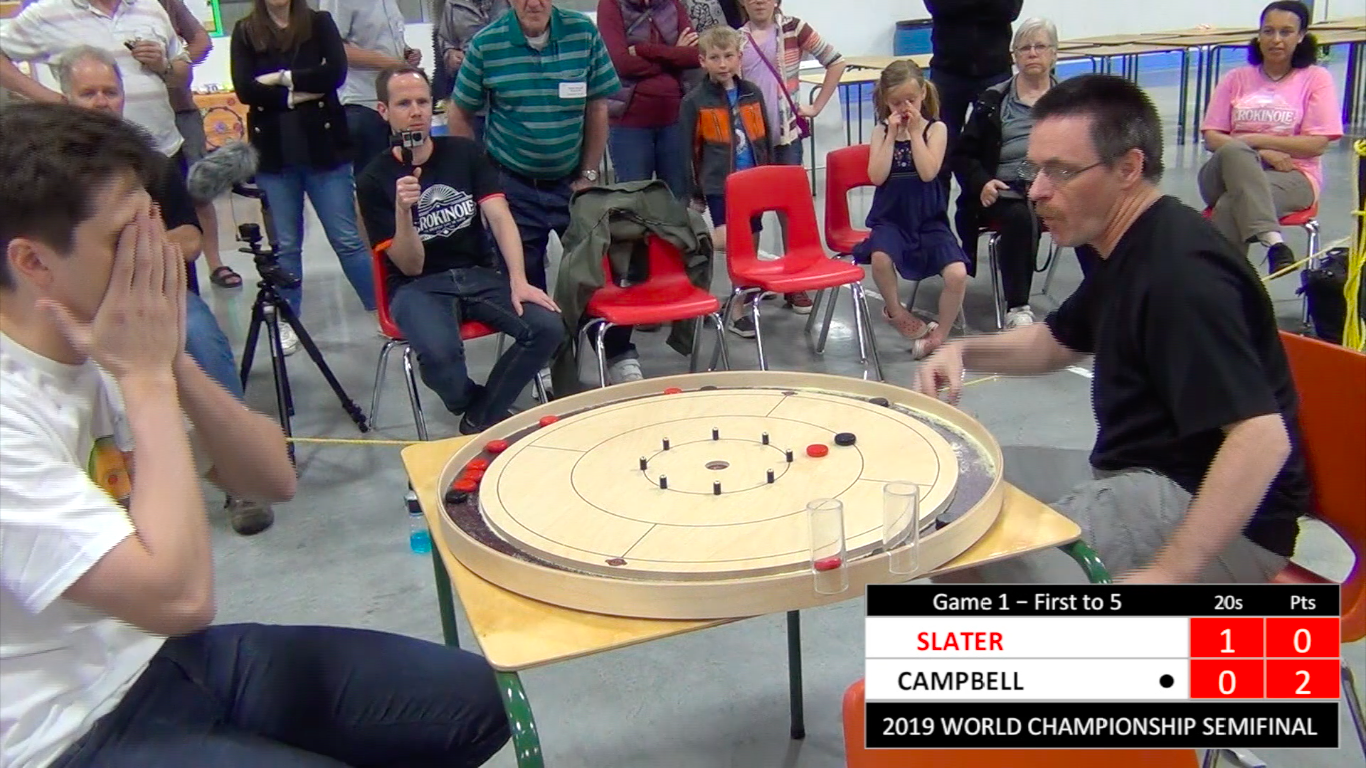 Slater was agitated, but the pressure was relieved when Campbell missed a couple of 20 opportunities in round 3. Slater made a hanger 20 and prevented Campbell from any further opportunities to tie game one at 3-3. Slater had a one 20 lead in round 4, but a missed takeout left both a Campbell and Slater disc on opposite sides of the board. Campbell could have chosen to peel and try to make a takeout 20 to tie the round with his remaining 3 shots, but instead tried to tie the round by leaving 2 discs on in the 10. Slater responded by forcing Campbell to make 3 very long combination takeouts through the pegs. Campbell made the first 2, but missed the third, giving Slater a 5-3 win in game one of the best of 3.
Starting off game 2, Campbell fell behind in round one but capitalized on Slater missing a hanger 20, to score a 20 of his own, and then Campbell made a follow-through 20 to clinch the two points. Campbell led early in round two, but only maintained the lead when Slater missed another hanger 20 opportunity, and then Campbell capped off the round with a terrific double takeout to jump ahead 4-0. However, Slater denied Campbell's chances to win the game and level the match as he was much more proficient in open 20 shooting in rounds three and four, and tied game two 4-4.
Slater needed a win in round 5 to advance to the finals, and he got a 20 lead immediately. Campbell would miss a hanger 20 to tie the round, and then Slater would miss a ricochet 20 of his own to put the match out of reach. Campbell was still left with an uphill battle, and got increasingly desperate to score a 20, eventually causing him to lose his shooter and give an open 20 chance to Slater. Slater would make the 20, giving him the definitive edge on the way to a 5-3, 6-4 victory over Roy Campbell, and a trip to the 2019 World Championship finals.
While the Campbell/Slater semifinal had the storylines that come with years of historical matches, the semifinal between Connor Reinman and Darren Carr left a lot up to the imagination. Reinman is now well known after over 2 full, and successful, years of competitive crokinole action, which has seen him win the 2017 Ontario Doubles and 2019 Ontario Singles titles, while also making the final 4 in three other events. Carr on the other hand was a virtual unknown. He had already shown he was more than a competent player by winning the recreational division in his first ever crokinole tournament at the 2018 World Championships, but still remained unfamiliar with the majority of the competitive players as he'd only play one event before the 2019 World Championships (which resulted in a 25th place finish at the St. Jacobs event).
Carr would immediately put spectators on notice though, as he quickly got comfortable with the board and playoff setting, which he parlayed into superior open 20 scoring in game one. Reinman, in an attempt to fight from behind, would force a few mistakes from Carr, but each time Carr was able to recover and regain the lead thanks to scoring another open 20, all of which led to a 6-0 game one victory for Carr.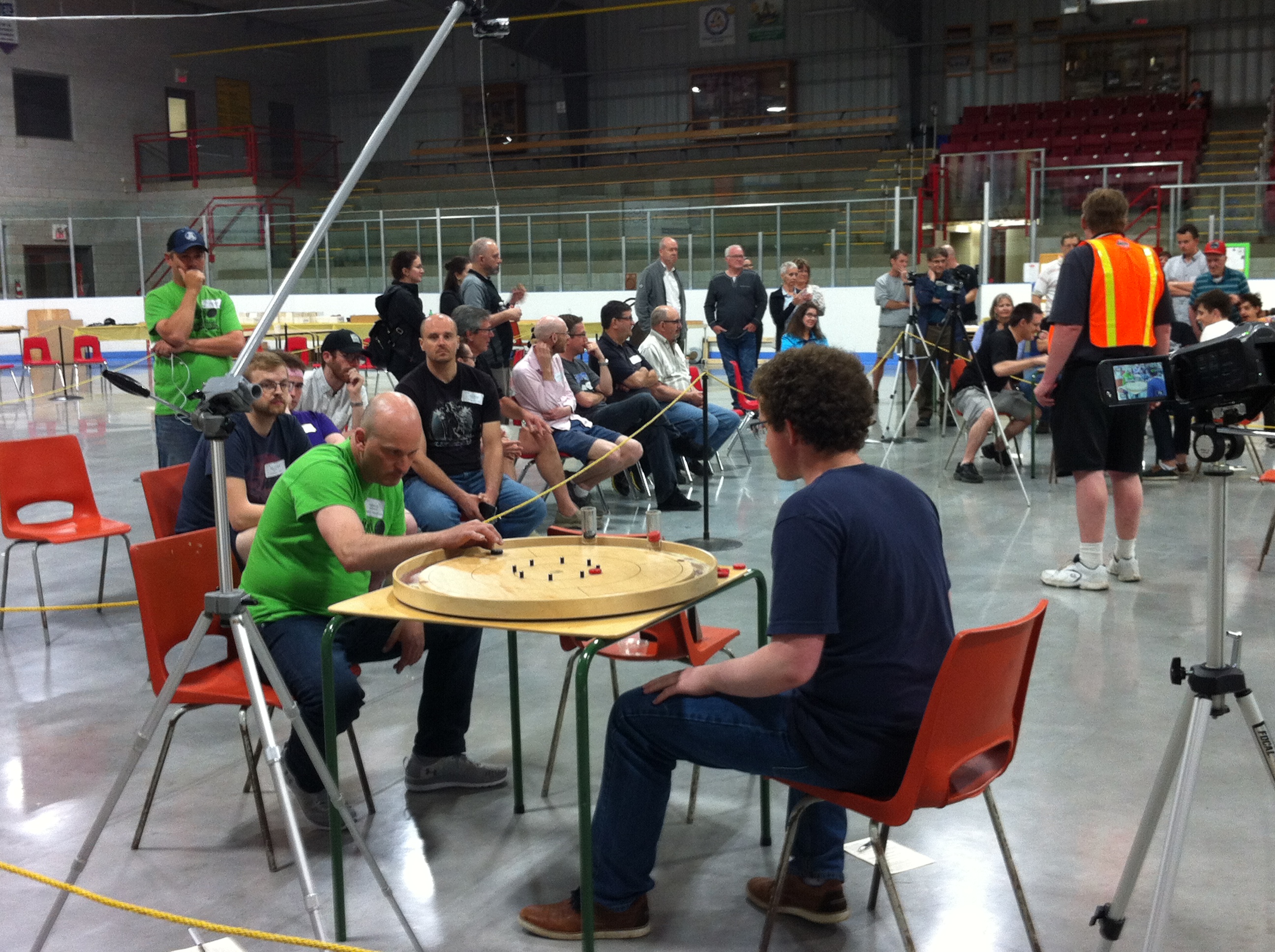 Reinman got out to a 2-0 lead in game two after he was able to gain an edge in open 20 shooting over Carr for the first time. Reinman got out to another lead in round two, and a flurry of near-misses soon followed, with Carr missing chances to edge out in front, and Reinman missing chances to extend his advantage. It would be Carr who'd finally find the elusive takeout-20 to make the score 2-2. Carr got a lead in round 3 and was moving closer to getting the match in a winning position, but Reinman was successfully able to hide a disc and score the open 20 after the Carr miss to steal the round for a 4-2 lead. Carr had the hammer advantage in round 4, but things soon got very complicated as a number of touch-20 attempts would be missed, leaving the board unusually cluttered.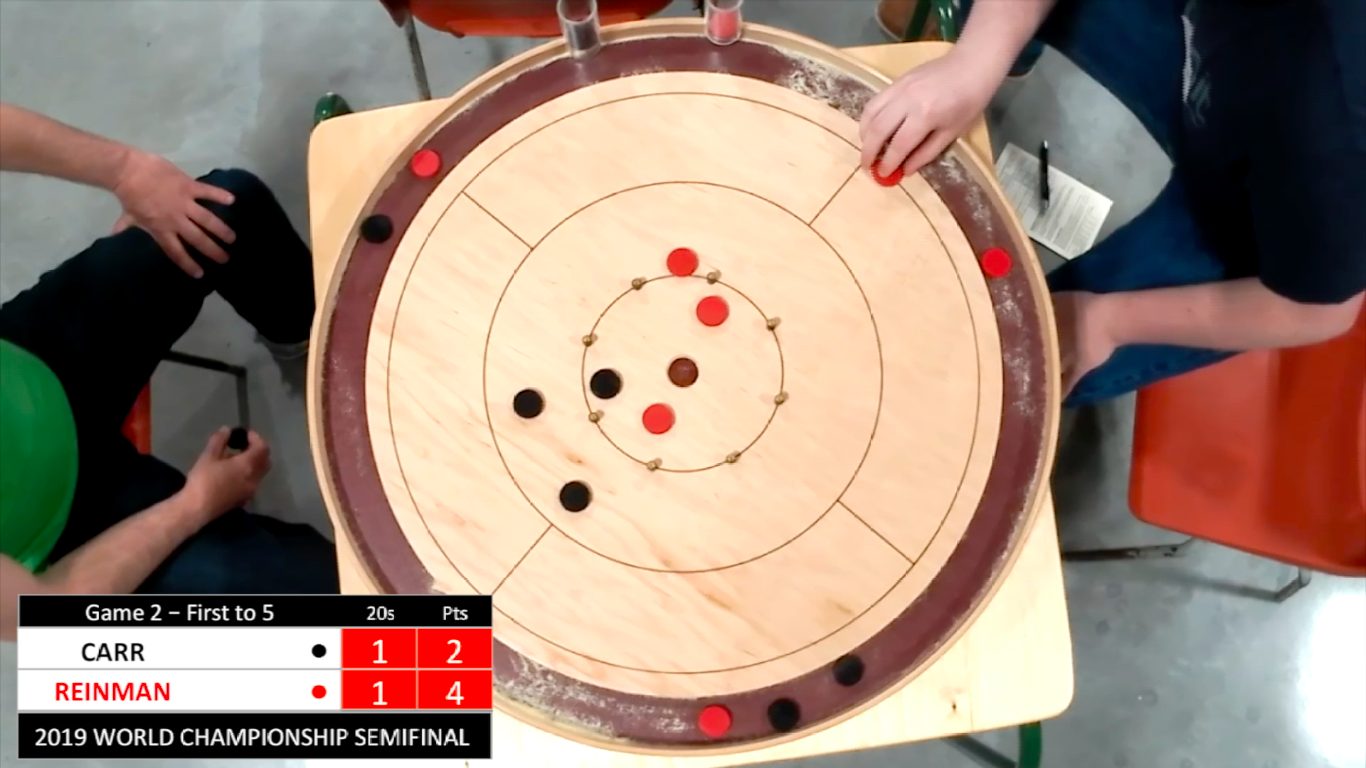 In the round Reinman's decision making was more strategically sound, and he'd ultimately win the round by 5 points, and take game two by a score of 6-2. Havoc, or at least crokinole's version of havoc, would prevail in the decisive third game.
Through the first 26 shots of game 3, only one 20 would be scored, which came from Reinman and was the essential factor in him getting a 2-0 lead. Reinman would also score 3 successive 20s to end round two and move one point away from the World Championship final as he earned a 4-0 lead. Carr was playing flawlessly in round three with his back against the wall, until two consecutive missed takeouts gave Reinman an open board to grab a stranglehold of the match. Crucially though, neither would fall, and Carr would prevail in the round to make it 4-2.
Carr had a lead at the start of round 4, but Reinman did well to fight back and even have the advantage for a slim moment, until Darren Carr hit a massive match-saving follow-through 20 that even Reinman acknowledged was fabulous. That moved the match to 4-4 in game 3, leaving it all to play for in a one-round showdown.
The final round was edge of the seat stuff, as both players had two takeout-20 chances that were near misses and caused only to elevate the tension. Critically, Carr had the hammer and a couple discs on the board forcing Reinman to attempt a really difficult shot on his last, which he ultimately missed, as Darren Carr advanced to the final amidst boisterous cheers from his Shelburne Curling Club friends.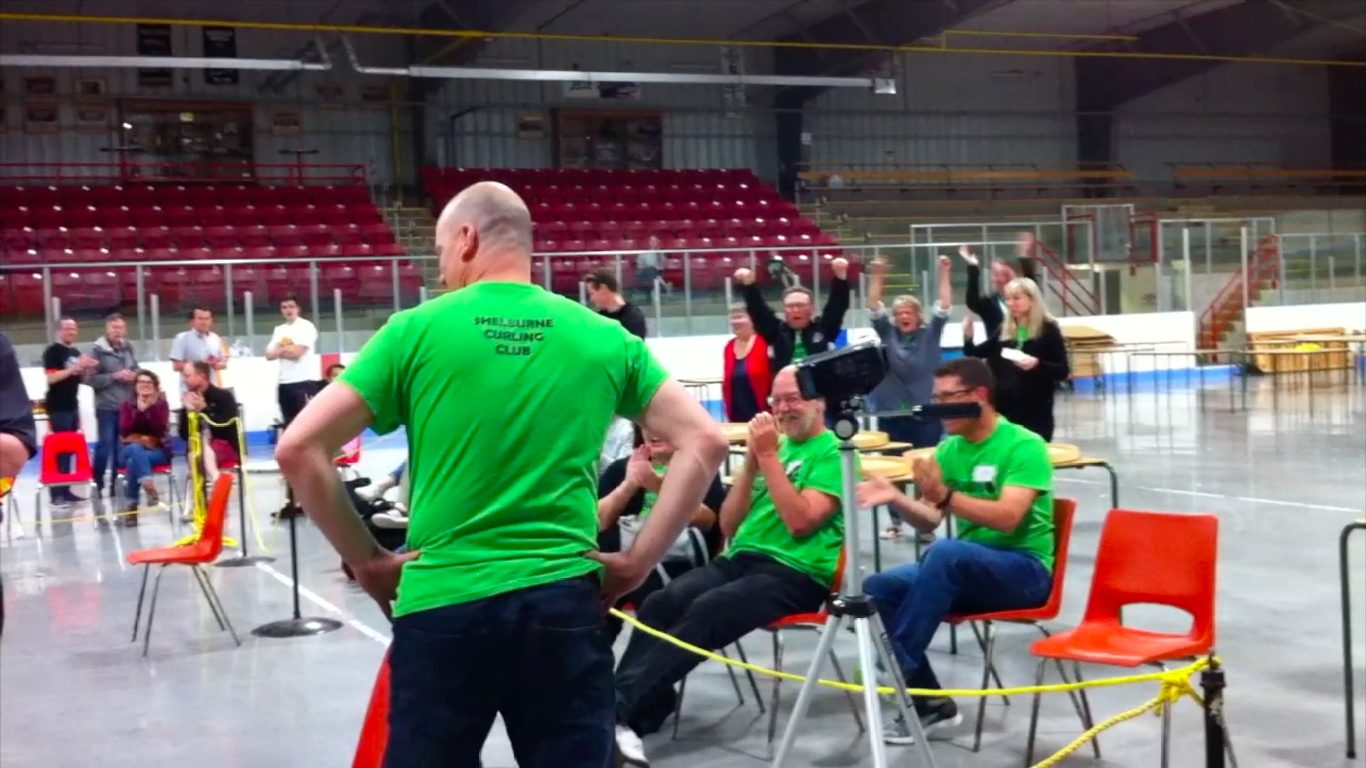 Finals
The World Crokinole Championships introduction of the semifinal/finals format, compared to the previous final 4 round-robin, would certainly make the 3rd/4th place game a more bitter pill to swallow for the participants, as a head-to-head loss can be more woeful than simply losing out due to a collection of round-robin games. That being said, Connor Reinman and Roy Campbell did do their best to put on a show and compete in their final match of the 2019 World Championships.
To start Campbell executed a nice takeout-20 that left Reinman trying valiantly for a crazy combo double-takeout in round one, which was unsuccessful as Campbell moved ahead 2-0. The players then got a rythm on both their 20 shooting and ricochet 20s, but it was Campbell who was coming out better as he'd win game one 6-0.
Both Campbell and Reinman had one other final 4 World Championship appearance to their credit, and for both it resulted in a 3rd-place finish (2015 for Campbell, 2017 for Reinman), so both were looking to match that feat in this match. Reinman shot beautifully to start off game two, seemingly scoring 20s with ease as he went out to lead 4-0. Campbell won round three after just being able to hold off Reinman from making a definitive takeout 20, and then tied the game 4-4 after getting a very fortunate disc placement on his final shot of round 4. From their, the momentum carried Campbell to the two points in round 5, as he won the match, and 3rd place, 6-0, 6-4.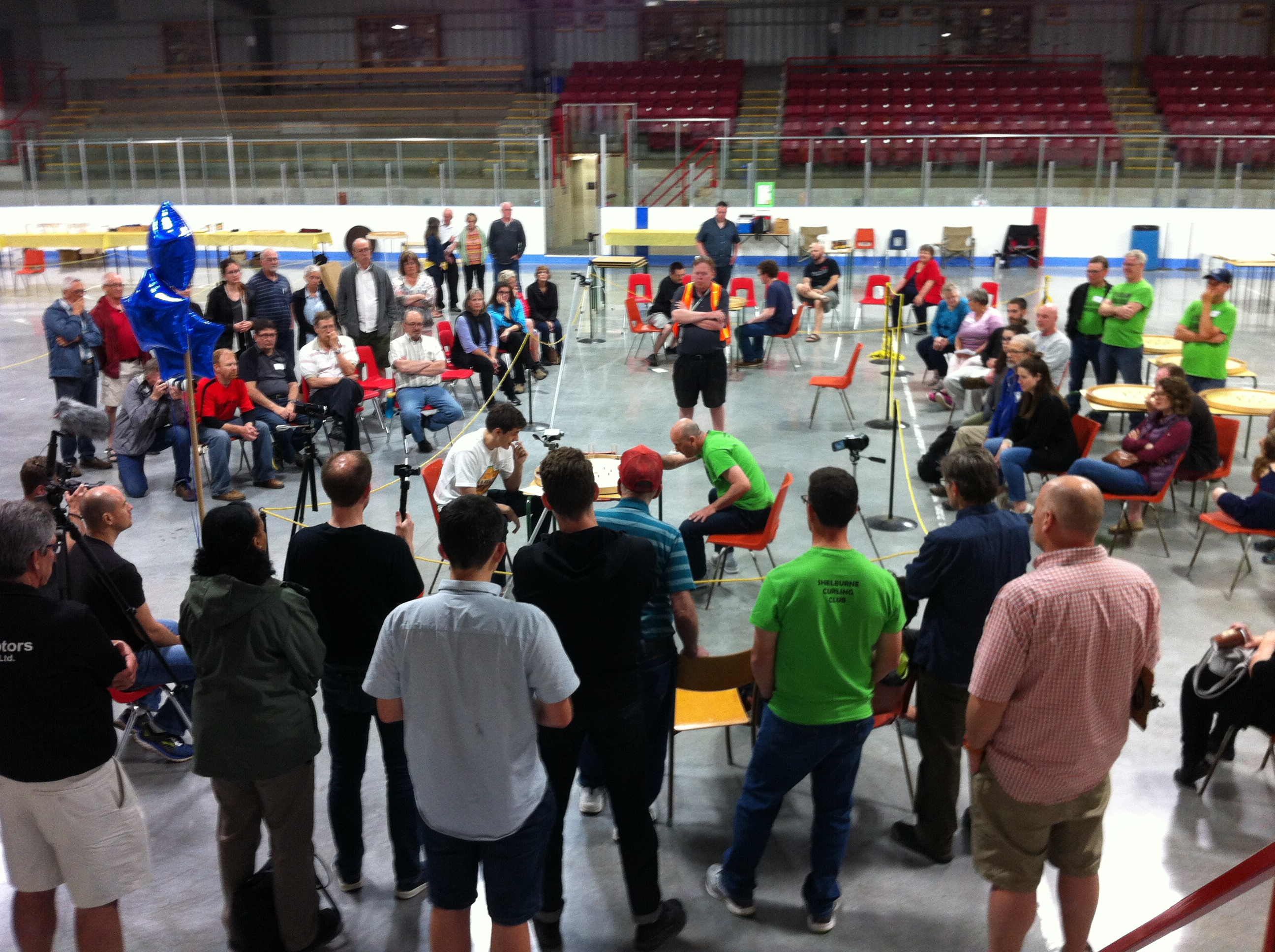 The crowd of spectators for the finals was quite large, despite the World Championship matches once again being played at the same time as the Stanley Cup Finals. Tournament emcee, Joe Richards, had many jokes throughout the day, and he'd later add that he'd never actually seen the World Championship final because his "skill level did not dictate that he stay that late."
Perhaps the interest in the finals was coming from what was developing to possibly be a fairy-tale ending at the 2019 event. Darren Carr, mostly unknown and certainly an underdog, had advanced into the Top 16, the semifinals, and the finals all by less than 2 points. Carr wouldn't have been the first player to win the Recreational division prior to winning the Competitive, as Robert Bonnett had won the Recreational singles in 2006 and 2012 before winning the 2017 World Championship, but this certainly would have been more surprising given Carr's lack of tournament play prior to the 2019 WCC.
Concurrently, Justin Slater (a 4-time world champion) was attempting to fully surpass Brian Cook and move into sole position atop the list of most singles world titles, by winning his 5th title in only his 11th year at the World Championships.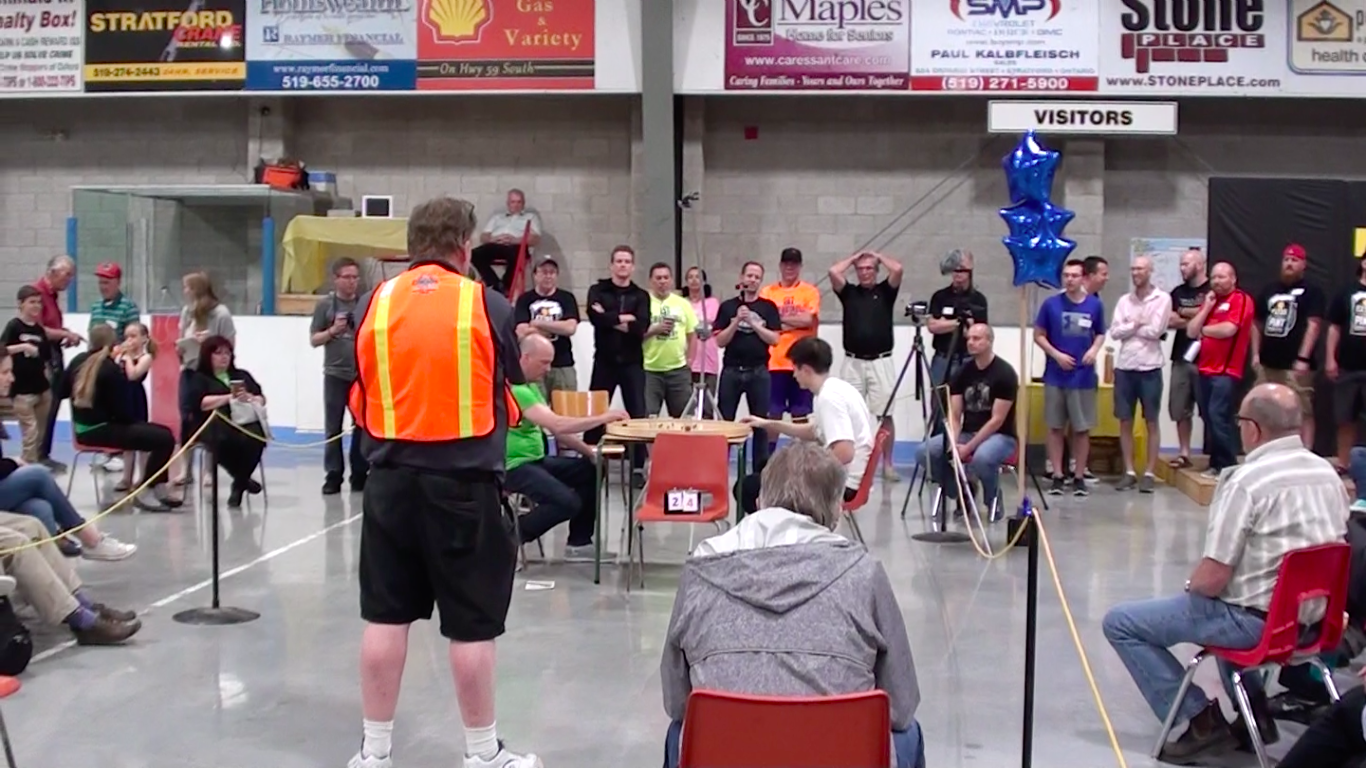 In many ways, the Slater/Carr championship final parralleled the championship from 10 years prior when Brian Cook played Nathan Walsh in 2009. That year Cook was attempting to set a record by becoming the first player to win 3-straight world titles, while Nathan Walsh (the recreational division winner from the previous year) was having a breakthrough performance, but was regarded as unlikely to win given he had only one top 10 finish in any previous competitive tournament. In 2009, Cook come out on top with a 6-4, 4-6, 5-1 victory to stretch his world championship winning streak to 3 years, a record which still stands today. But the result of the Slater/Carr match was still to be determined to see if a similar storyline would evolve.
The match had a curious, and perhaps conservative start, with Carr leading 2-0, as both players had one disc on the board sitting in the 10. Carr had the hammer, but seemingly did not want to take any extra risk by trying to advance his disc into the 15, while Slater similarly did not attempt trying to score a 20 in an attempt to win the round. The players simply exchanged their final 3 shots to tie the round as Carr led 3-1. Slater fell behind in round 3, but this time did make a few attempts to score a 20, where he was fortunate to not leave a hanger 20 for Carr. Carr would later open the door when he lost his shooter on a takeout, and Slater would pounce with an open 20 on the reply to tie game one 3-3.
While it was very rare all day that any players got comfortable enough score several 20s in a row, the 4th round was determined by a long 20 race in which both players had scored 6 20s with one shot remaining. On that final shot it was Slater who cracked first, missing long, and Carr made the takeout to win game one 5-3.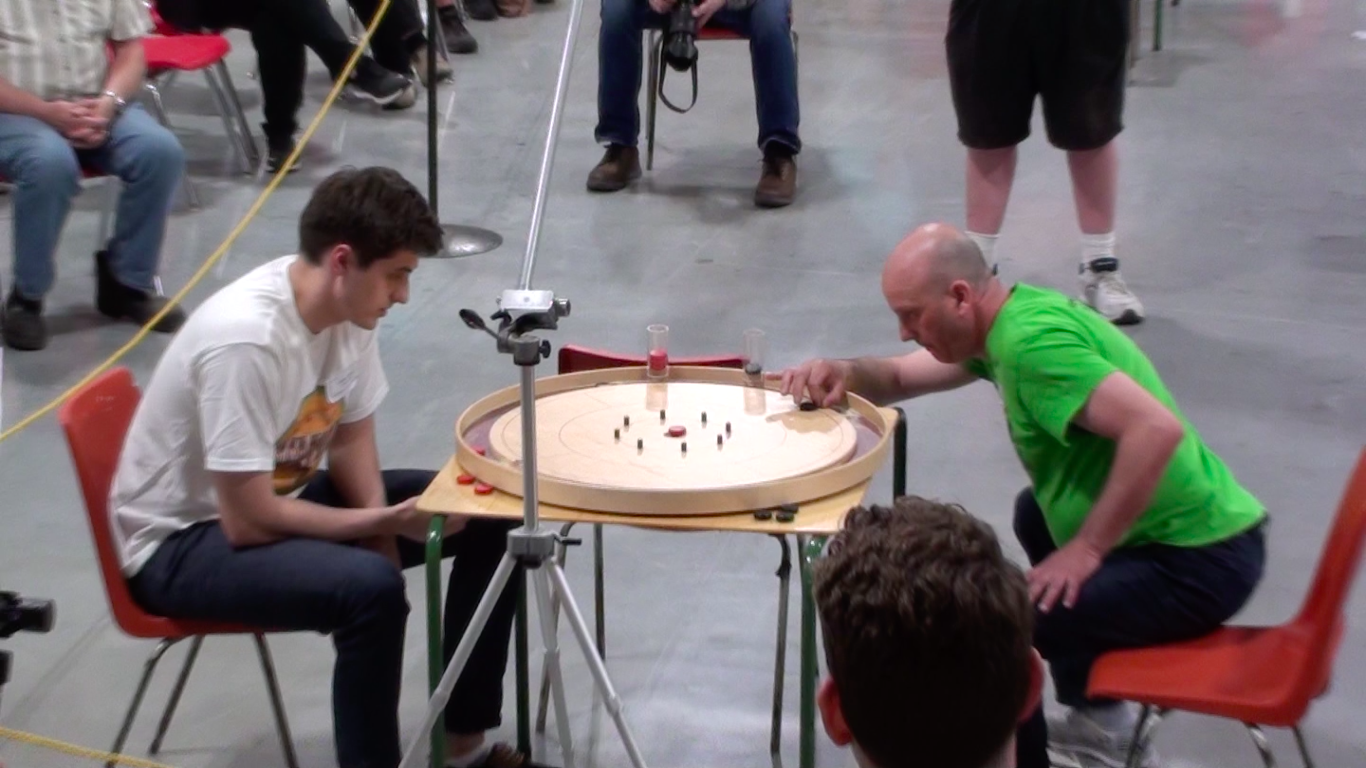 It's worth mentioning that Slater has quite a successful history of losing game one's in World Championship finals. From 2010 to 2018, Slater had lost game one 4 times in 6 finals appearances. Coming out of those 4 initial setbacks, Slater had gone on to win the world championship 3 times (2010 vs Brian Cook, 2016 vs Nathan Walsh, 2018 vs Jon Conrad).
For his part, Darren Carr appeared to show no nerves or change of pace at all facing the prospect of being one game away from becoming world champion, but it was easy to see that Slater felt very confident. Slater began game two going 3-for-3 on open 20s and not making a single error to lead 2-0. Then even when Slater fell behind in the second round, he cooly made a slice 20 to tie the round, and a hanger 20 on the final shot to go ahead 4-0.
The third round of game 2 was the only instance in the match where a large gap in experience seemed evident between Carr and Slater, as Carr missed a takeout early and lost any chance of winning the round with a faulty strategic decision, which gave Justin Slater a game two victory by a score of 6-0.
Round one of game three was another brilliant one from Slater, and many onlookers, beginning to notice Slater's confident body language, thought that would be decisive on his way to victory.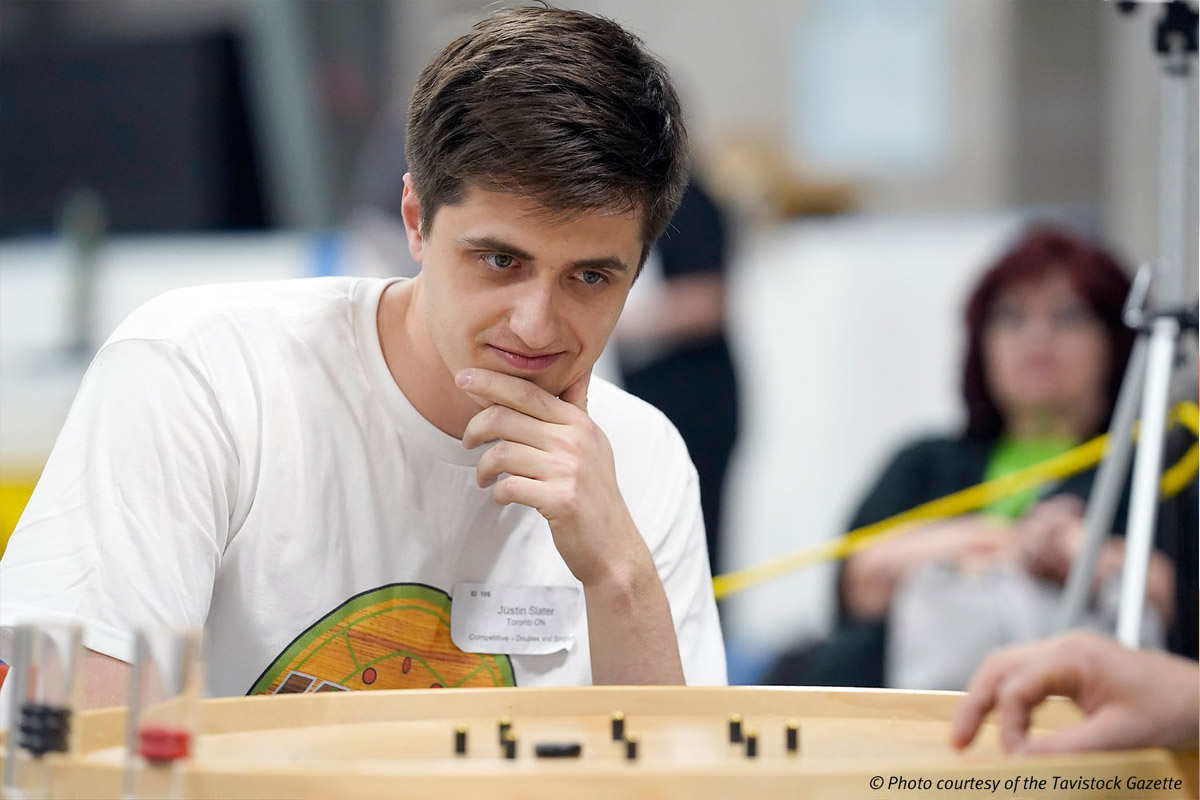 In round two Slater would get a lead, but lose it twice, the first due to a missed takeout and the second from a missed touch 20, which left the door open for Carr who made a few solid takeouts to tie the game 2-2, leaving everyone to wonder where the match would turn next.
Round three was a classic display of Justin Slater's subtle unique style of play. Carr, as he had done many times that day, earned the early 20 lead, but Slater was patient to the point of seeming indifferent about scoring a 20, and simply settled for takeouts inside of the 15 circle. On Carr's 6th shot of the round, he made the mistake Slater was waiting for as he failed to get the takeout, and Slater pounced to score an open 20 and firmly take the lead for a 4-2 edge.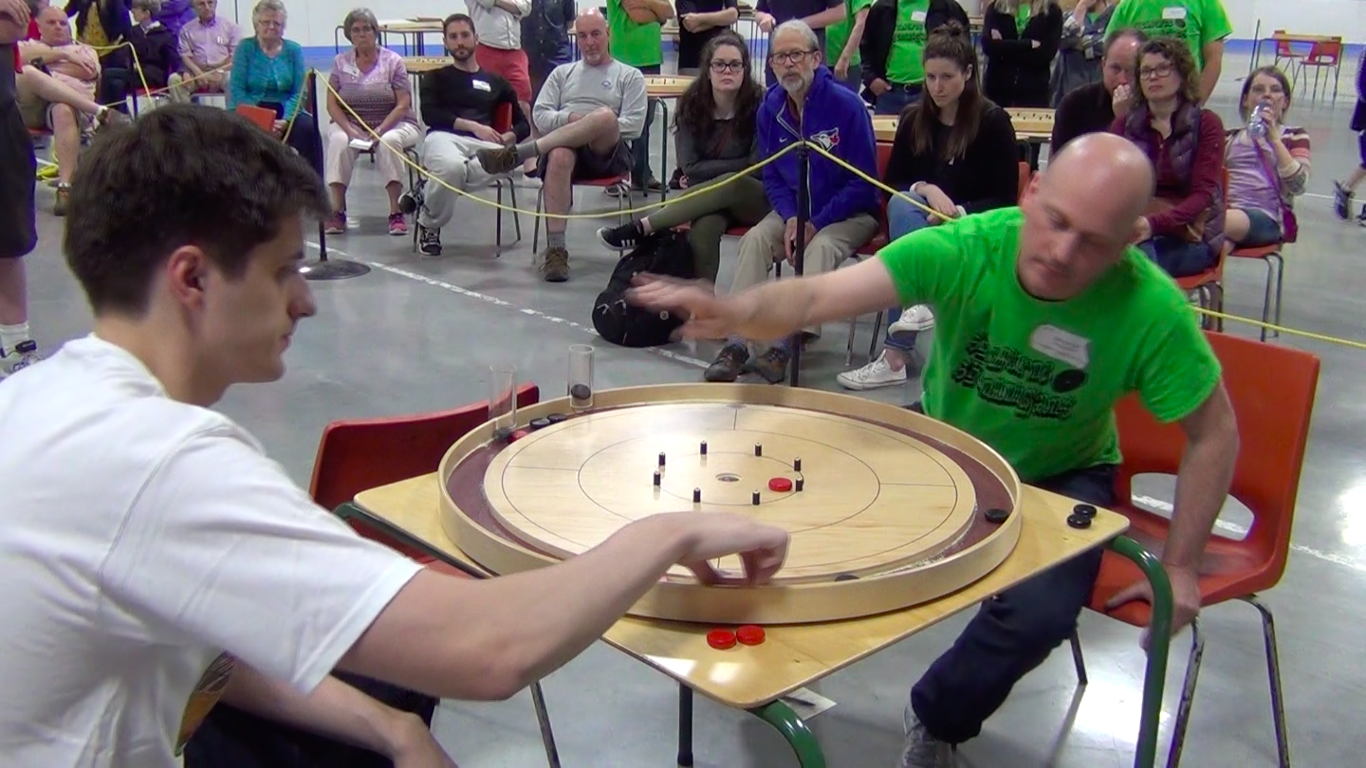 It was that round that proved to be the crucial moment as the match ended a bit anti-clamtically with Slater cruising to victory (although that's still much easier said then done) to win the match 3-5, 6-0, 6-2. For tournament officials and players, it was a bit fortunate the conclusion of the final round wasn't closer, as there was a moment of uncertainty as Carr somehow still had one disc remaining in hand after they had both shot 8 discs each. Both players were satisfied that regardless of an extra shot that the gap was too large to make up, and Justin Slater had won his record setting 5th World Crokinole Championship title.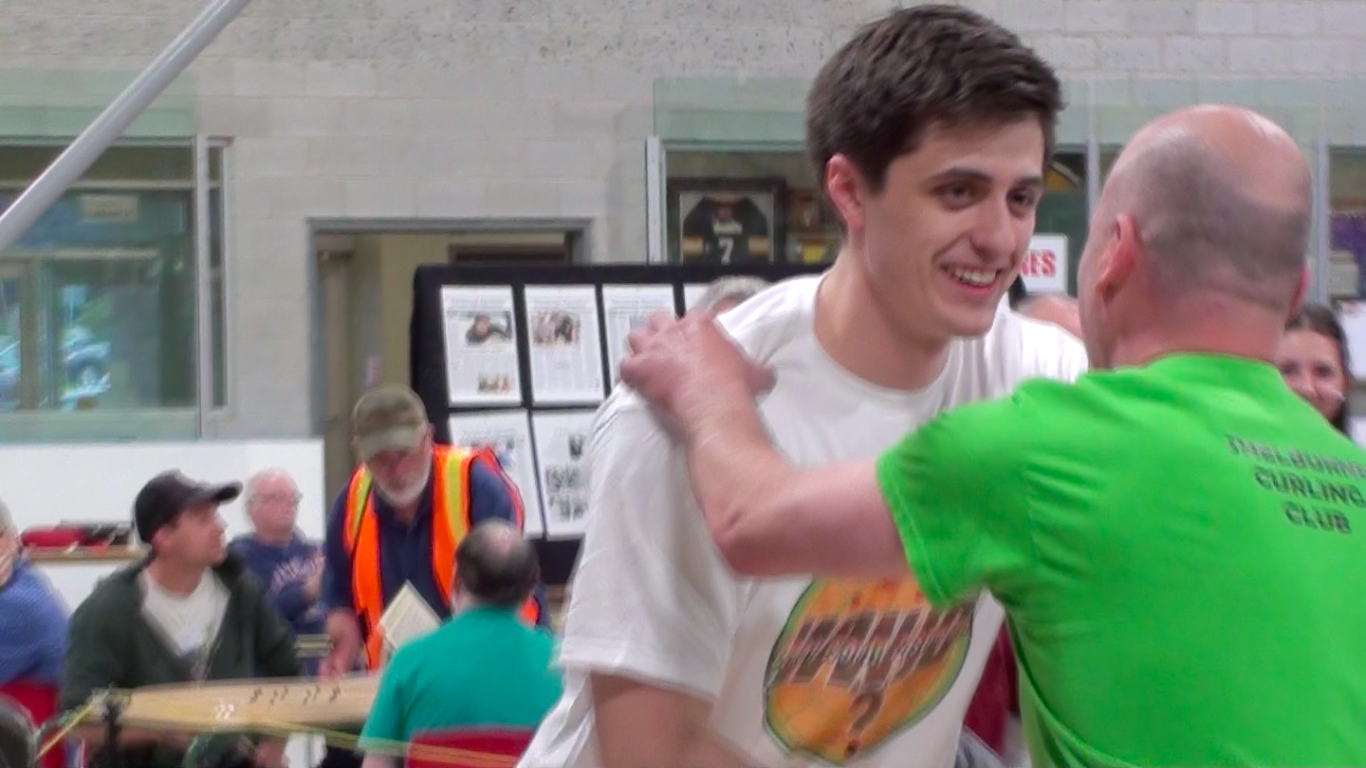 Despite the loss, Darren Carr's performance at the World Championships is a massive breakthrough moment that could certainly be a significant confidence boost for himself, and perhaps others within the Shelburne club, that could bring about further success into the future. At the very least, Carr joins a very small list of players who advanced to the World Championship final in their very first year of action in the competitive division.
The victory for Justin Slater is yet another major milestone. One may have wondered if his confidence would be shaken after finally seeing his streak of tournament victories snapped at the Ontario Singles Championship one month earlier, but he categorically proved that assertion wrong with his performance in 2019.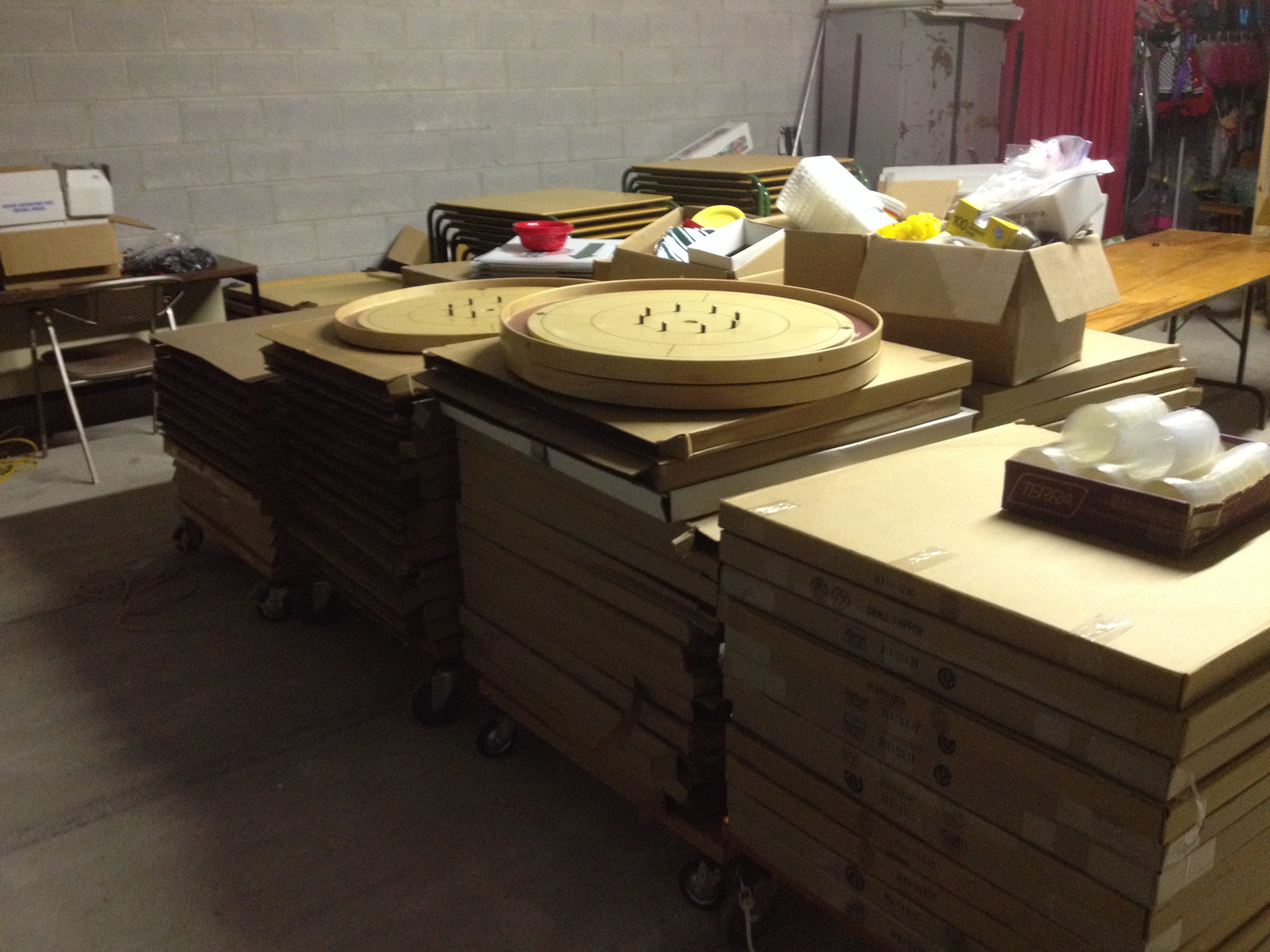 With the matches over, players and spectators exited the Tavistock arena as volunteers packed away the boards and supplies to bring this year's tournament to a close. Amazingly this game with an ambiguous heritage of 140+ years continues to write its own bigger and better story at the World Crokinole Championships every June. Much praise is deserved for those whose participation over the years has contributed to that story, and for those volunteers who ensure the tournament can in fact add a new chapter each year. It is truly all participants who play a part in making the atmosphere of the World Championships inviting, enticing, and quietly enthralling.