September 23, 2022
While the first Saturday of June normally caps off a furious run of crokinole action, June 4th 2022 marked the first crokinole tournament in a long while for many players. And when Connor Reinman made the final takeout to cap off the NCA Players tournament victory, it didn't signal an end to crokinole competition for a few months, but rather a triumphant announcement that the NCA and crokinole was back with vigour.
It was early March when the World Crokinole Championships announced they would not be holding the tournament in 2022 (a cancellation for the third consecutive year). Immediately after a group of players pining for crokinole action struck together a committee to host a marquee event on the first Saturday of June. Their enthusiasm was not just matched, but echoed by the crokinole community. The broader collective of NCA stakeholders approved the event would kickstart a new 2022-2023 NCA Tour, and players experienced and new, and from near and far, registered for the event, which was to be known as the NCA Players Championship.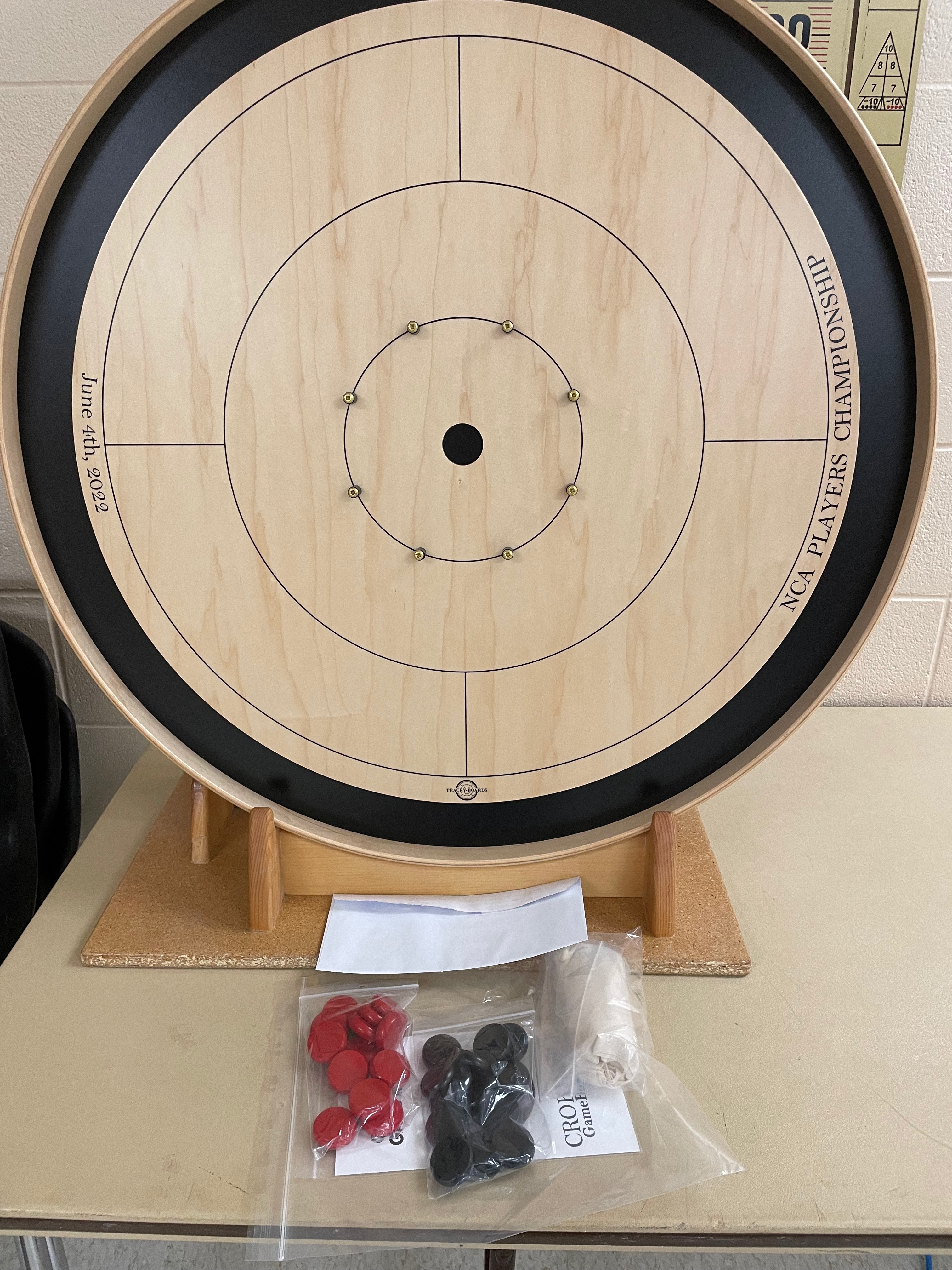 It was an early morning start with Doubles and Singles competition to be completed in the single day event. The Doubles competition had many familiar pairings forming up again, but also saw new teams such as Jeremy Tracey/Janet Waite and Mark Boot/Simon Dowrick that sparked interest. Also in attendance for the doubles competition was 5 teams all sporting shirts that made it clear this crokinole tournament was part of their bachelor party festivities. Tournament emcee, Nathan Walsh, welcomed the teams to the start of the competition, and half-jokingly added "this sounds like my kind of bachelor party."
The bachelor himself composed an original song about crokinole, which is the backdrop to this splendid short video the crew assembled about their experience at the NCA Players Championship. You can watch that here.
The 31 doubles teams battled through the 8-game preliminary round trying to finish in the top 16 and acquire a high seed for the playoffs. Fred and Justin Slater were dominant, winning every game and finishing in first with 57 points, followed by Hutchinson/Reinman at 56. Josh Carrafiello, who has shown strong fingers performances in some NCA events and at the St. Jacobs club, but it better known as one of the top cues players at the World Championships, partnered with American newcomer Brian Armstrong, and finished a surprising third in the preliminary round. They were followed by Mark Boot/Simon Dowrick, who were known to the crokinole community due to their many appearances on the Tracey Boards youtube channel, but still performed quite well in their initial NCA entry.
The 16 playoff doubles teams were split into four groups of four, with one spot in each group available to the winner to make the semifinals.
In Group A, Jeremy Tracey and Janet Waite had scrapped through the preliminaries in 16th, but put together a remarkable performance to finish with 15 points in 3-games. However, that was just slightly eclipsed by the Slaters, who scored 16 points and extended their unbeaten streak on the day to 11 (a single tie against Tracey/Waite being their only non-victorious game).
Group B was a straight-forward affair for Andrew Hutchinson and Connor Reinman, scoring 21 out of 24 points, and getting wins against previous top-4 WCC finishers like Reid and Nolan Tracey, and Tom and Rex Johnston. Group C similarly was dominated by Jason and Ray Beierling, who scored 19 points ahead of the first-time pairings of Darren Carr/Gina Schick at 11 points, and Armstrong/Carrafiello at 10.
Group D was a bit tighter, but Peter Carter and Ron Langill came away winners with 18 points (6-2 victories in all 3 games) ahead of Clare Kuepfer and Nathan Walsh who scored 15, followed by Daryl MacDonald/David Younker, and Mark Boot/Simon Dowrick who were unable to keep their strong form from the preliminary round.
That set the stage for the semifinals where the long-time rivals of Fred and Justin Slater faced off against Ray and Jason Beierling in a first-to-7 points race. The match began with two solid rounds that the Slaters won to have a 4-0 lead. A crucial moment came at the end of the third round, where Ray Beierling missed an open 20 to likely clinch the two points. His disc was taken out by Justin Slater, and the Slaters would win the following round to score an 8-0 victory into the finals.
The other semifinal saw Hutchinson/Reinman playing Carter/Langill. Hutchinson/Reinman moved out to a 4-0 lead largely based on error-free shooting. The match started to turn in round 3 when Carter/Langill were matching their opponents on open 20 shooting, and Langill got his team on the board with a clutch takeout-20 following a Reinman miss on his final shot. Carter/Langill had the lead in the 4th round when a long follow-through 20 from Hutchinson tied up the 20 count, but the open 20 shooting from Carter/Langill only improved and they'd shoot flawlessly to tie up the match 4-4. And from their the pressure never let up from Carter and Langill who'd win four rounds in a row to advance to the finals with an 8-4 victory.
Ron Langill was fresh off his US Open victory with Jeremy Tracey, and in the past had teamed up Peter Carter at the Listowel Paddyfest for a successful 4th place finish. But the finals paired them against the Slaters who had looked incredibly strong all day. The championship match began with two close rounds, but the Slaters superior disc-positioning kept them out of trouble and carried them to a 4-0 lead. The pivotal third round was a quiet battle, with the Slaters keeping a single disc to the outside of the board waiting to win with their hammer, as Carter and Langill were unable to effectively hide their disc or push play towards the middle, giving the Slaters relatively easy takeouts for a 6-0 lead. The Slaters tremendous performance would be capped off in the fourth round as they'd take the match 8-0 and win the NCA Players Championship Doubles title.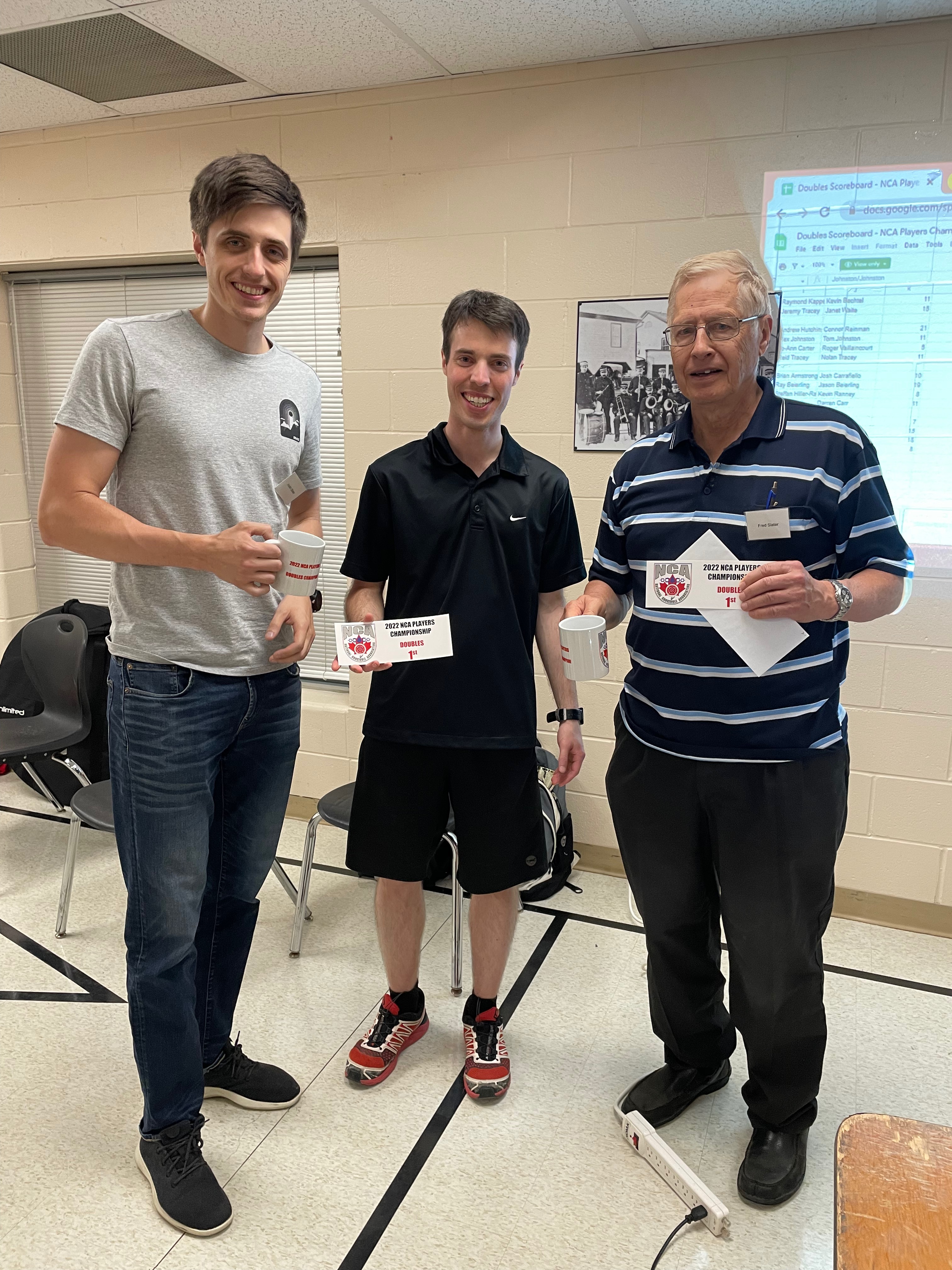 The first event in the NCAs return saw some exciting performances with Carter/Langill surprising a few teams with their high-quality play, and new teams of Armstrong/Carrafiello, Boot/Dowrick and Tracey/Waite having flashes of brilliance. But Fred and Justin Slater were undeniable in their performance, going unbeaten in 13 games and winning 86% of the total points throughout the day.
The NCA Players Championship wasn't over though, as there was still a Singles title and $1000 to play for.
The singles competition featured 54 players entering a 12-game preliminary round, with the top 24 advancing to the playoffs.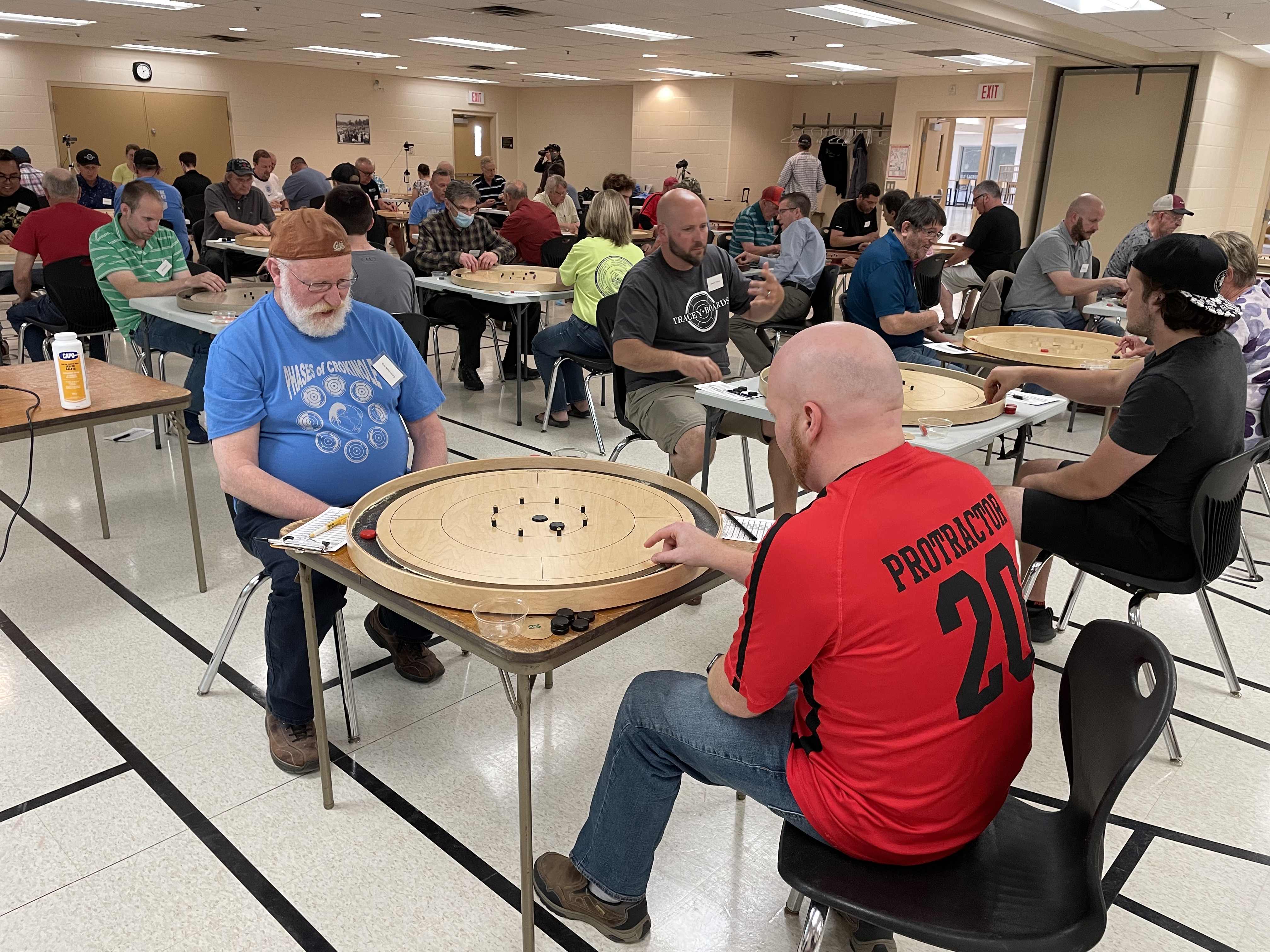 Justin Slater, looking to win both titles on the day, came out of the preliminary round with the top score of 82 points, followed by Connor Reinman at 79 points and Jeremy Tracey at 74. Andrew Hutchinson finished in 6th with 70 points and a tournament-high 132 20s (average of 110 20s over 10 games). Grabbing the final playoff spot in 24th was Steffan Hiller-Ranney at 50 points, just ahead of Jeff McKeen and Peter Carter at 49, Roger Vaillancourt at 48 and Vuth Vann at 46 points.
The 24 players were split into 4 groups of 6, with the top 2 from each group advancing to the quarterfinal stage.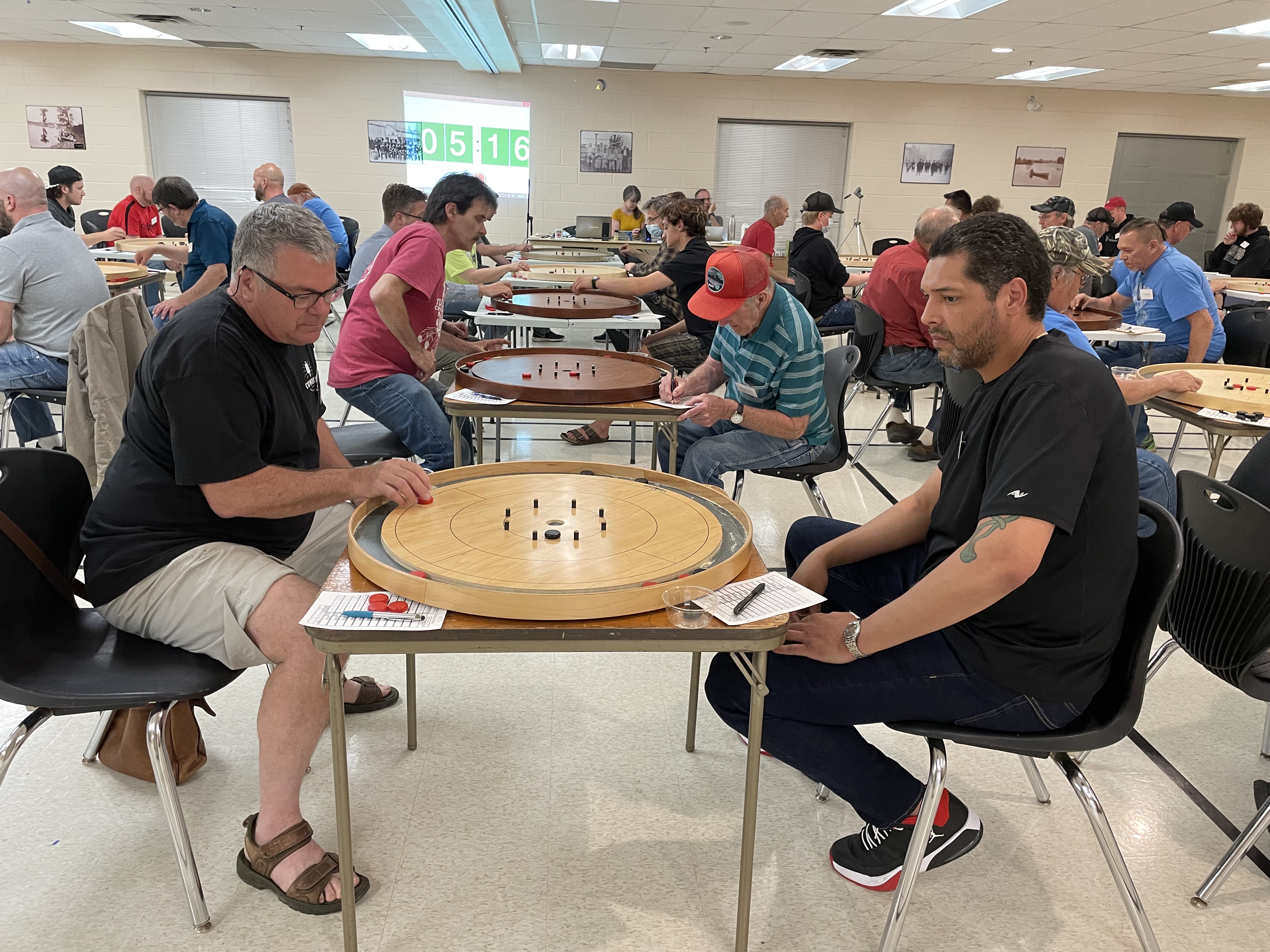 In Group A, Justin Slater faced some early pressure with Robert Bonnett and Eric Miltenburg leading the way, until Slater passed Miltenburg in the final game of the round robin to ensure that he and Bonnett would advance to the quarterfinals.
In Group B, Ron Langill and Simon Dowrick mounted a challenge early on in the round robin, but Ray Beierling and Connor Reinman gathered steam to emerge first and second respectively, finishing with a 6 point margin between Reinman and Langill over 5 games.
There was a 3-way battle in Group C between Jeremy Tracey, Andrew Hutchinson and Nathan Walsh. Walsh was leading the way after 3 games, but Hutchinson defeated him 7-1 to book his place among the top 2. In the final game Jeremy Tracey scored a 6-2 win over Hutchinson which allowed him to earn the other qualifying spot as Tracey and Hutchinson advanced from Group C.
Group D looked to be a boring race with Tom Johnston and Ray Kappes leading the way throughout the round robin. However the final game saw Johnston win 8-0 (and score a tournament high 31 points over the 5 games) over Ray Kappes, which pushed Kappes back into the clutches of the trailing pack, having scored only 24 points. But those fighting from behind couldn't manage enough points as Nolan Tracey (22 points) and Kris Flossbach (21) did not make the playoff cut.
That left only 8 players competing in a single-elimination bracket to determine the 2022 NCA Players Championship.
Connor Reinman and Ray Kappes were matched up in what was a tense battle, with players quick to punish opposition mistakes, and both players attempting and making ricochets and follow-throughs to fight back when trailing. The difference emerged in later rounds with Kappes missing some shots and battling back with tremendous takeout-20s, but Reinman avoided danger entirely by eliminating mistakes leading to a 10-6 victory.
Robert Bonnett started strong against Jeremy Tracey, with the edge on open 20s being with Bonnett and a couple missed takeouts from Tracey giving a 4-2 edge for Bonnett. The turning point was in the 4th round when Tracey trailed after the open 20 exchange but made two bounce-back 20s and a third ricochet 20 that eventually was not answered with an open 20 from Bonnett. From there Tracey seemed to be able to diminish any deficiencies in open 20 success with other facets of the game, leading to a 10-4 victory.
The Tom Johnston vs Andrew Hutchinson match was typical of both players, with their styles seemingly complementing each other. An odd moment occurred in the third round when Johnston elected for a conrad rather than an open 20. This is a typical move from Johnston but he hesitated for a moment prior to shooting and ended up not having the disc reach the inner circle for an invalid shot. The error cost Johnston a point as the match was tied 3-3 after three rounds. Afterwards Hutchinson was able to control the match, generally leading after the initial 20 race, and defending well to take the match 9-3.
The last quarterfinal saw the old rivalry of Justin Slater and Ray Beierling renewed. Ray Beierling grabbed the 2-0 lead, but Slater had the lead in round two. He looked in shape to tie the match 2-2, until he had inaccuracies on two different takeouts that led Beierling to have three discs on the board to win the round and lead 4-0. With the score 5-1 Slater had to strike back and managed to hide a disc and get an error from Beierling, but Slater missed on the crucial open 20, and Beierling's lead extended to 7-1, and he eventually clinched the match at 9-3.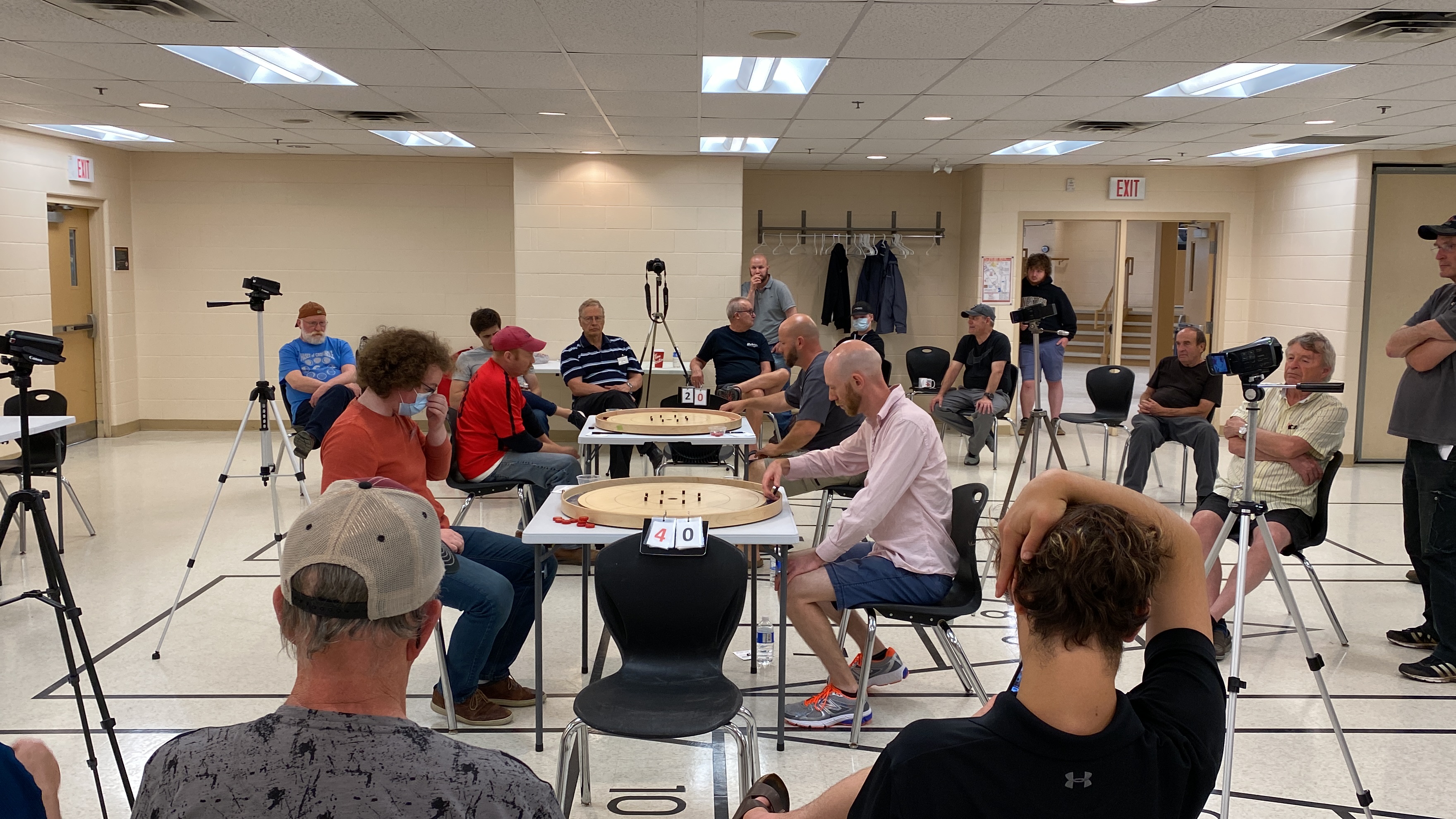 The semifinal matches were opposites in many ways. Connor Reinman demonstrated what crokinole looks like when played with machine precision. Andrew Hutchinson for his part played a very strong game, likely good enough to win on most occasions, but succumbed to Reinman's stunning open 20 performance, where he scored 23 of a total 24 open 20s to win the match 9-1.
In the other semifinal Ray Beierling and Jeremy Tracey swapped out the table during their practice shots in hopes of finding something more suited to their liking, but struggled to find their range early in the match on many types of shots. While the errors piled up, Tracey was generally shooting cleaner and led 5-3 after four rounds. In the final two rounds Tracey's accuracy dramatically increased, finding his range on open 20s and executing some nice hides, leading to a 9-3 win.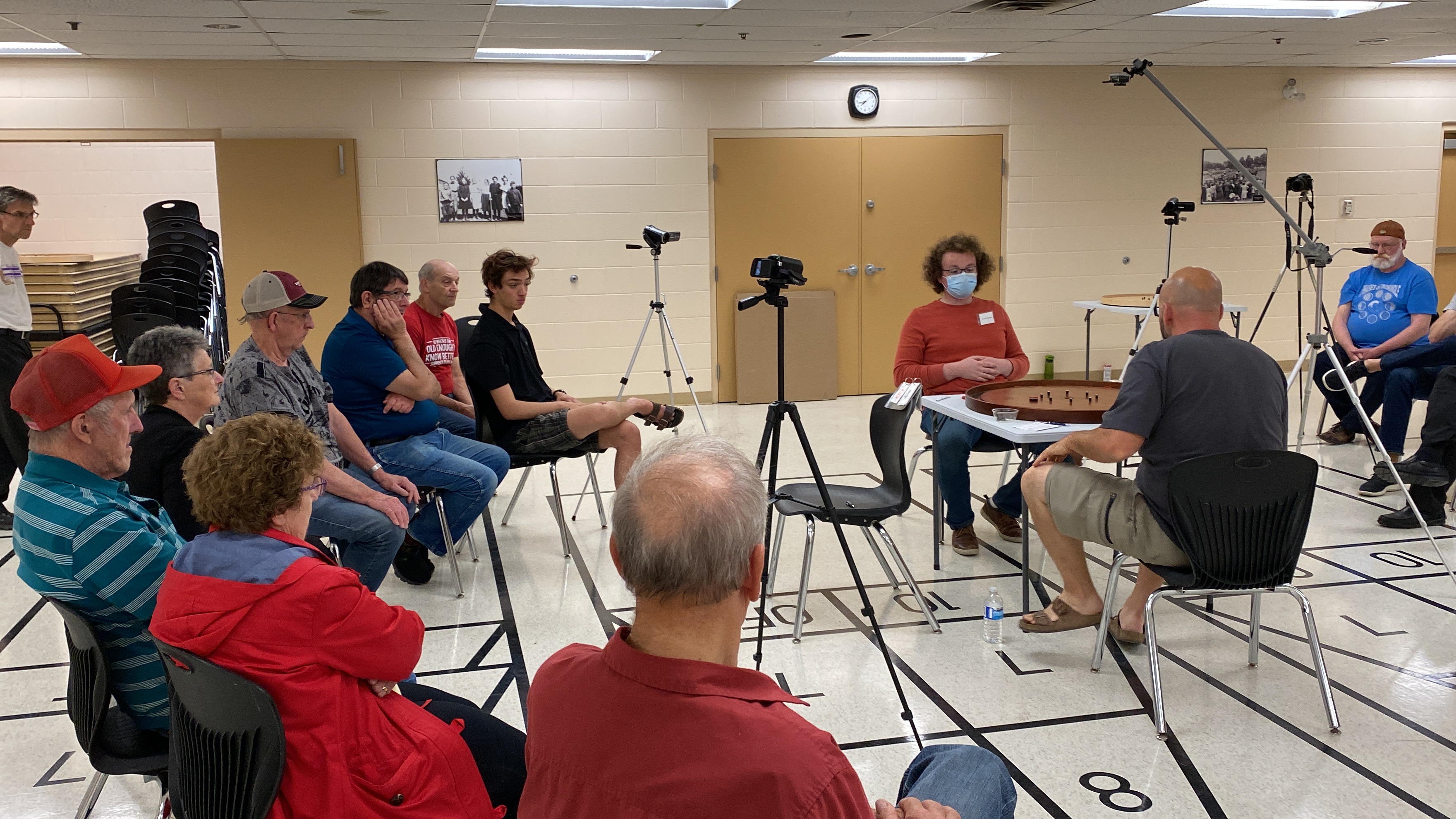 So that left a singles final of Connor Reinman against Jeremy Tracey for the NCA Players Championship and the prize of $1000. It was the first head-to-head elimination match between Reinman and Tracey who had both advanced to the final stage with some tribulations but generally in comfortable form without many close calls, leaving the question of who would be able to keep their cool when the championship pressure closed in.
Early misses from Tracey in the first two rounds gave the advantage to Reinman, who maintained the leads to go ahead 4-0. Tracey responded making his first four open 20s in round three, and his first two in round four, with Reinman unable to climb back in either round for a 4-4 match score.
A crucial moment occurred in round five, when Tracey managed to hide a disc of his own behind the pegs for multiple shots in a row. Eventually Reinman missed, but Tracey could not convert the open 20 opportunity and Reinman now led the match 6-4. For Reinman, it would be the last opportunity he'd leave for Tracey. From then on Reinman got the early lead and maintained the advantage through the final two rounds to win the match 10-4.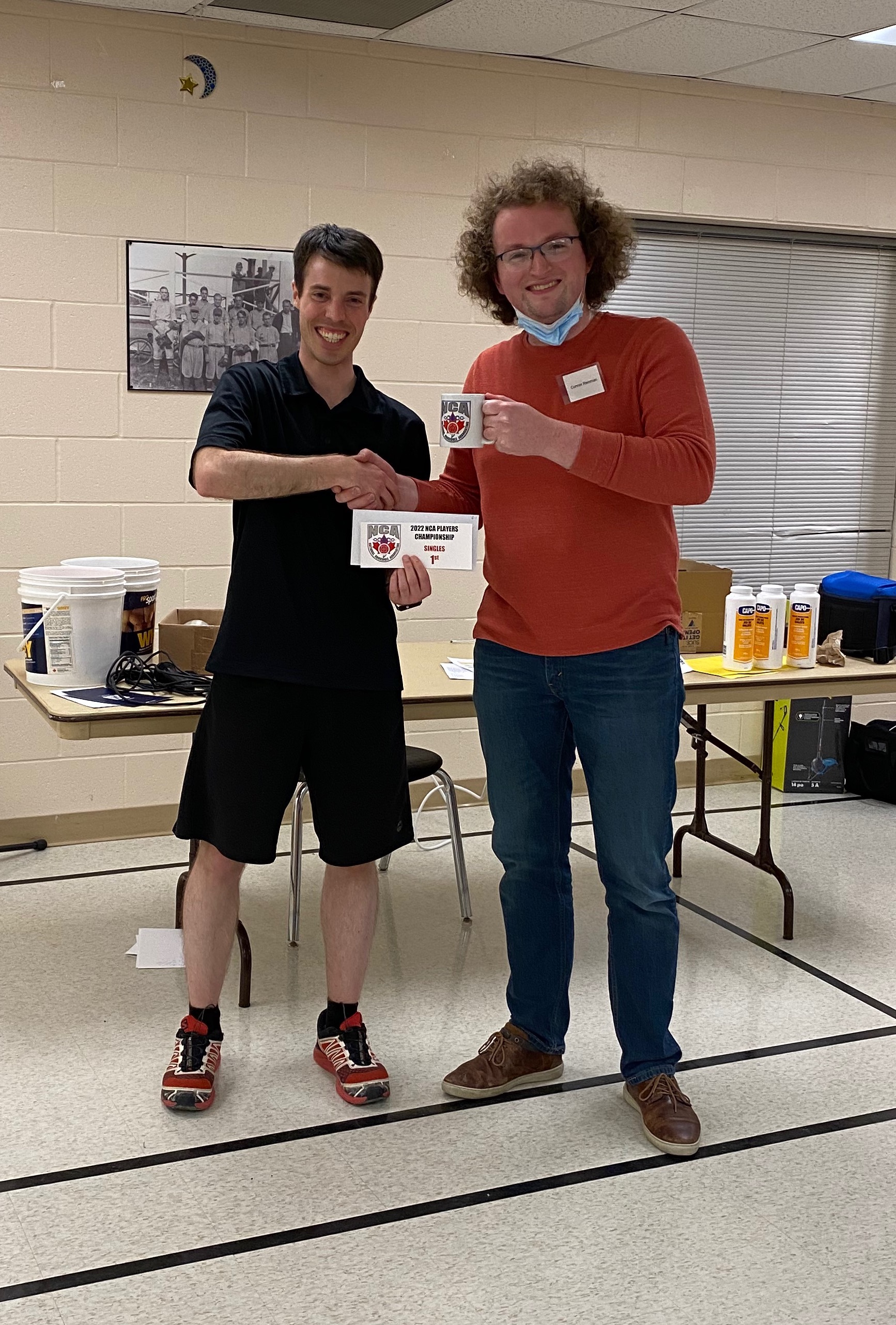 For Reinman, the victory at the NCA Players Championship was already his 4th NCA tournament win in his still very short NCA career (only having started in 2017, and playing just 16 competitive NCA events since then). The singles victory, along with the doubles 3rd place finish also give Reinman the early lead in the 2022-2023 NCA Tour.
Some words outside of just competition
When the play was completed a number of people were very gracious to lend a hand to pack up and clean up the venue, and many more were quite complimentary to those of the organizing committee for the event. To switch to first person for a moment, I was quite pleased to be graced by so many wonderful comments from so many crokinole players who, regardless of their personal performance, were just so happy to be back amongst their crokinole friends after such a long time away from the game.
I mentioned to a few people that I was having a tough time focussing fully on my gameplay when the time-clock was running, as this first attempt of being the tournament-emcee had my mind drifting to what was needed next for the tournament to stay on track. Dale Henry, well-accustomed to the challenges from running the Turtle Island event for many years, offered the humourous reply "Don't worry, you never get used to it."
David Younker, a long-time crokinole promoter from PEI, took to the microphone to offer his heartfelt thanks and to re-iterate the joy he gets from crokinole tournaments and why he makes the journey every year from the Island to Tavistock for the World Championships.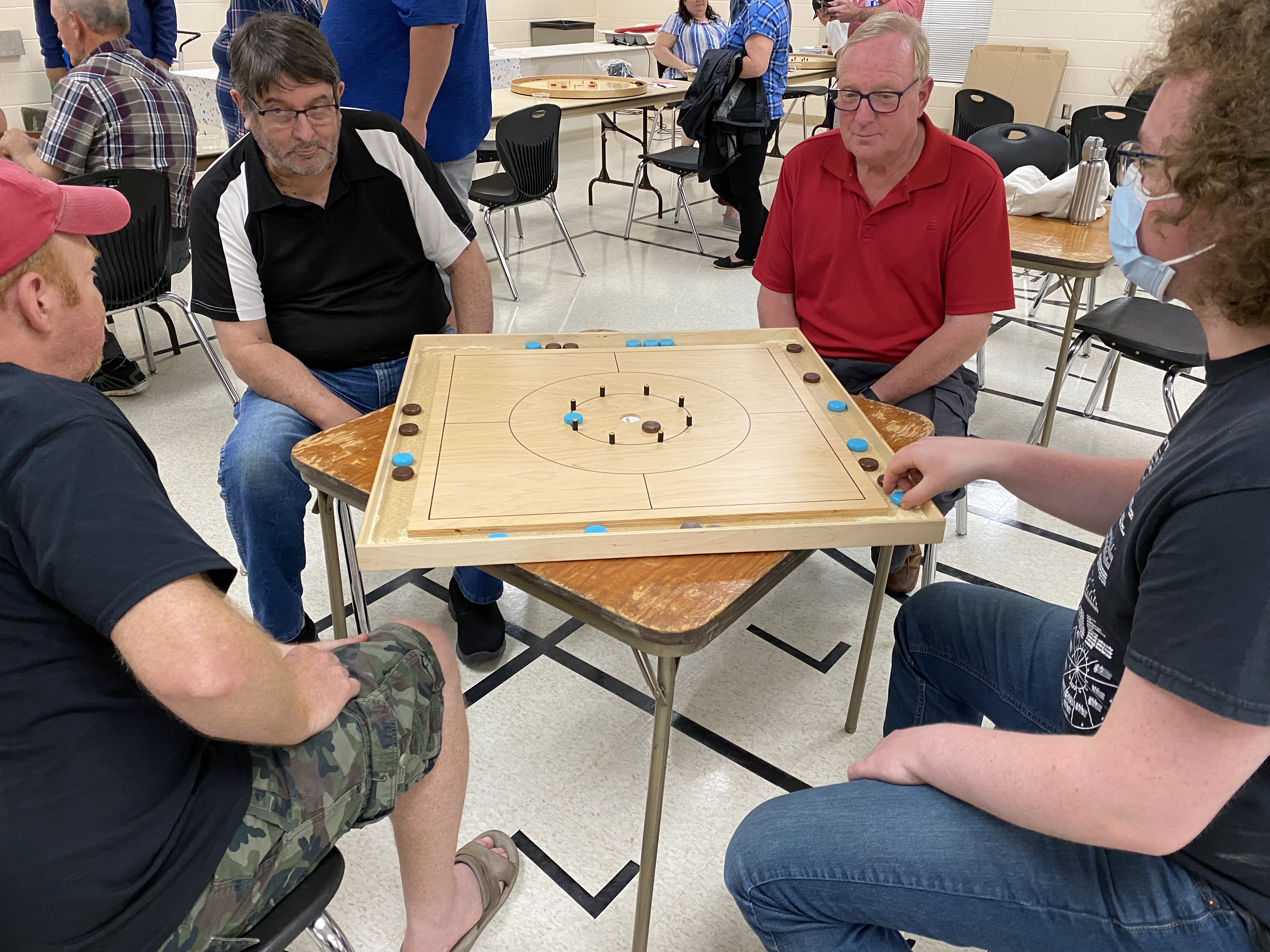 And from that gratitude I must extend my own, because organizing the tournament was far from a singular effort. I was extremely fortunate to have a board-maker in Jeremy Tracey lend likely more than $5,000 of his own merchandise for tournament use, as well as fund and organize a Friday Night Social that gave lots of people time for extra crokinole. Andrew Hutchinson had the idea to take tournament registration entirely online and single-handedly took care of everything related to it. The long-time crokinole promoter, Clare Kuepfer, offered substantial guidance throughout the planning process and carted in a dozen of his own tables for the tournament. The Beierlings lent their credibility to the event and brought in equipment and an array of unique boards. Alex Protas drove in for a few hours not to play, but just to offer his aid in the organization and labour of the event. My brother drove two hours just run cameras during gameplay. My mother organized lunch and dinner for several dozen people. My father slugged boards, tables and chairs for what amounted to over ten thousand steps.
If I left the gratitude there I'd still be remiss to not mention all of the players who helped move boards or count scorecards in between rounds of play, and all of the people aided any new opponents they faced to ensure the rules and rotation were fully understood. And further yet I'd be remiss to mention all those who travelled a great distance, from Eastern and Northern Ontario, from the USA, from Tuscarora, and from Quebec and PEI.
It's all this support that shows despite the lengthy time away from the game, organized crokinole and those that makeup the NCA are ready to make up for lost time.