June 15, 2020
A non-comprehensive listing of media links related to crokinole in the past 12 months:
General
Hartford Courant: Crokinole Catching On With Glastonbury Seniors
A short run down of the game of crokinole and a group of players at a community centre in Connecticut.
Salmon Arm Observer: Salmon Arm students embrace traditional screen-free fun
BC crokinole player, Wilf Pauls, is featured as he brings crokinole, along with other retro games, into the classroom.
iPolitics: Irregular Traditions: The out-of-the box ways Canada's MPs have celebrated Christmas
The final paragraphs detail MP, Nathaniel Erskine-Smith's crokinole board (uniquely crafted in the form of a portable 20 board) that resides in his Ottawa office on Parliament Hill.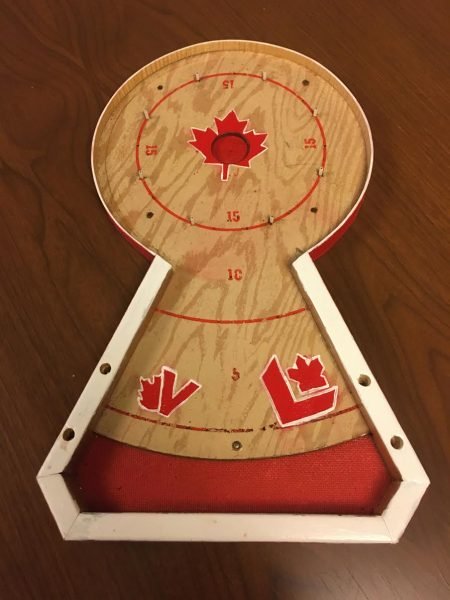 Board Game Reviews
Polygon: Make 2020 the year of Crokinole
A writer from one of the internet's most popular video game journalism and review websites eloquently describes his recently developed passion for crokinole, and calls upon his readership to discover the game.
"The game can grow or shrink depending on how people want to play, and what they hope to get out of it. Crokinole can be something that happens in the background, something to draw the eye and distract the top part of your brain if you want to play some low-stakes games while chatting and hanging out. Or it can become a much more serious pursuit, leading to tense games played in near-silence where every point counts."
Shut Up & Sit Down: Crokinole - Shut Up & Sit Down Review
A popular board game reviewer investigates the curves of crokinole in an entertaining 19 minute review of the game.
M4 Sport: Crokinole - M4 Sport
Daniel Letay describes the game of crokinole for the Hungarian television program M4 Sport.
TV, Music and Radio
Hans Reinhold: Crokinole Boogie
Hans Reinhold has done a lot for the game of crokinole. First, he gave great validity to the World Championships by being one of the few international competitors in the early years, consistently travelling from Germany to compete. He'd later play a key role in the 2006 documentary Crokinole and sponsor the Women's World Championship trophy at the WCC in honour of his late wife Karin Jeske. And it was clear he was doing his part to promote the game in Germany, appearing on the variety game show Schlag den Raab to referee a crokinole match. Now he has contributed musically to the game, giving this gem to the crokinole community.
Greg Rich: Let's Play Crokinole!
The gentlemen, of slightly less fame than Mr. Reinhold, puts together a great tune along with some sweet crokinole highlights.
Shane Thompson: Crokinole Song
Following Ron Langill's attempt at crafting The Tragically Hip's Bobcaygeon into a crokinole song, Shane Thompson contributes a song he had made a few years prior.
Corner Gas Animated: Anger Games
Season 2 Episode 10 of Corner Gas Animated features crokinole, as characters attempt to remember the rules of the game, which includes them watching a (fictionalized) World Championship match online and stating how boring it is. You'll need a TV subscription to watch.
96.3 Cruz FM: No Sports Report
Capitalizing on the opportunity to make jokes shortly after the major sports leagues suspended their seasons, 96.3 Cruz FM came up with this:
Darts and Crokinole: The 'No Sports' Sports Report - March 19th

(Featuring a Gordon Bombay reference) pic.twitter.com/Fe44ELLMRO

— 96.3 Cruz FM (@963CruzFM) March 19, 2020
Comics
Neil Brun: Nonsense and Repitition
A comic detailing why crokinole should become more popular in office spaces.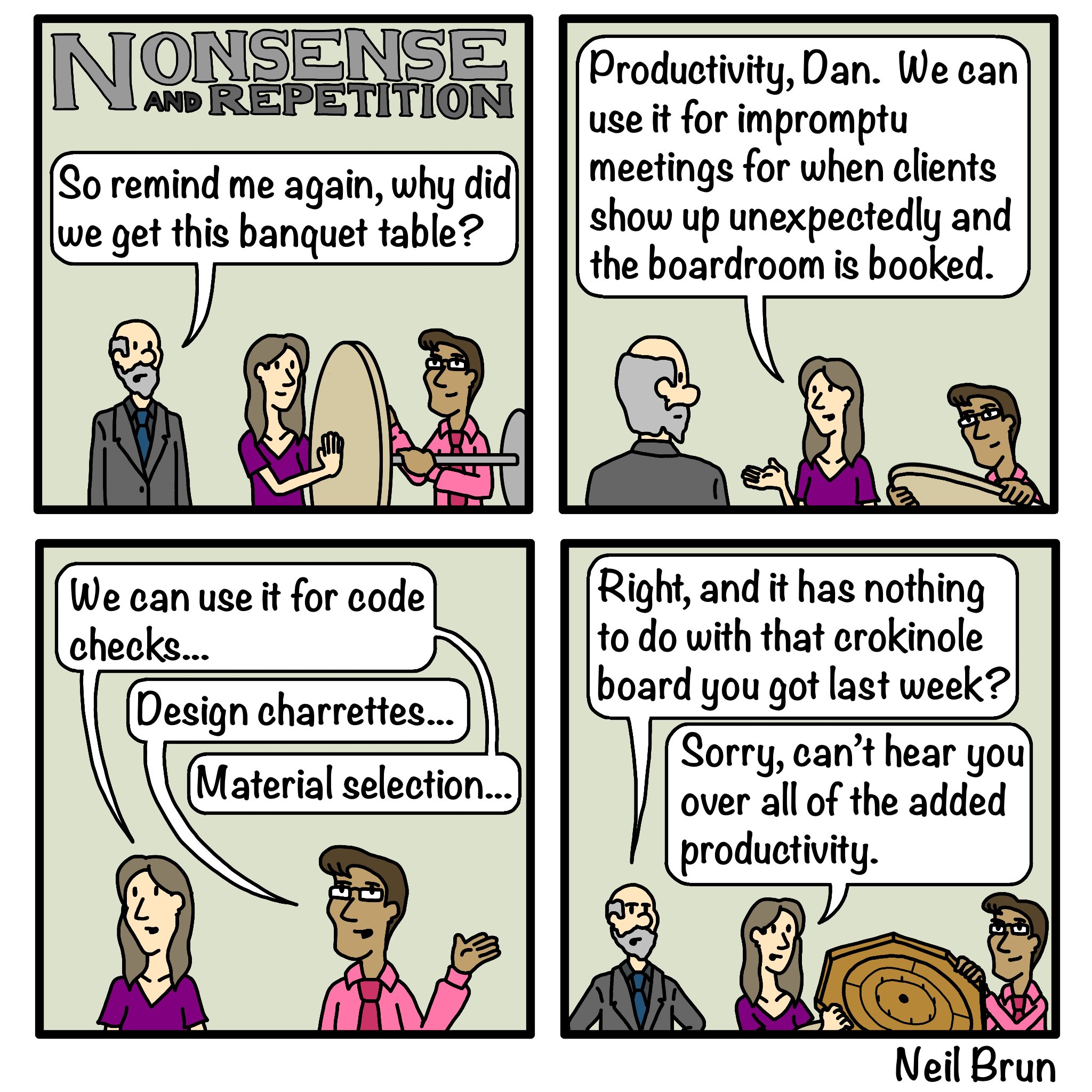 @dodomeBG: Crokinole Comics in Japan
There's a consistent internet joke about crokinole being a candidate for the next great Japanese anime. Well someone is making crokinole comics that look pretty cool.

Sugoi Corp: Champions of Crokinole
Speaking of crokinole anime, a podcast literally describes how they would implement that joke.
Crokinole Tournaments
The Guardian: Finger flickin' good – Crokinole a popular game on P.E.I.
Lawson Lea is interviewed a few weeks after the 2019 World Championships, and during the Roy Younker Memorial Tournament.
The Star Phoenix: Sporting Christmas nears the finish line with Christmas Eve at hand
A Salvation Army initiative in Saskatoon continues and hosts its very own World Crokinole Championship, supposedly in its 35th year. There's not many details about the event included, but there was this gem:
"Cory Thoms, who talks a good game, but has skills as sharp as a butter knife, was voted the most obnoxious player."
CBC PEI: Is crokinole a P.E.I. pastime? There sure are lots of players!
CBC PEI shared this archived story from the 2004 PEI Crokinole Championships, which features crokinole legends like Roy Younker and Jarmo Puiras.
Dajka Balazs of 24HU: Hagyd, hogy a pöckölés beszéljen helyetted!
A piece about the 2019 World Cup of Crokinole in Budapest, Hungary, obviously written in Hungarian but well worth the translation efforts to read descriptions of Canadian competitors like Jeremy Tracey and his "own antioxidant-free juice everywhere, which made it even easier to bear the jet lag . . ." and Brian Cook whose "every move was absolute consideration."
Haerlems Bodem: Trainen voor eerste NK Crokinole X Haerlems Bodem
Players describe their preparation for the Dutch Crokinole Championships, highlights of which were put together by Drums 4 Games on Youtube:
Interviews
Extra Pint Crokinole Club: Youtube - Extra Pint Crokinole
Jason Malloy has been conducting interviews with various members of the competitive crokinole community, creating a brand of content not yet seen for crokinole.
Heavy Cardboard: Jeremy Tracey - A conversation w/Heavy Cardboard
Jeremy Tracey is interviewed following his experience at PAX East.
Super Gamer Podcast: Crazy for Crokinole at PAX East
And another case of Jeremy Tracey being interviewed following his experience at PAX East.