April 19, 2020
Upon looking for quotes regarding an over analysis of the past, the following came up from the novel The Truth We Never Told, by Stacy A. Padula:
Dwelling on the past and worrying about the future will only rob you of the present's joy.
Seems like a wise quote, but uh . . . one might reckon there's been a lot of worrying about the present these days, so the timing seems adequate and even enticing to once more reflect on
Crokinole in the 2010s
.
This will be the last instalment of the series of reviews of the decade as CrokinoleCentre presents the Top 10 Players of the 2010s.
Top 10 lists on the internet have a tried and true characteristic of stirring up controversy among the readership. It doesn't matter if months of careful preparation went into such a venture, it's quite easy for readers to argue both rationally and irrationally for hours regarding the criteria, arbitrary or not, and judgement used to make a such a ranked list. While a hobbyist author may find this behaviour to be a disincentive, a desire for a brief distraction from more consequential present matters makes this idea all the more inviting.
Fair criticism. Unfair criticism. It's all welcome.
"Will this list be biased?" you ask!
Well, scroll down to #5 and answer for yourself. But seriously, this list will be as dependent on objective analysis as the work of any professional statistician (which is to say entirely, right up until the moment it becomes inconvenient).
"Will this list be comprehensive?"
As much as it can be realistically. Crokinole went at least 130 years with no organized competition of significant magnitude to speak of. There will never be a definitive answer to the greatest player of all time question. Even this list covering 10 years of crokinole, written by arguably the person who's watched the most of it, clearly suffers from geographic and informational restrictions.
"Will I enjoy reading this list?"
Uh . . . probably not. Look, I thought this was a great idea at first, then I thought it was a good idea, THEN I thought it was a pretty bad idea that shouldn't see the light of day. But at that point I had already written 30% of it, and didn't feel like putting that much work onto the shelf. So I figured I'd post this, but then cover both bases by telling you not to read it.
Decision Criteria
Timeline: January 1st 2010 to December 31st 2019
This works pretty well to align with both the NCA and the existence of CrokinoleCentre. Unfortunately I can't contribute much to a discussion of the best players of the 1990s or the 2000s, but that would entail a fun bit of crokinole history. (The 2000s debate between 3-time World Champions Cook and Fulop would be interesting. Perhaps someone else can weigh in on that.)
Competition in Consideration: All NCA and WCC events, plus others that were or would have been featured in this blog (such as Schneider Haus).
This list won't factor in any results of club play or lesser known events, as the results of these are inconsistent and too hard to come by. Since it's best to stick to what one knows best, this list won't factor in the performance on the Cues side of the game either. The statistics quoted later on include the results of 113 tournaments (86 singles, 27 doubles) that took place over the decade. Much thanks to Ray Beierling for providing a comprehensive file that did most of the work that led to these detailed achievements.
Other Notes
Keep in mind this is a list of the best players of the decade, not a ranking of the current crokinole world. Which means performance is to be considered equally throughout the 2010s. That being said, a player's standing does not lose points for being mediocre at times throughout the decade. Certainly improvement to an extremely high level is a good thing. Additionally, a player does not benefit from being elite during a short period of competitive action under the assumption that if they had played throughout the entire decade that they would have accumulated numerous other accolades at the same pace. Perhaps it's best to say this list should attempt to capture the 10 players who made the biggest imprint on crokinole at the highest level in the 2010s.
Honourable Mentions
Who's Not on this list?
In short, some very good players. 10 spots is not that many, even for a niche competitive endeavour the spots go by fast. That means top players with tournament victories and multiple finals appearances in the decade (like Clare Kuepfer, Tony Snyder, Jeremy Tracey, Louis Gauthier and Ray Haymes) didn't quite make the cut for this list. Neither did World Champions in the decade, such as Richard and Bob Mader or Robert Bonnett.
Additionally there is not an inclusion of players from other crokinole hotspots such as Belgium, Hungary, British Columbia or PEI. Attempting to compare players who rarely, or perhaps never, competed against each other would stretch the rankings into uncomfortable subjectivity. Although a moment can be taken to recognize some of the best from those regions.
From Belgium, Bert Costermans and Dennis Vrints were undoubtedly the best. Over the 4 year run of the Belgian Crokinole Championships (2013-2017) the team of Costermans/Vrints won all 4 doubles titles. They also each recorded a singles national title in those years, and then went on to defeat the best doubles teams in Hungary with a win at the European Open in 2018.
In Hungary the decade was defined by dominant stretches from two different players. Attila Berzlánovich debuted competitively late 2016, and over the course of the next 3 years would win 10 singles events (among them the 2018 European Open and the 2019 Hungarian Nationals) along with two Hungarian doubles titles with his brother Krisztián. Berzlánovich's introduction into crokinole coincided with Hungary's first dominant player stepping away from the game. Áron Deme was the victor in 10 out of 15 singles events played in Budapest, including the first 4 Hungarian National Championships from 2013 to 2016. The 2016 Hungarian title was his last competition on home soil, although he did travel to Belgium to win the 2017 Belgian Championships in a showdown with Bert Costermans. Unfortunately for Hungarian crokinole fans, there never was a tournament with both Deme and Berzlánovich in competition.
Out of PEI there was a great deal of parity on the singles side, but the team of Wilfred Smith and Lawson Lea was the cream of the crop on the doubles side. Not only did they come away as provincial champions on multiple occasions, they also had success on the world stage with 3 finishes in the Top 6 of the World Doubles event, with a best finish of 3rd.
Finally, the decade's best performances in BC came from Quin Erzinger and Linda Irvine. Erzinger was the most successful on the singles side with 3 provincial titles and 2 runner-up finishes. Meanwhile Irvine won the singles title twice in 2016 and 2019, but was the more successful one on the doubles side with 2 doubles victories and 2 runner-up finishes (one of each coming alongside Erzinger).
#10 - Roy Campbell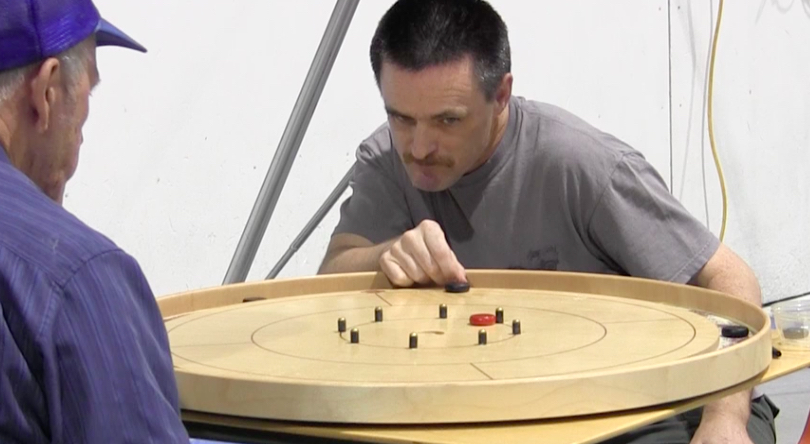 1 Tournament Win
6 Top 2 finishes (11th)
18 Top 4 finishes (8th)
5 Tournament Singles Top 2 Finishes (8th-tied)
13 Tournament Singles Top 4 Finishes (9th)
Why this spot?: Roy Campbell debuted in competitive crokinole in the Spring of 2011, but wasn't a regular until the Fall of 2012. He quickly found himself finishing among the top 10 at such regularity that he was labelled by many fellow players as a darkhorse candidate for tournament victories. He cemented himself as one of the game's top players with a break-through 3rd place finish in the 2015 WCC singles event, followed a couple months later with his maiden NCA victory at the 2015 Scenic City Classic.
Why not higher? Why not lower?: The one knock against Campbell is the lack of multiple tournament victories, so it could be argued others who've recorded 2 wins (such as his current doubles partner) deserve the higher ranking. But it cannot be overlooked that Campbell has been one of the game's top contenders for the majority of the decade, only failing once in the last 7 calendar years to record at least one top 4 singles finish.
Decade Lowlight: To dissuade excessive bragging due to the results of these rankings, a lowlight from each player will also be included to keep respective egos in check.
In 2018 Roy Campbell and Jeremy Tracey had advanced to the final 6 playoffs for the Doubles World Championship, and very early on it was clear they would be battling with the Beierling brothers for the title. When they met the Beierlings mid-way through the playoffs a win or a tie would have kept the championship dreams alive, but they were thoroughly beaten 8-0 in the game, smashing their title aspirations.
Decade Highlight: Campbell's win at the 2015 Scenic City Classic came in his first ever tournament final, and it also featured a terrific comeback. Trailing Jason Beierling 8-4 in a first to 11 match, Campbell scored 8 consecutive points to runaway with the title.
Their defining Shot of the decade: If you ask Roy Campbell to "drive it straight through to here" the here you are referencing might as well be the 20 hole.
#9 - Connor Reinman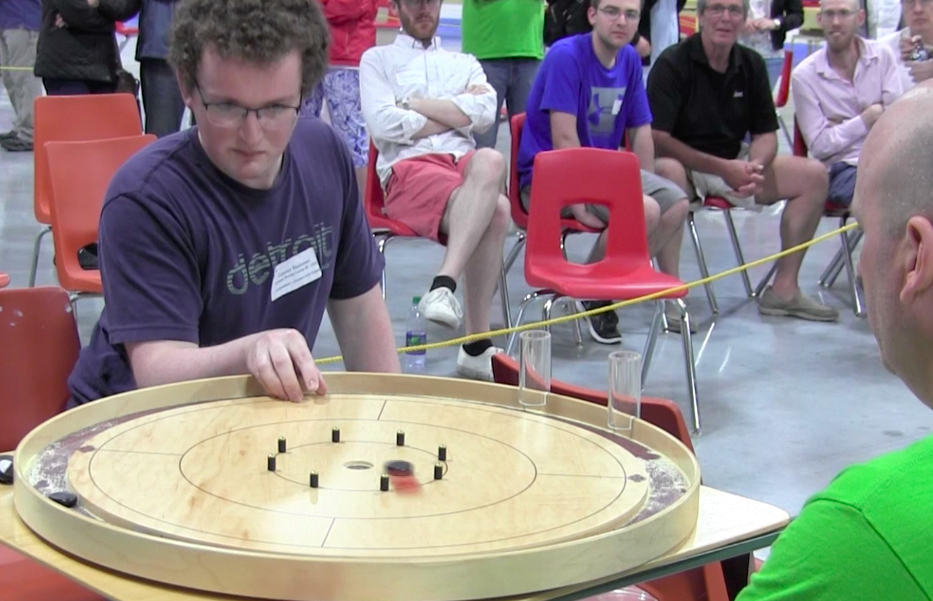 3 Tournament Wins (9th)
4 Top 2 finishes (10th-tied)
11 Top 4 finishes (12th-tied)
2 Tournament Singles Wins (9th-tied)
3 Tournament Singles Top 2 Finishes (11th)
Why this spot?: Connor Reinman entered the competitive crokinole scene through the broadcasting booth of CrokinoleCentre well before registering for an NCA tournament. When he first competed at the 2017 Ontario and World Championships no one knew what to expect from the man whose face was not yet familiar, but whose voice had become well known. More so than any other player in the decade, expectations for his play shot through the roof when he finished 9th and 3rd in his first 2 events, and in large part those expectations were met through the remaining years of the decade.
Why not higher? Why not lower?: Despite only playing parts of 3 years competitive, Reinman still racked up 3 victories and 11 top 4 finishes in only 15 events played. Reinman would certainly rank much higher if this top 10 only covered the years 2017-2019, or even just the back half of the decade. Seeing as this list covers 10 years though, the higher spots are reserved for those who benefitted from more time in being able to plant a larger stamp on the decade.
Decade Lowlight: Even with the success of the 2019 World Championships (3rd in doubles, 4th in singles) the sting of what could have been stands out as the lowlight. Reinman's tantalizing loss in the 3rd-game-5th-round-tiebreaker of singles semifinals to Darren Carr caused his first world championship finals appearance to elude him.
Decade Highlight: Reinman was one of only 3 people to win an Ontario Singles Championship in the decade, and the style in which he did so was pretty special with sudden death wins in both the semifinals and finals. The most impressive part was the perfect round he scored against Ray Beierling to cap off their semifinal match.
Their defining Shot of the decade: This is one of the most ambitious shots of the decade that was somehow actually executed perfectly.
#8 - Andrew Hutchinson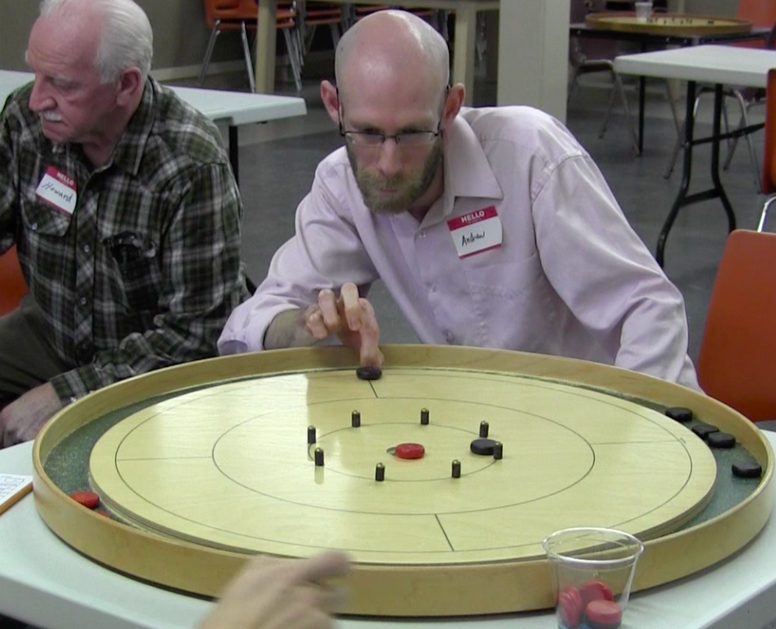 5 Tournament Wins (8th)
8 Top 2 finishes (8th)
17 Top 4 finishes (9th)
4 Tournament Singles Wins (6th)
7 Tournament Singles Top 2 Finishes (7th)
Why this spot?: Andrew Hutchinson began pursuit of finger-flicking achievement when he crossed crokinole's House of Commons floor after winning the 2016 Cues Crokinole World title (perhaps even Bautista bat-flipping his cue into the Grand River following the victory). Impressively, there was little discontinuity before Hutchinson proved as successful in the new domain, recording 2 finals appearances in his first 3 events. Even after a run of periodic 5th-place finishes, he managed to finish in the Top 4 in 17 over 34 events in the decade, and won 5 of the final 9 tournaments he played in the decade.
Why not higher? Why not lower?: Similarly to Reinman, Hutchinson's case is limited by time span. He immediately established himself as a contender when he joined the fingers tour, but it was only in the final year of the decade where he definitively earned a regard as one of the top 3 players in the game.
Decade Lowlight: Sandwiched among Hutchinson's successes to close the decade was a devastating loss to Jon Conrad in the 2019 Ontario Singles semifinal, when Hutchinson had chances to close it out, but they slipped away as Conrad came back to win the match.
Decade Highlight: Perhaps Hutchinson's most thrilling victory came against Robert Bonnett in the 2019 London final, when he trailed in a sudden death round but found a way to overcome the deficit and win the tournament.
Their defining Shot of the decade: Hutchinson would tell you his game is open-20s and defensive-placements, so here's a great example of the latter:
#7 - Fred Slater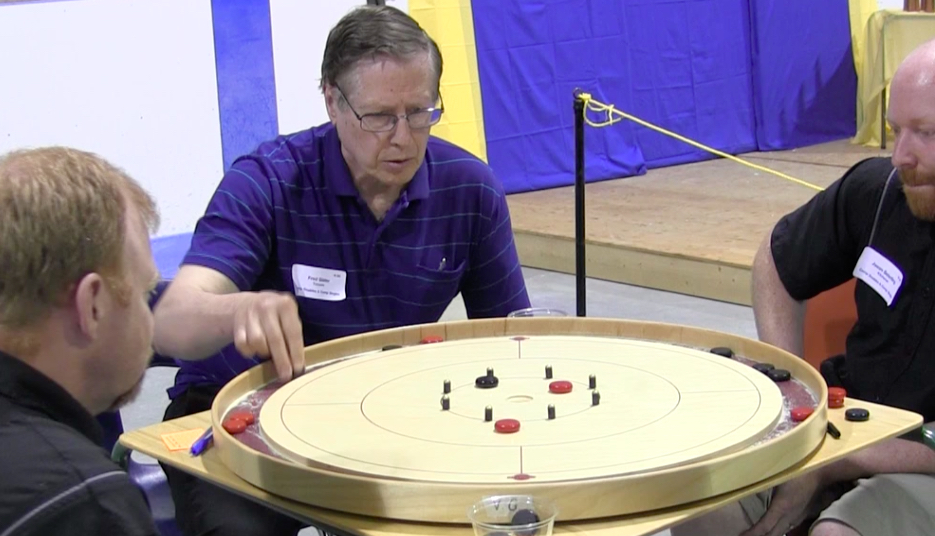 10 Tournament Wins (5th - 3-way tie)
17 Top 2 finishes (7th)
29 Top 4 finishes (7th)
8 Tournament Doubles Wins (1st)
2 Tournament Singles Wins (9th-tied)
5 Tournament Singles Top 2 Finishes (8th-tied)
2 NCA Tour Podiums (6th)
Why this spot?: Fred Slater was established in competitive crokinole coming into the decade following a couple of top 4 finishes in 2009. He recorded his first victory in September of 2010 after beating out Brian Cook in Kawartha, and then a second victory a month later when he teamed up with Cook to win the first Ontario Doubles Championship. From then on he was never out of contention, recording at least one top 4 finish each year of the decade.
Why not higher? Why not lower?: The only knock against Slater's ranking would be that the majority of his success in the decade came through doubles. But it cannot be overlooked that his doubles record was the best of anybody's in the decade with 8 doubles titles, in addition to being one of the few to record multiple singles tournament wins.
Decade Lowlight: Slater suffered two crushing losses back-to-back in the BC interior, first losing a 3rd-game-5th-round-tiebreaker to Quin Erzinger in the 2011 provincial final, followed by another 3rd-game-5th-round-tiebreaker loss to Brian Cook in the 2012 final.
Decade Highlight: CrokinoleCentre is lacking video recordings for a number of Slater wins early in the decade, but it was able to capture a gem of a match from Slater in 2013 when he played brilliantly in the London final to defeat Jon Conrad in 2-straight games.
Their defining Shot of the decade: Recently Fred Slater began shooting with his index finger, but he spent most of the decade shooting with the middle, so it's best to remember the decade with one of the few shots that a middle-finger shooter has an advantage: the long distance follow-through-20
#6 - Jason Beierling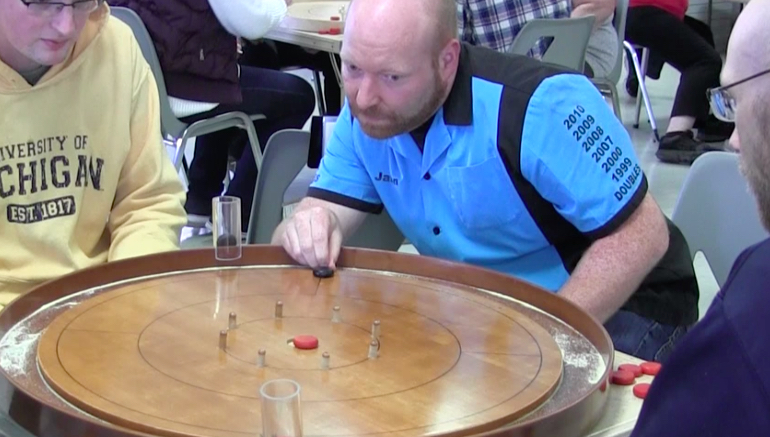 10 Tournament Wins (5th - 3-way tie)
21 Top 2 finishes (5th-tie)
40 Top 4 finishes (4th)
7 Tournament Doubles Wins (3rd)
3 Tournament Singles Wins (7th)
9 Tournament Singles Top 2 Finishes (6th)
1 NCA Tour Podium (7th)
Why this spot?: Jason Beierling made a big statement when he defeated Ray Beierling in the 2012 London final, ending Ray's hopes of capturing 4-straight London titles, while scoring his first singles victory of the decade. While his doubles results are the most remarkable feature of his decade of accomplishments, he was consistently in the running on the singles side, and by the end of the decade he had appeared in the finals of every tournament on the NCA Tour with the exception of the singles World Championships.
Why not higher? Why not lower?: Beierling's record ended up being a touch better than Fred Slater's, and he did amass more impressive singles results to earn the #6 placement.
Decade Lowlight: In the 2018 Ontario Singles semifinal Jason Beierling led the first-to-9 match by a score of 6-0 over Justin Slater, but he was unable to close it out, ultimately losing the match 10-6.
Decade Highlight: Jason Beierling's best performance of the decade came at the 2018 Belleville Crokinole Challenge where he, after dominating Nathan Walsh 10-2 in the semifinal, doubled up Ray Beierling 11-5 in the finals to claim the Belleville title.
Their defining Shot of the decade: Thanks to a co-worker Jason Beierling got the nickname protractor and there was no better protraction that this maximum distance ricochet he pulled off for a 20.
#5 - Nathan Walsh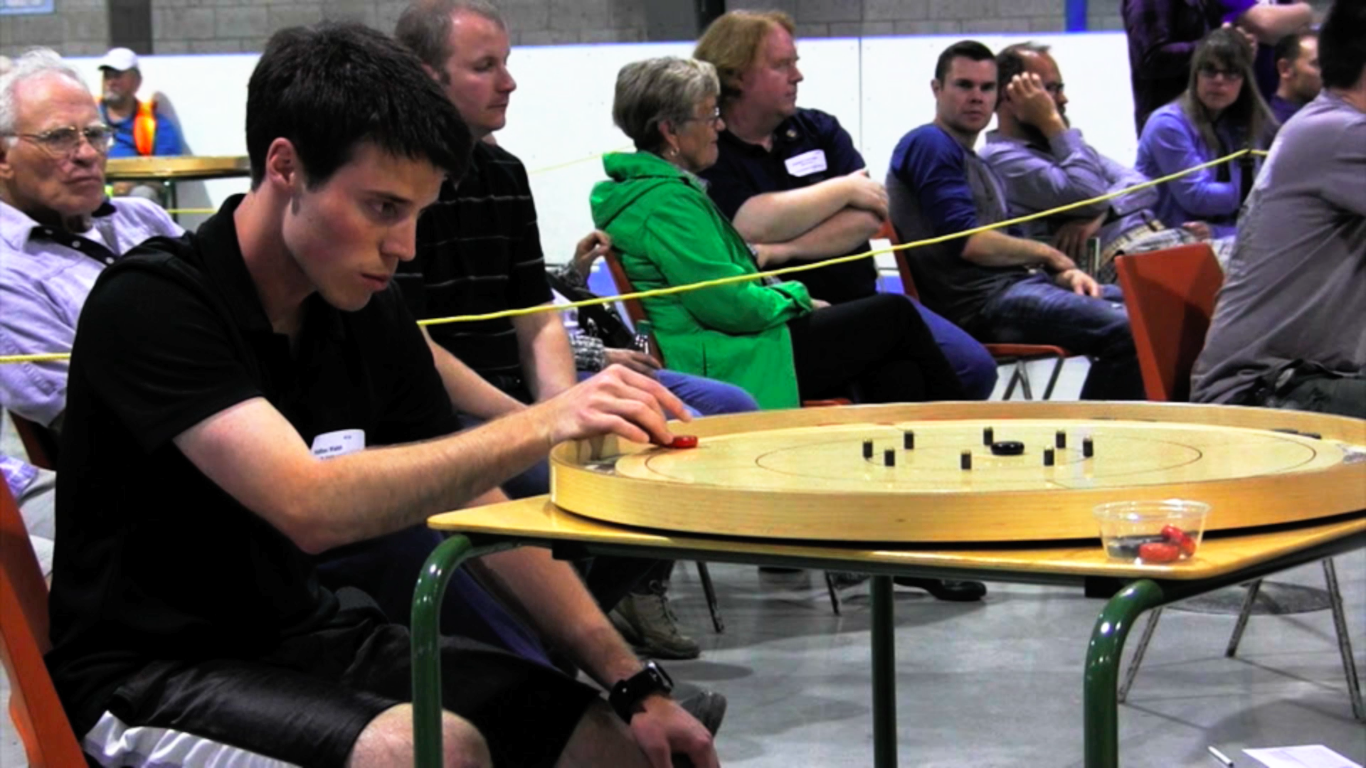 10 Tournament Wins (5th - 3-way tie)
21 Top 2 finishes (5th - 2-way tie)
37 Top 4 finishes (5th)
7 Tournament Singles Wins (4th)
17 Tournament Singles Top 2 Finishes (5th)
3 NCA Tour Podiums (5th)
Why this spot?: Nathan Walsh came into the decade full of expectations after a breakthrough performance when he finished 2nd at the 2009 World Championship, but suffered through peregrination for a few years before being able to challenge at the top level. In two particular hot stretches from 2013-2014 and 2016-2017 he was right among the very best in the game and earned the majority of his victories and top finishes.
Why not higher? Why not lower?: There's a chance this selection may lead to some eye rolls, but over the course of the decade Nathan Walsh put together very similar records to both Fred Slater and Jason Beierling, with the added edge that Walsh does possess the superior singles statistics. With regard to the question of being ranked any higher, you'll see when you get to the next rank that there's a rather large gap from those within the top 4 to the rest of the pack.
Decade Lowlight: Justin Slater won a lot of matches in the decade, but it was against Nathan Walsh where he won the most. Walsh recorded an 0-8 record in singles elimination matches against Slater, with the low point likely being the 2014 Belleville Challenge final where he led 6-0, 4-0 and even had a shot to win, before succumbing in defeat.
Decade Highlight: Walsh's best win of the decade came in 2013 in Belleville where he recorded his first victory over Brian Cook, after playing nearly flawless to win the championship match in 2-straight games.
Their defining Shot of the decade: Like his writing style, sometimes his crokinole shots had an unnecessary amount of flare.
#4 - Jon Conrad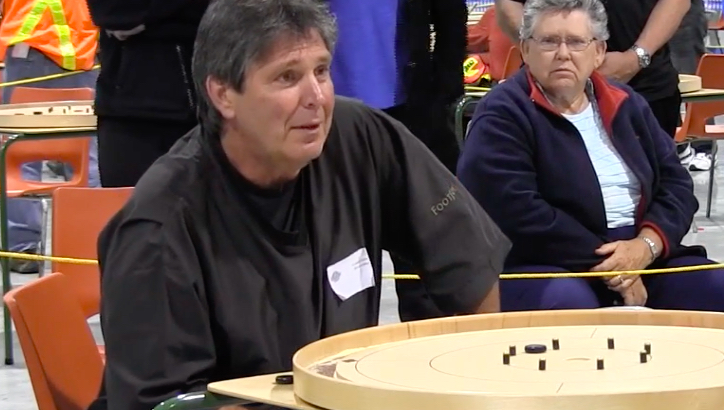 2 Singles World Championships (2nd)
4 Singles World Championship Finals Appearances (2nd)
2 NCA Tour Championships (2nd - 3-way tie)
8 Tournament Titles (7th)
25 Tournament Top 2 Finishes (3rd)
19 Tournament Singles Top 2 Finishes (3rd-tied)
45 Tournament Top 4 Finishes (3rd)
Why this spot?: While Jon Conrad has been around the game of crokinole for many years, he had little results in the late 2000s that would have suggested there would be great things to come, and he seemed to be a step away from the elite echelon at the start of the decade. He proved to be a threat with a 2nd place finish in Exeter in 2010, followed by a 3rd at the Worlds a month later, but he firmly asserted himself into that top stratosphere when he became the first to win both of the doubles and singles world titles at the 2012 World Championships. From then on he continued to perform with stellar results, his style of play became both well-studied and well-branded, and he was persistently in the conversation of the top players of the day
Why not higher? Why not lower?: Jon Conrad didn't rack up a huge number of tournament victories, which is why he slots in at #4 here. But there was undoubtedly a period of time, particularly between his back-to-back World and NCA titles, that he was known as the best player in the game, and his key statistics easily bear that out.
Decade Lowlight: In 2016 Jon Conrad was chasing Ray Beierling and had a chance to win his 3rd NCA title heading into the finale event. He could have claimed the NCA title with a win, or possibly a 2nd place finish, but he was stymied in the morning round and failed to make Group A.
Decade Highlight: It is well-trodden ground to point to this match as a classic, as it has already been immortalized in youtube parody, but the stoicism and precision that define Jon Conrad's game were amazingly on full display when the World Championship title was on the line in his thrilling 2012 World Championship victory over Justin Slater.
Their defining Shot of the decade: Of course it has to be one of the numerous examples of the very shot that's named after him. It may not be flashy, but it's effective.
#3 - Brian Cook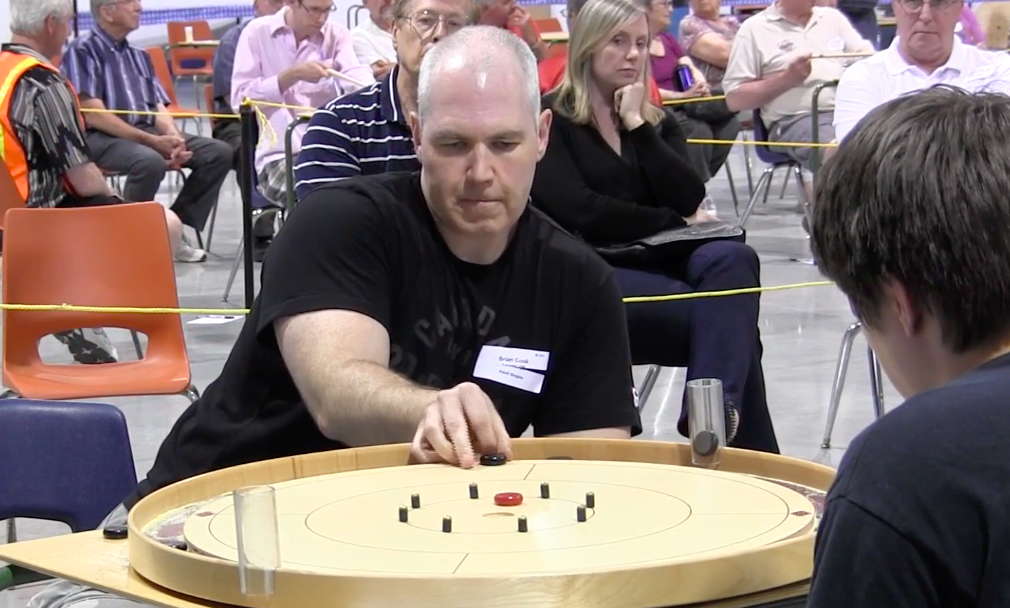 1 Singles World Championships (3rd - 3-way tie)
3 Singles World Championship Finals Appearances (3rd)
17 Tournament Wins (3rd)
2 NCA Tour Championships (2nd - 3-way tie)
17 Tournament Titles (3rd)
12 Tournament Singles Titles (3rd)
19 Tournament Singles Top 2 Finishes (3rd-tied)
Why this spot?: It cannot be overstated how lethal Brian Cook was on the crokinole board, and his consistency rivalled Swiss clockwork. He came into the decade as the best player in the world and still racked up victory after victory even though he was met with a barrage of contenders fighting to obtain just once piece of glory. Amazingly, he returned to the game after nearly 4 years away and swept the World Cup titles against the best in Hungary.
Why not higher? Why not lower?: It is astonishing Cook amassed so many victories and top finishes despite being inactive for 4 years. Had he participated in NCA events over the entire decade it is certainly plausible he could lay strong claim to being the #2 or #1 player of the decade. One can hope (me especially) the game of crokinole sees more of him through the 2020s.
Decade Lowlight: In 2010 Brian Cook had a chance to win his record-extending 4th-straight world title against a rising Justin Slater who was coming into the event in top form. Cook earned the early advantage and had an edge to win the match, but could not complete the victory.
Decade Highlight: Brian Cook entered the 2014 World Championships with the lowest expectations the crokinole world had for him in 10 years, as he had not won an event in the previous 18 months. As many as four others, Jon Conrad, Nathan Walsh, Justin Slater and Ray Beierling, could have been regarded as greater favourites to win the title, but Brian Cook came through with an exceptional performance, capped off by a 2-straight-game championship win over Justin Slater.
Their defining Shot of the decade: Cook was known at times for stifling defence, but he could show that shot-making ability was just another trick up his sleeve, as he did when he practically clinched the World Cup semifinal over Jeremy Tracey.
#2 - Ray Beierling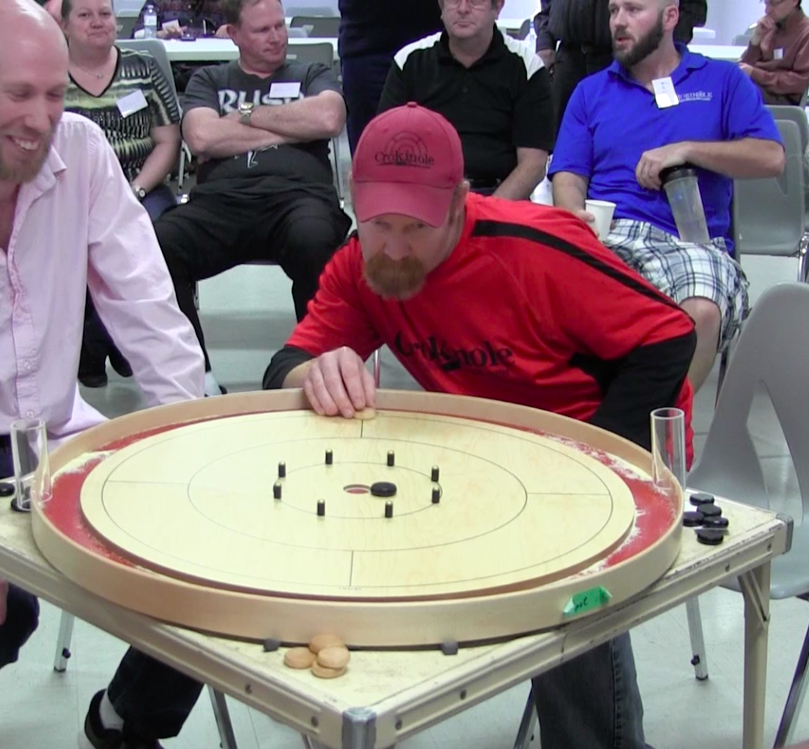 22 Tournament Wins (2nd)
42 Top 2 finishes (1st)
68 Top 4 finishes (1st)
3 Doubles World Championships (1st - 4-way tie)
5 20s World Championships (1st-tied)
2 NCA Tour Championships (2nd - 3-way tie)
1 Singles World Championships (3rd - 3-way tie)
Why this spot?: Joe Fulop had pegged Ray Beierling as a world champion long before he earned the title, and even as he won tournaments and gained acclaim in the late 2000s he was constantly in the shadow of Brian Cook. He stepped firmly out of that shadow and into the spot-light in 2010 by winning the NCA Tour, and then by finally claiming the singles world title in 2011. He formed one-half of the most successful doubles team in the decade, and added in nearly unsurpassed singles results for a record of longevity that leads to an incredible decade-stat-line.
Why not higher? Why not lower?: Ray Beierling was first in many key metrics, and contributes greatly to the picture of competitive crokinole in the 2010s. As will be detailed below, he falls short of the top spot, but was clearly only rivalled by one other player in the decade.
Decade Lowlight: Ray Beierling reached the final 4 of the 2018 World Championship singles event. Following the doubles victory and 20s title he had already claimed that day, he stood two steps away from winning the first-ever Triple Crown by winning the singles event. He was looking for a good start in that final 4 round robin, but was demolished in game one by Jon Conrad by a score of 8-0.
Decade Highlight: In March of 2017 Justin Slater was threatening to wrap up the NCA Title in London, while Ray Beierling had to win to extend the battle for one more tournament. Slater was on fire, but Beierling was the better on the day as he won in tremendous fashion.
Their defining Shot of the decade: Angle ricochet 20 to capture the 2011 World Championship.
#1 - Justin Slater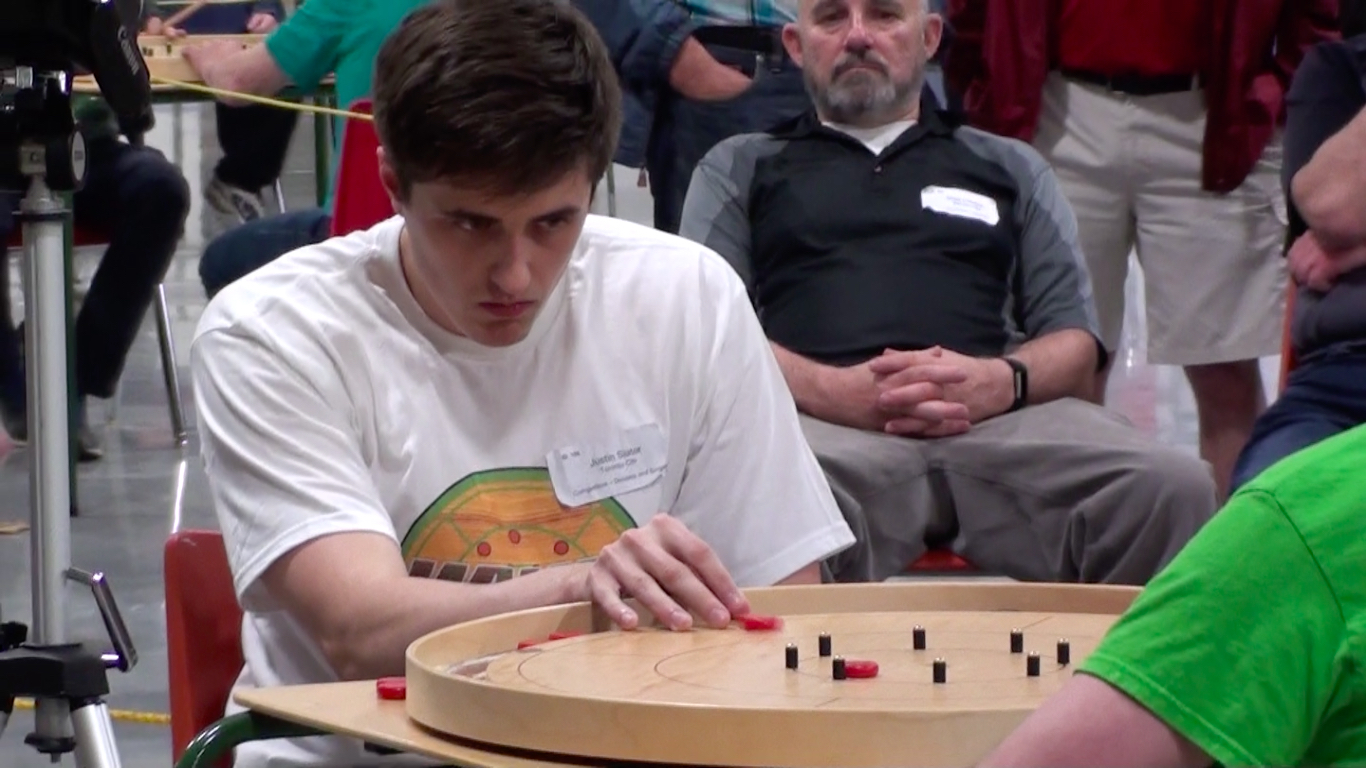 5 Singles World Championships (1st)
3 Doubles World Championships (1st - 4-way tie)
5 20s World Championships (1st-tied)
5 NCA Tour Championships (1st)
27 Tournament Wins (1st)
And that's just the short list.
Why this spot?: It has been the decade of Justin Slater from start to finish. The first event of the decade, January 30th, 2010 in Hamilton, Slater wins his first NCA title, taking down World Champion Brian Cook in the finals, while also setting a 20s World record along the way. Nine and a half years later he won a record-breaking 5 singles World Championships.
Why not higher? Why not lower?: Geez if this dude can go any higher then we are in for a dominant decade.
As mentioned, there's been a couple of players who would have earned the "best crokinole player" designation throughout the decade, but none would have held that longer than Slater. Given his long list of accomplishments, it's most likely readers easily saw this #1 ranking coming.
Decade Lowlight: Justin Slater had an incredible streak of 7-straight Ontario Singles titles won from 2012 to 2018. With each passing year the streak became harder to comprehend, but it was expected that a day would come that a winner would play flawless in the finals to finally take away the crown. The day did come in 2019, but it produced little drama when Justin Slater failed to advance to the playoffs and had his streak end with a disappointing 6th place finish.
Decade Highlight: Slater's greatest period of dominance stretched from January 2018 to January 2019 when he won 7-consecutive singles events. Sandwiched dead in the middle was Slater's miraculous comeback against Jon Conrad, when he fought off numerous moments of near defeat, and capped off the 2018 world title with a perfect round.
Their defining Shot of the decade: With the match on the line in the 2017 London final, Justin Slater needed a double takeout and a 20 on his last shot. Ultimately he lost the match, but Justin Slater coming up with something incredible with his back-against-the-wall is how crokinole will remember the 2010s.