January 26, 2020
The 2019-2020 NCA Tour battle heated to the point of boiling as the Tour's co-leaders faced off in the championship final of the Golden Horseshoe tournament. Andrew Hutchinson and Jason Beierling, sharing the top spot on the Tour with 188 points, played down to the wire in a match that required extra rounds. When the dust settled from the boisterous atmosphere that developed in the final, it was Jason Beierling who came away victorious to move into sole possession of the NCA Tour lead.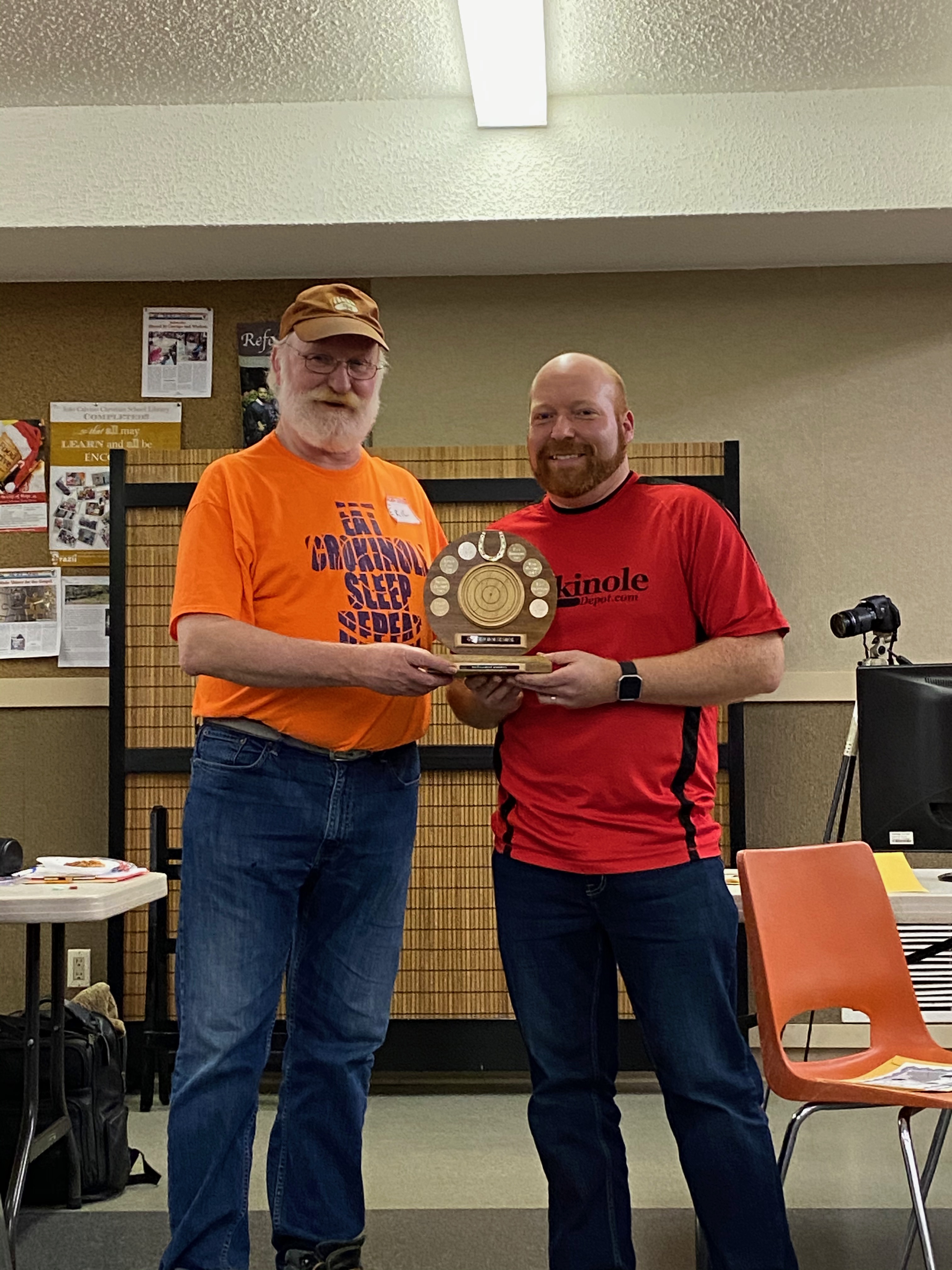 A crowd of 54 made it to the Cornerstone Reformed Church on a mild Hamilton Saturday to set a tournament attendance record. Amongst the group of NCA regulars were a number of new faces who impressed both in terms of skill and enthusiasm, and certainly brought forward hope that they would one day become a part of the regular crowd.
The field was split into 5 groups for morning action, with a narrow advancement protocol being used for those wishing to make the Group A Second Round. Only the top 2 in each group, plus the next best score, would advance so there was little time to make errors even in the early action.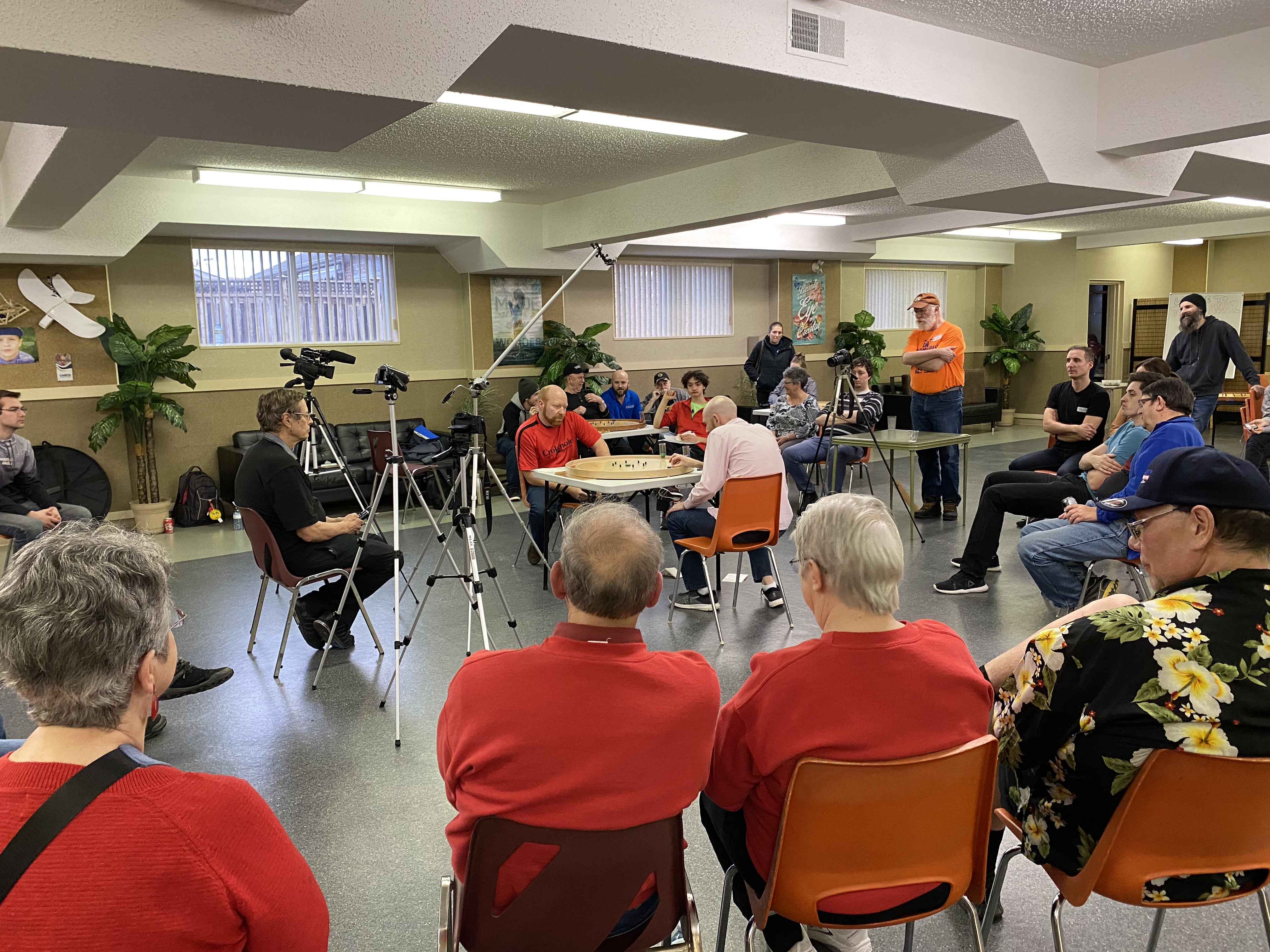 Defending Hamilton champion, Justin Slater, began strongly with 56 points in 9 games amongst Pool A for the top spot in the pool. Clare Kuepfer took the other Group A spot with 45 points, just ahead of four players: Reid Tracey (44), Abijah Jong (43), Mark Gallas (42), Ron Reesor (41). There was a similar log-jam in Pool C as Roy Campbell finished first with 59 points, in 10 games, followed by Roger Vaillancourt (58), Ron Langill (57) and Ray Beierling (55).
The top three scores in the morning all came from the same Pool B with Jeremy Tracey leading the way at 68 points, Jason Beierling in second at 65, and Peter Carter picking up the "next best score" position with 64 points in 10 games.
Andrew Hutchinson topped Pool D by a solid margin with 67 points, while James Medway's inaugural tournament resulted in a Group A qualification with 56 points in 10 games, just beating out Eric Miltenburg at 54 points. Finally, in Pool E Fred Slater finished first at 57 points, with Nathan Walsh just behind at 56 points, while Jo-Ann Carter was third in the group at 49 points.
With the second round action split amongst 5 pools there was too much action to follow all results of the event. Dave King, known primarily for prowess in the pointed wooden sticks (aka Cues) category of crokinole, took home the Group E title, while Reuben Jong won in Group D. In Group C, two NCA debutants made the finals, where Mark Malecki prevailed over Vuth Vann.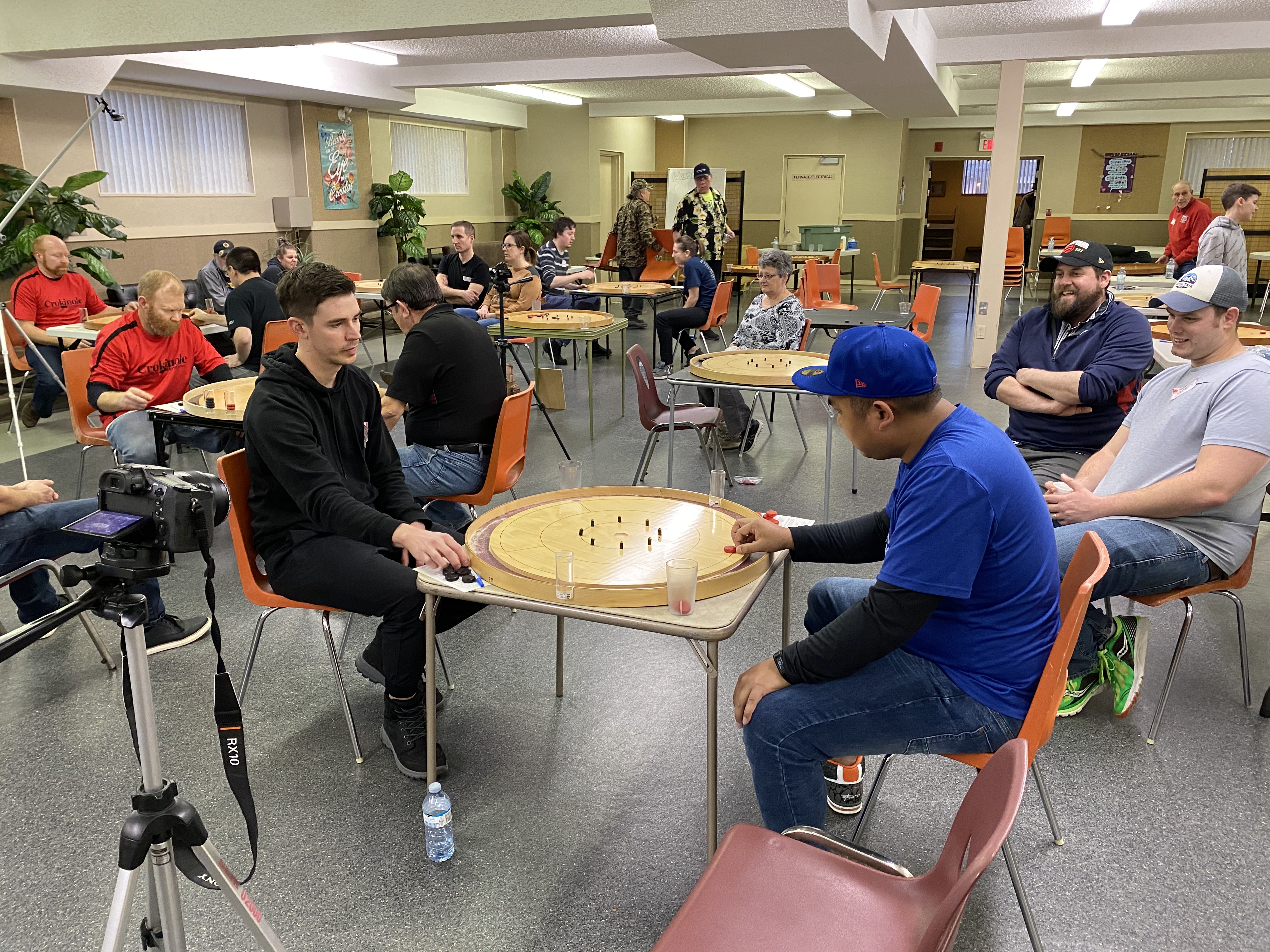 Meanwhile in Group B, Ray Beierling had a storming performance to pick up 65 points in 10 games, and was joined in the finals by Ron Langill who had 55 points. Reid Tracey, Josh Carrafiello and Andrew Korchok rounded out the top 5 at 46, 44 and 43 points respectively. Ray Beierling prevailed over Langill in the finals to earn the Group B honours.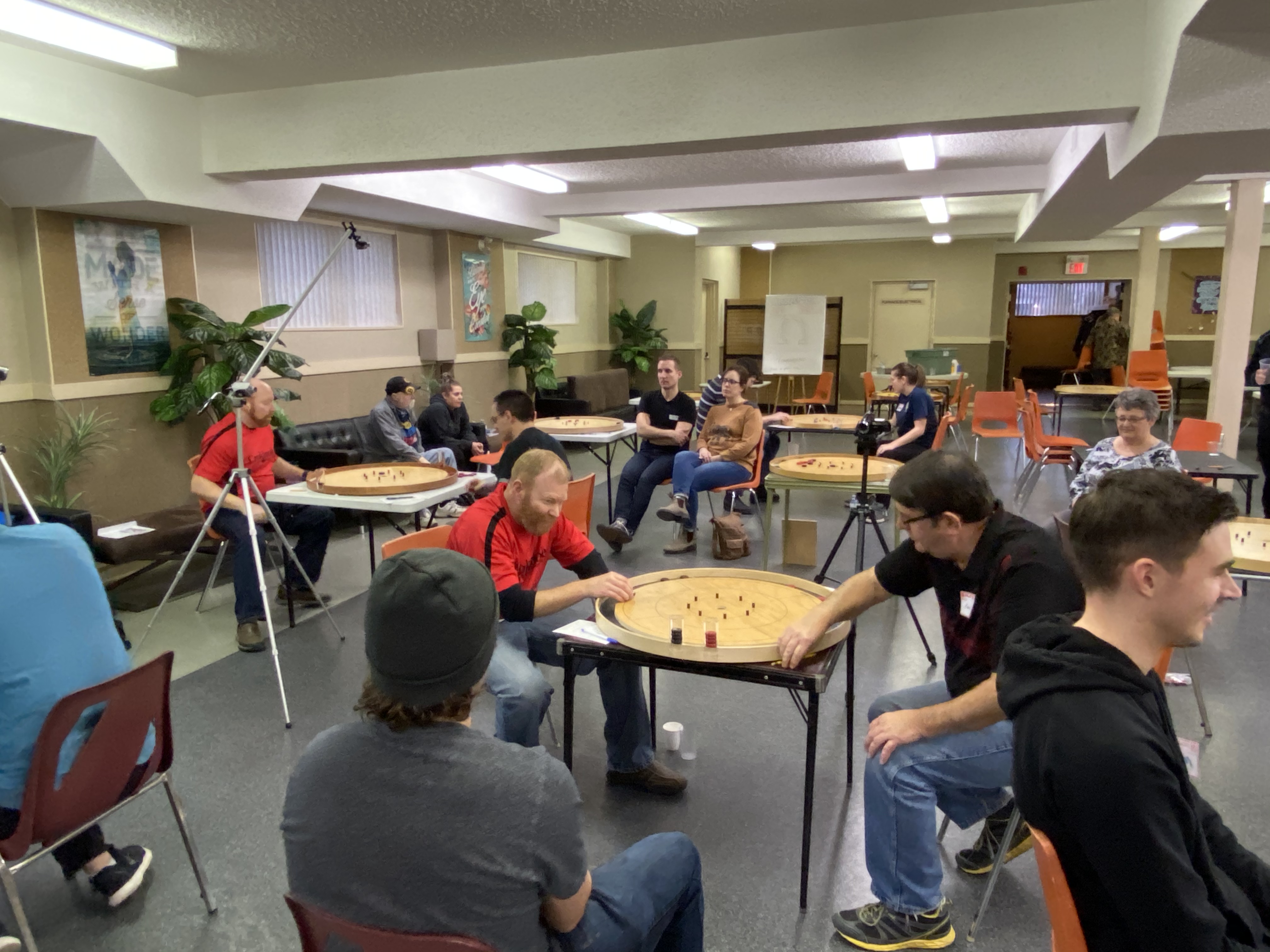 In Group A there was a little bit of buzz about possible 20s records attempts, being that the 2019 Hamilton tournament yielded a world record from Justin Slater that still stands today. That record score (181 20s in 11 games, averaging out to 16.4 20s in each game) was flirted with for a couple of games as Slater was averaging 14.2/game after 5 games, and both Andrew Hutchinson and Nathan Walsh had scored perfect rounds (against Slater). The 20s scores would temper off, although Justin Slater still finished with the top mark at 122 20s in 10 games.
Of greater importance of course were the number of points being scored, and very early on the top group of 4 emerged as Roy Campbell, Jason Beierling, Andrew Hutchinson and Justin Slater had all scored at least 26 points after 5 games. Clare Kuepfer and Jeremy Tracey were sitting in 5th place after 5 games, but a gap was already emerging as they had 22 points, trailing a playoff spot by 4. The gap only grew further with Justin Slater finishing first at 57 points, Roy Campbell and Jason Beierling at 50, and Andrew Hutchinson at 49, as Jeremy Tracey finished on the bubble with 43 points for 5th place.
That setup semifinals between Justin Slater and Andrew Hutchinson, and Roy Campbell and Jason Beierling. Both semifinal matchups had players coming in with undefeated head-to-head records against their opponents. Campbell had previously scored two victories over Beierling (2015 Owen Sound final, 2016 St. Jacobs semifinal), while Slater had recorded three wins against Hutchinson (2018 Hamilton, 2018 Turtle Island, 2018 Belleville - all semifinal matches).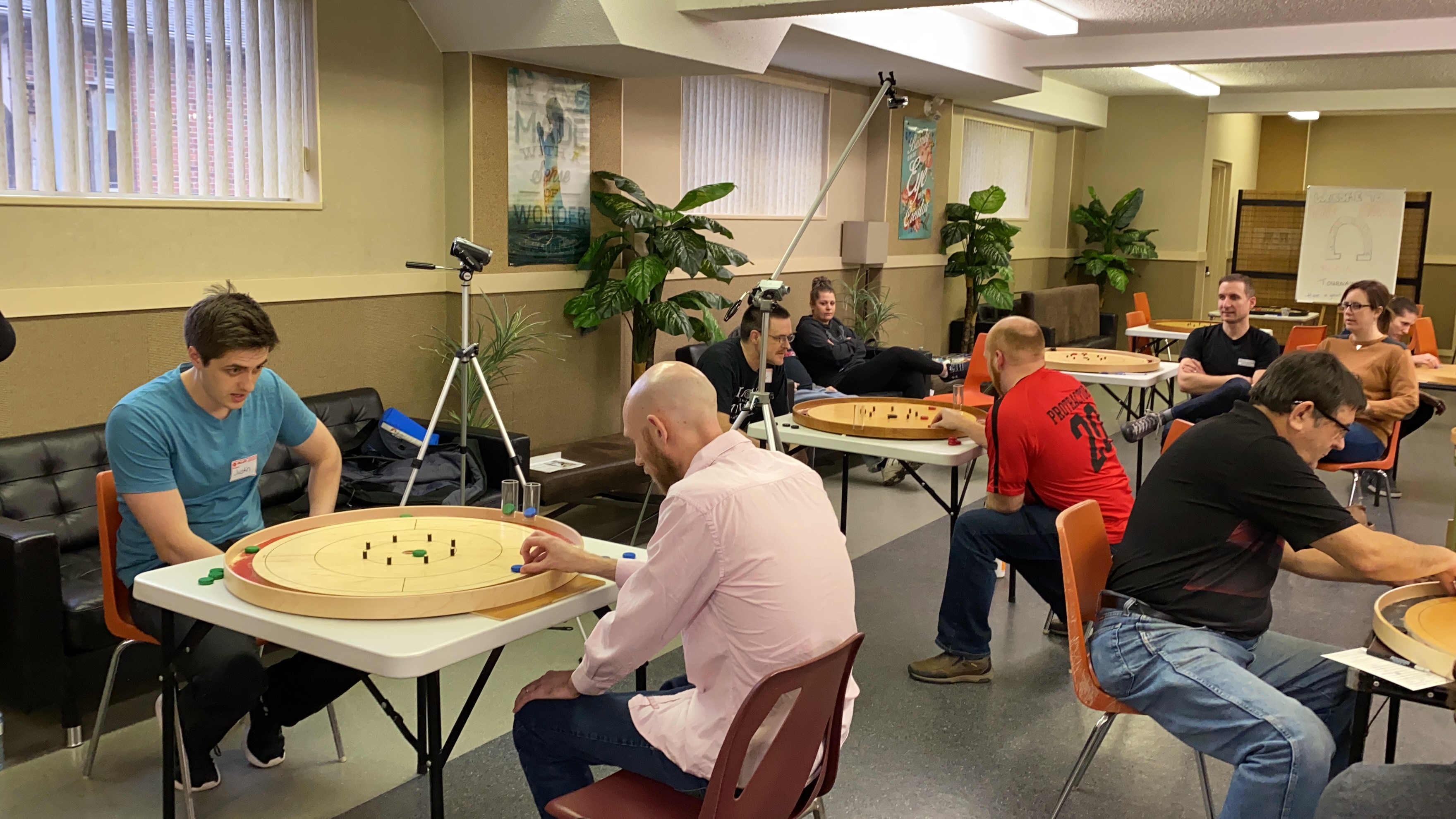 Roy Campbell had also previously defeated Jason Beierling 8-0 in the round robin preceding the semifinal matchup. However, it was Beierling who took a running start in their semifinal as he steam-rolled through game one of the best-of-3 by a score of 6-0, as Beierling won the 20-race in each round and never did relinquish the advantage.
Campbell had better success on open-20s in game two, even winning a 20 race in round one, but then struggled by giving up multiple hanger-20s in each of the first two rounds, with Beierling converting all of the them on his way to a 4-0 lead and a strong chance to win the match. Jason Beierling would earn leads in both rounds 3 and 4 of the game two, and even had a chance to win the match with a double-takeout, but Campbell valiantly fought back to draw even at 4-4. All of the sudden Jason Beierling's near victory saw him one round away from being all-tied-up with Campbell.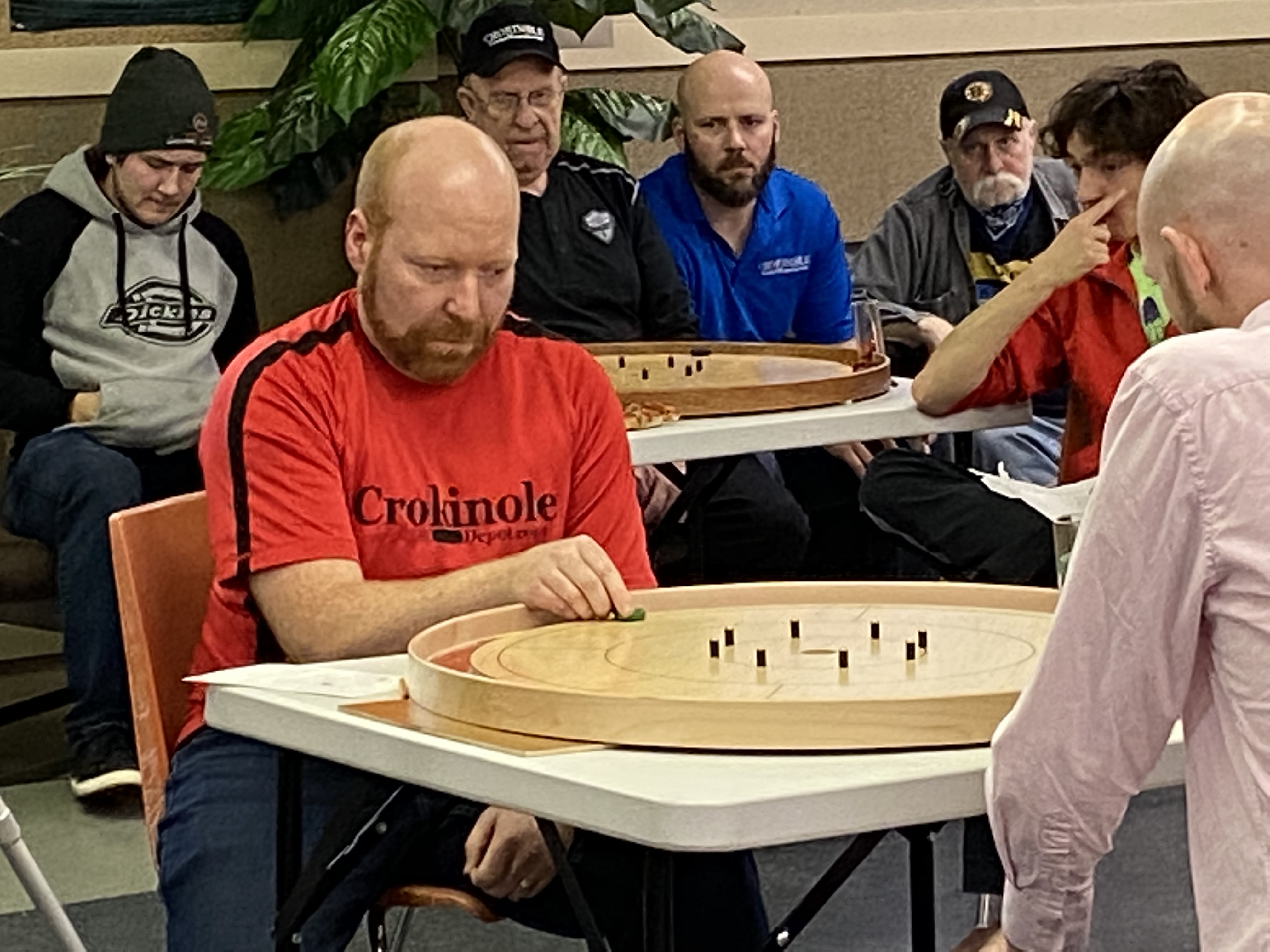 In round 5 Beierling missed his opening 20 attempt, but Campbell flashed his slice-20 shot, giving Beierling another open 20 opportunity. On the second chance Beierling succeeded, and then maintained the lead in the round to close out the match 6-0, 6-4 and earn his first ever victory over Roy Campbell.
The Hutchinson/Slater semifinal was also in stark contrast to their round robin game, being that 20s flowed precipitously in their earlier matchup, but were decidedly less plentiful to begin their semifinal. Game 1 saw Hutchinson come out on the better end of the low 20 scoring affair, seemingly comfortably winning all three rounds for a 6-0 victory.
At 2-2 in the second game, Hutchinson led in the 20 count, but a couple failed takeouts gave Slater two chances for an open 20, both of which were missed. Hutchinson was still not in an advantageous position as he faced two opposing discs. He attempted a tricky double, and failed to remove either disc, but was fortunate that his shooter rolled perfectly behind cover due to a combination of the pegs and Slater's own disc. As a result, Slater couldn't make the takeout and Hutchinson moved one step closer to victory at 4-2.
True to form, with his back against the wall Slater mounted a comeback. From down 4-2, Slater finally got ahead in the 20 races in each of the next two rounds, propelling him to a game 2 victory. Hutchinson would again be one step from victory as he jumped out to a 4-0 lead in game 3, but again Slater responded with perfection on open 20s to cut the lead to 4-2.
In the fourth round, after both players made their first 3 open 20s, Hutchinson missed long, giving Slater an edge. But Slater missed the ensuing takeout and Hutchinson scored a takeout-20 to lead the round. Down to the final shots Slater managed to hide a disc behind a peg, and needed Hutchinson to miss the shot as Slater required to score the full 2 points for the round. Finally Hutchinson seized the victorious opportunity and made the peel he needed to win the match 5-3, 4-6, 5-3. Amazingly, this was Slater's first head-to-head singles loss in 2.5 years as he had a perfect streak stretching back to a semifinal loss to Jon Conrad at the 2017 Turtle Island event.
And so the final featured the only two players on the NCA Tour to have already racked up two tournament victories (both earning a singles and doubles title), with sole possession of the lead on the NCA Tour available for the victor.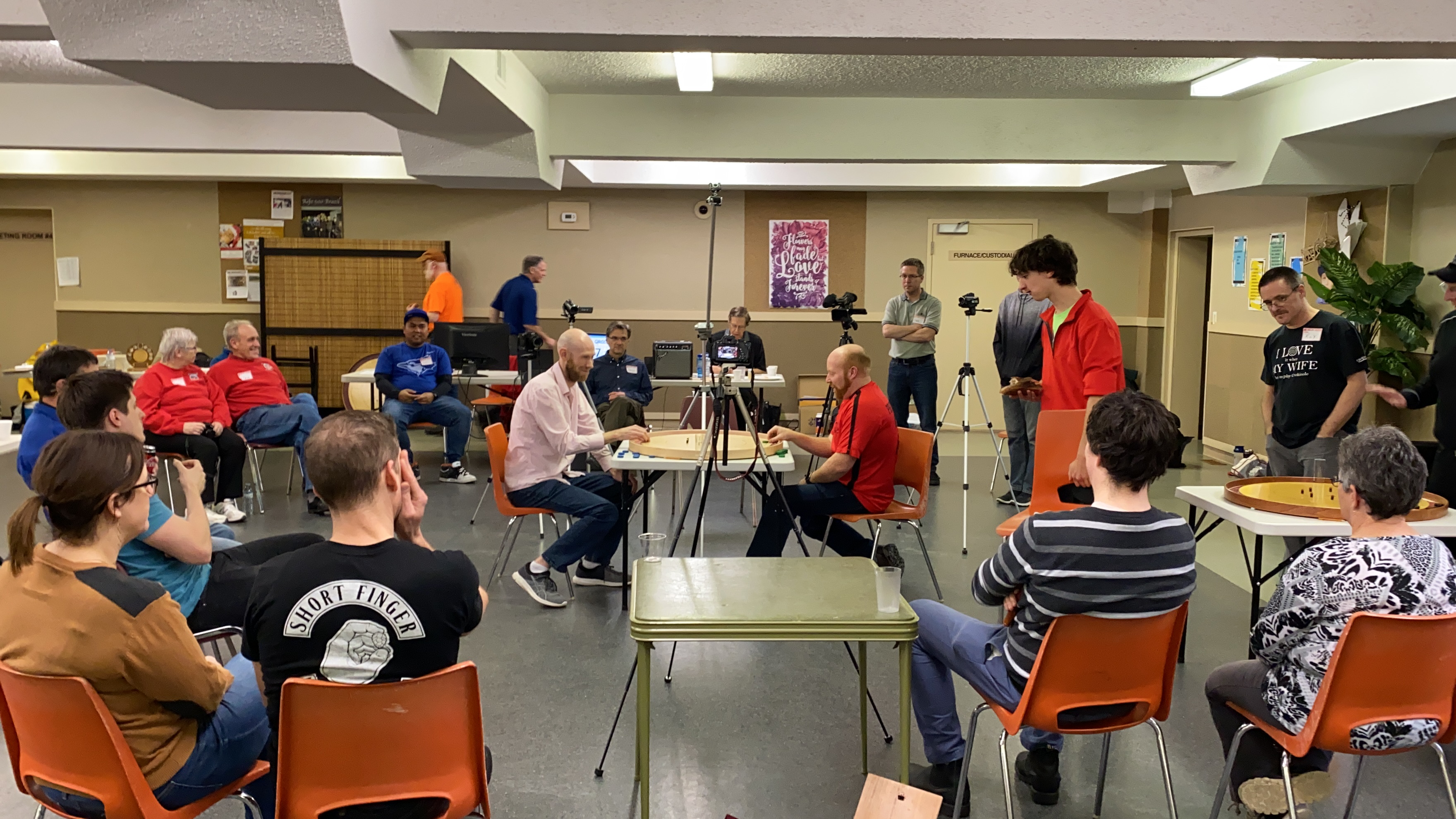 Jason Beierling got the better start to the match, scoring a pressure open 20 on his hammer shot of the first round to get a tie, and then later got the lead to 3-1. Hutchinson played flawlessly in the next two rounds though, and Beierling eventually relented as Hutchinson won game one 5-3.
The second game saw four straight steals against the hammer to level the score at 4-4, and thus requiring a 5th round, with Hutchinson a win away from victory. Beierling missed his opening 20, but a failed takeout from Hutchinson left the door open. Beierling nailed a ricochet 20 on his next shot and maintained the lead to take game 2 6-4.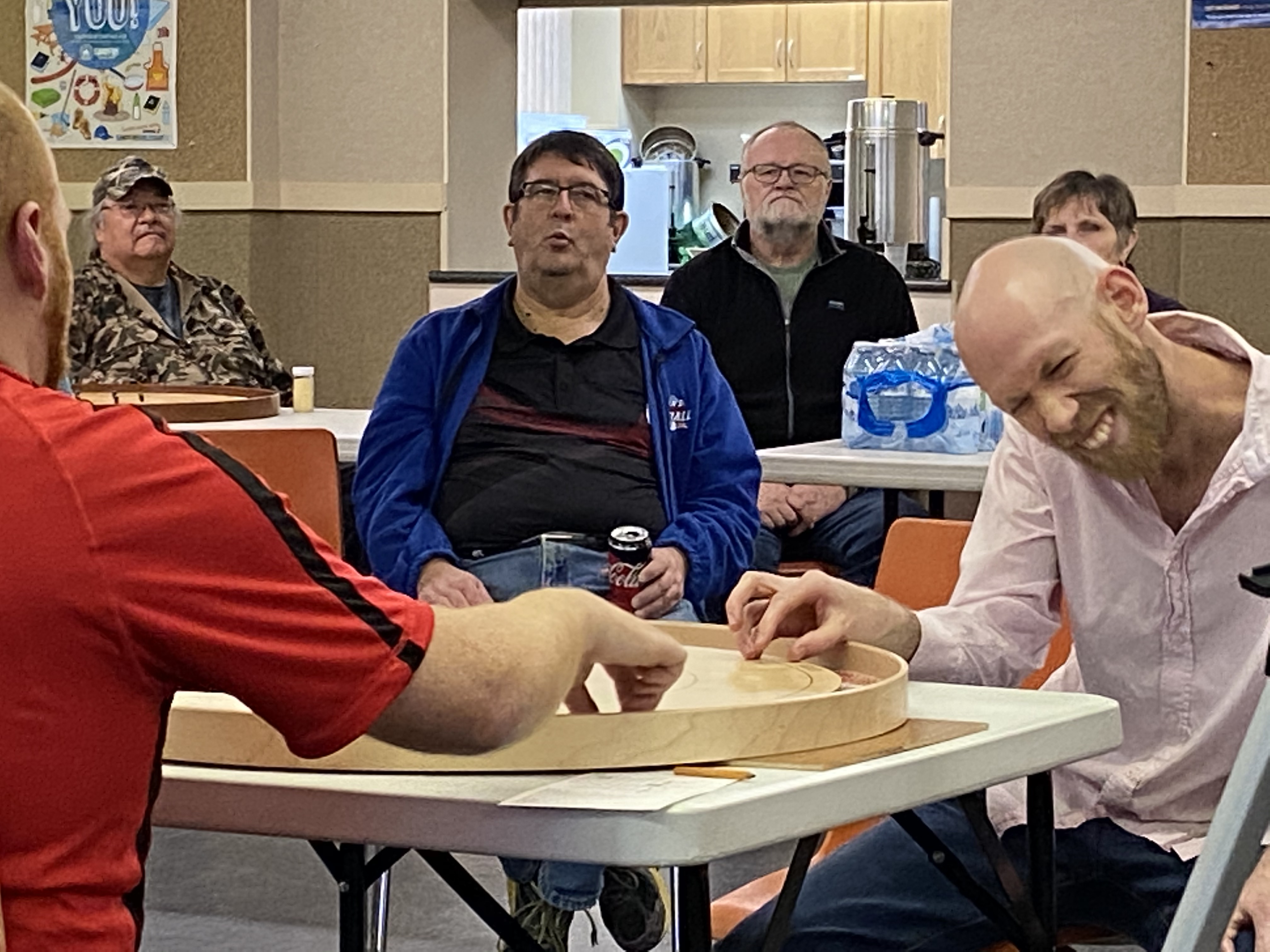 Flipping the script on game two, the final third game began with three straight holds of hammer for a 4-2 Beierling lead. Beierling missed his opening 20 in the 4th round, but was able to apply lots of pressure by scoring a ricochet 20 on his 6th shot. Hutchinson was up to the task this time, replying with an open 20, and when Beierling missed his open 20 attempt on shot 7, Hutchinson defended well to tie the match at 4-4.
The Hamilton event uses the Wimbledon rule, where a decisive game must give each player an equal number of hammer rounds. In the first tiebreak set, Beierling got ahead 2-0 as he was the first to successfully make a takeout-20 after both players boldly flirted with the 20 hole on numerous shots. Beierling needed one point in the next round to win the tournament, and got the edge with Hutchinson being the first to miss an open 20. The advantage would become insurmountable when Hutchinson missed an attempt at both a takeout and 20, and Beierling followed up by extending his 20 advantage to win the Golden Horseshoe Tournament 3-5, 6-4, 8-4.
The victory for Jason Beierling is his 3rd NCA singles title, to go along with 6 doubles titles. He now has 197 points on the 2019-2020 NCA Tour, which is already his best ever Tour performance even as three events remain on the calendar.