September 28, 2019
In 2018, Jason Beierling had advanced to the Belleville final where his efforts ended in defeat in his first trip to the tournament's championship stage. 12 months later, he had returned to the final step and put in two confident playoff matches to come away victorious as the 2019 Belleville Crokinole Challenge winner.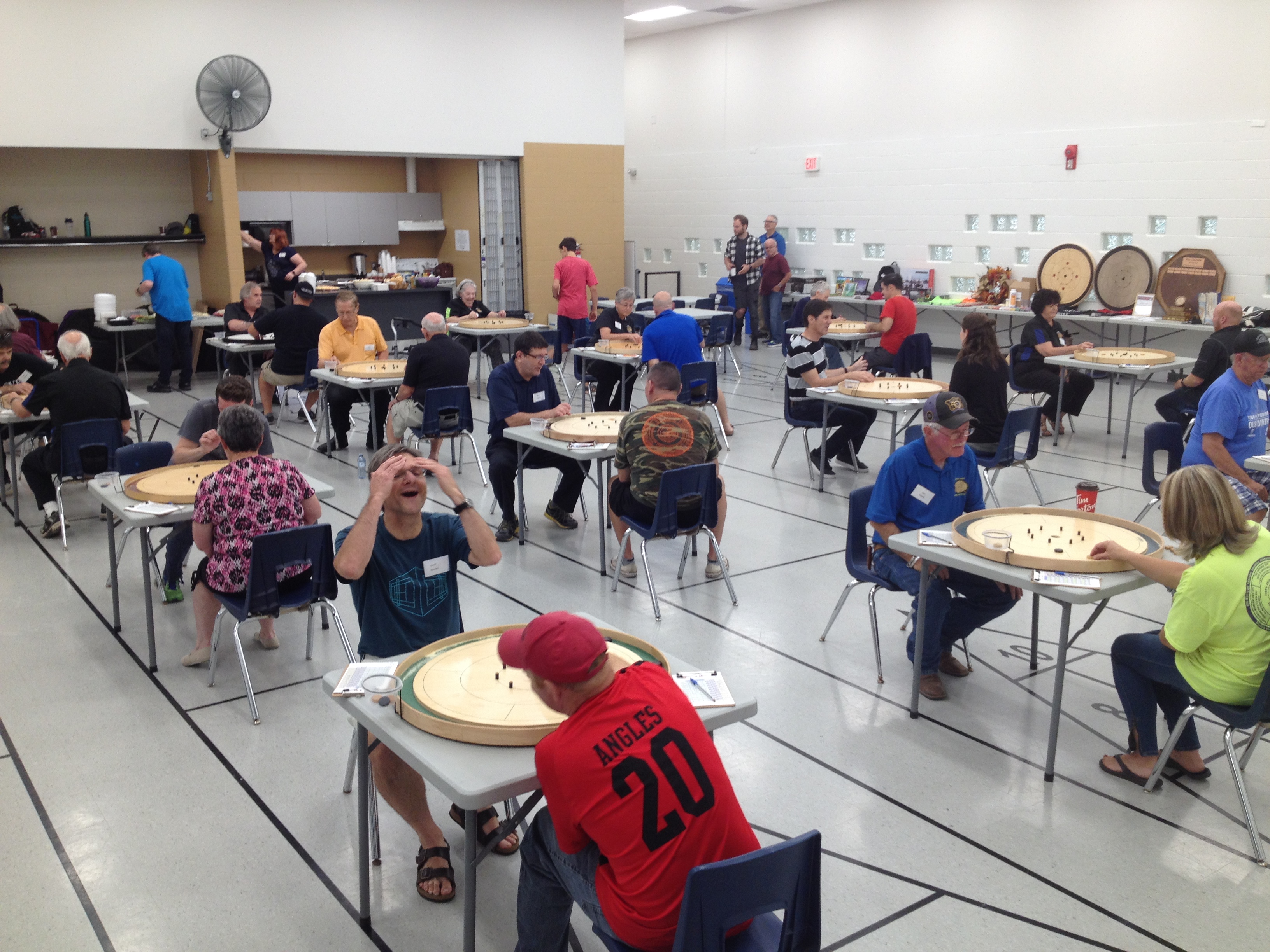 For the second year in a row the Belleville event matched it's record-high attendance of 39, welcoming players from Owen Sound, Kingston, the greater Toronto area, Kitchener, London, Penetanguishene, Guelph, Tuscarora, New York and New Hampshire.
Morning play was split into 4 pool with Ray Beierling (61 points in 9 games) and Andrew Hutchinson (55 points) leading the way in Pool A. Barrie Wood scored 40 points for 3rd in the pool, but that would ultimately be 3 points shy of making Group A in the afternoon. Local favourite, Matt Brown, had the top score in Pool B with 51 points in 9 games, followed by Jason Beierling at 49 and Ron Langill at 48. Both Maradyn Wood and Clare Kuepfer scored 41 points to tie for 4th in the pool, and both would meet again in Group B in the second round.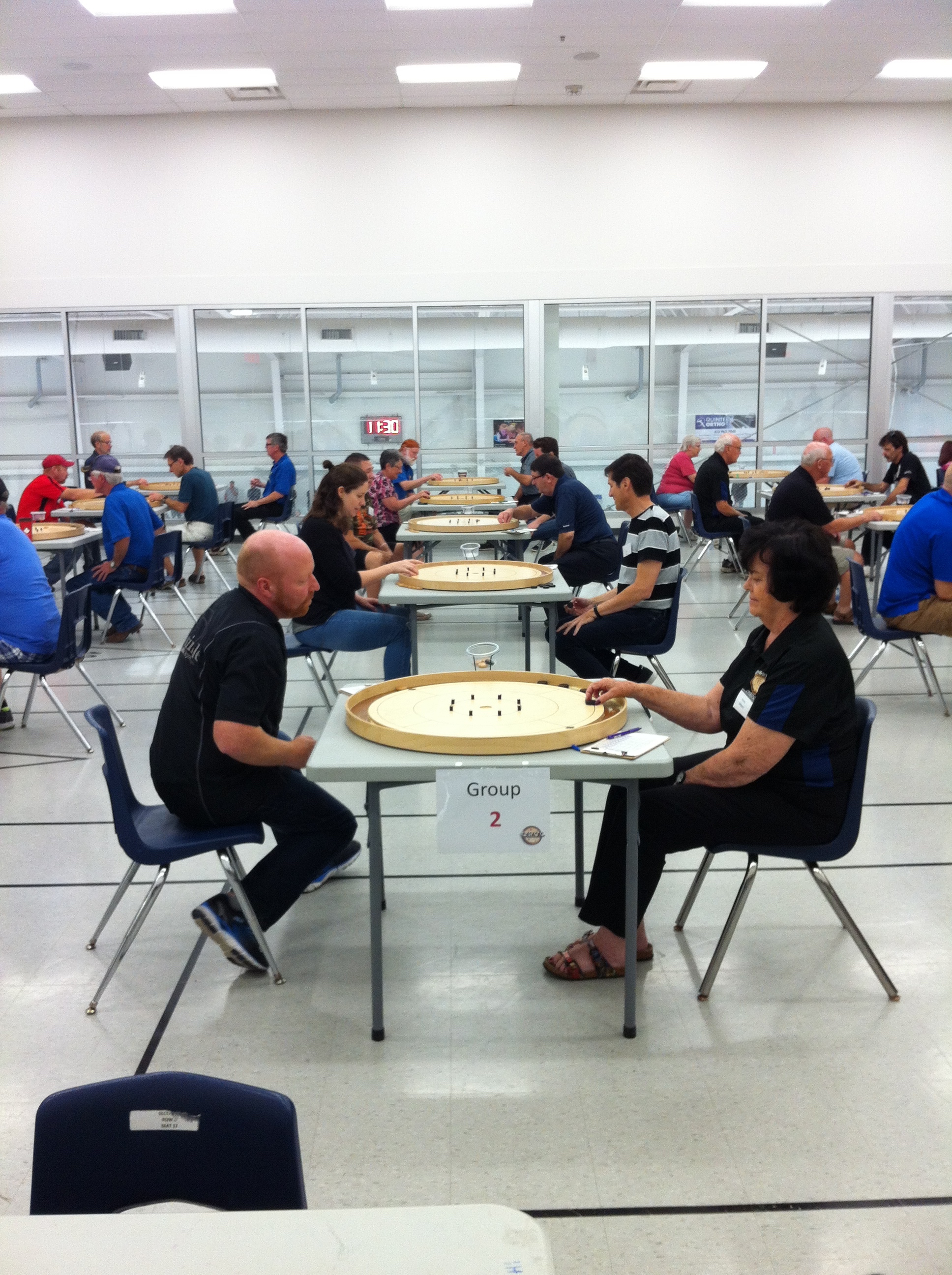 In Pool C, Jeremy Tracey (playing his last North American event before travelling to Budapest in a week's time for the Hungarian Federation hosted event dubbed The Crokinole World Cup) scored the highest at 62 points in 9 games. Fred Slater scored 54 points, while Roger Vaillancourt scored 43 points to finish 3rd in the pool and earn the final spot in Group A for the afternoon. Nathan Walsh led Pool D with 56 points in 8 games, and he was joined in Group A with Extra Pint's Jason Molloy (45 points) and John McFeeters, who scored 40 to edge Steffan Hiller-Ranney's 37.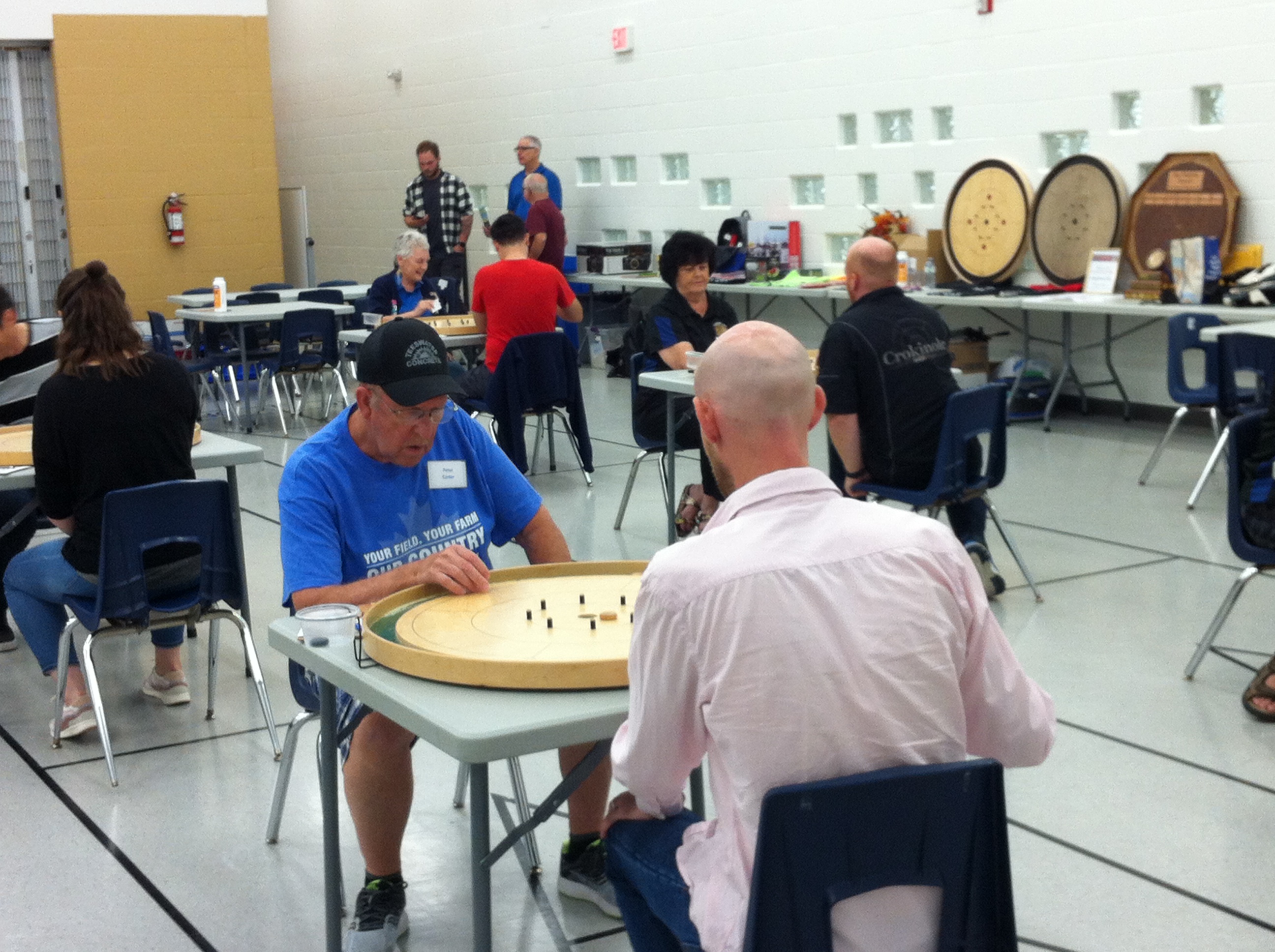 As player's sat for lunch some made time to attempt to set the high-score in a side 20s shootout competition. Players attempted 8 open 20s with the intention of scoring the most, although that became somewhat difficult as the board used for the competition was not adverse to giving the odd leaner. When the competition time had ceased, Matt Brown and Doug Gibson had tied for the high score with 6 20s and then took part in a final showdown. Brown took the first crack and started strong with 3 straight 20s, but his momentum stopped when he got 2 straight leaners, and finished with a score of 5 out of 8. Gibson looked like he would surpass that score, sitting at 5 20s after 6 shots, but then dramatically both of his final shots resulted in leaners for an identical score of 5 20s made, along with 2 leaners. An extra round proved successful for Brown who made another 5 20s (this time with one leaner), while Gibson received 2 leaners in the his first 4 shots which derailed his set of 20s, as Brown took the 20s Shootout title.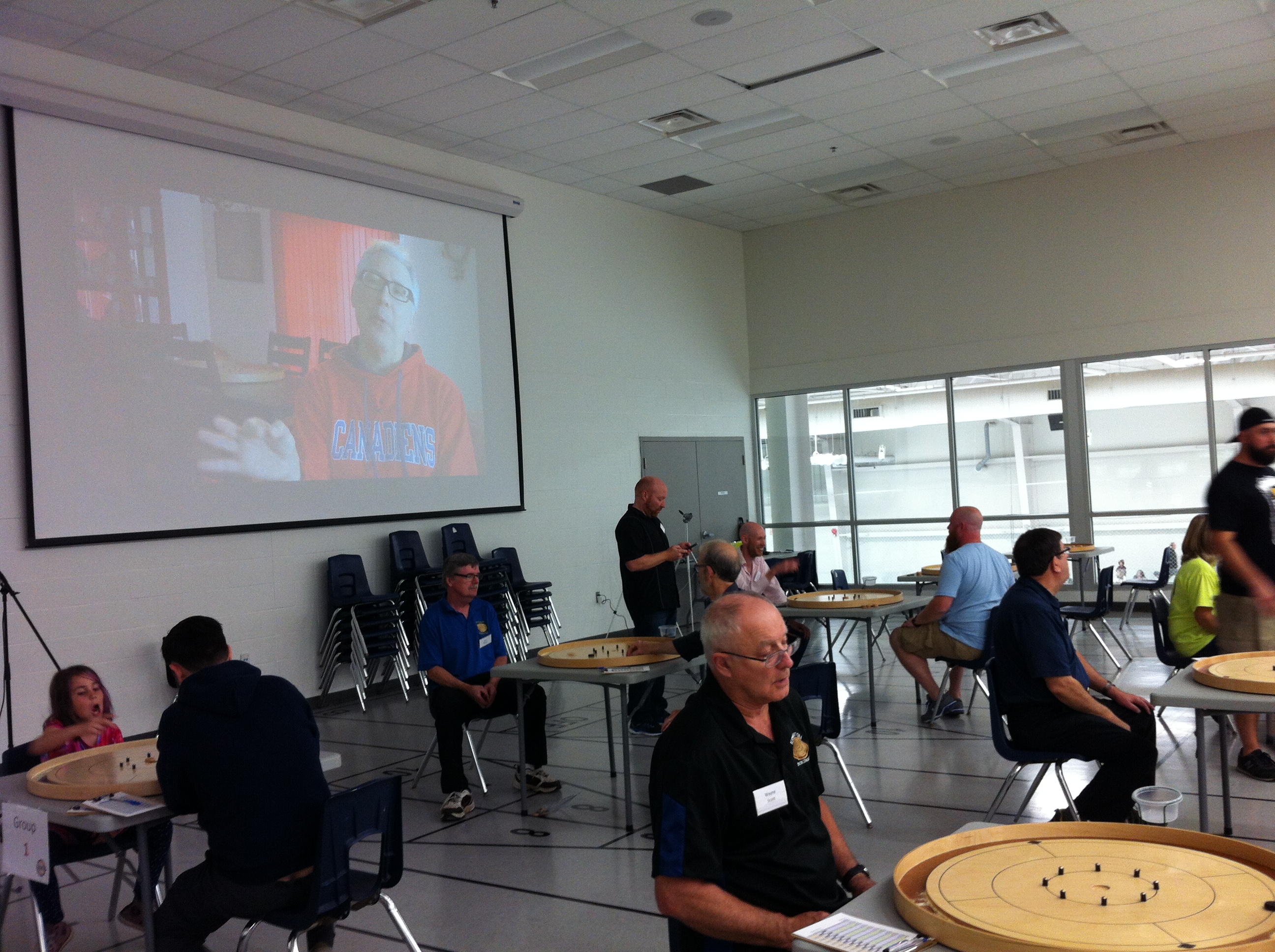 In the afternoon play, Len Chard came away as the Group D winner after scoring 40 points in 7 games, a decent margin ahead of another Quinte club member, Betty Waite, who was in second with 35 points, one ahead of Gloria Walsh in third. There was also a decent winning margin in Group C as Dave Brown ended up first with 47 points in 8 games, followed by Beverly Vaillancourt at 39 points in second and Kingston's Wayne Scott at 35 points.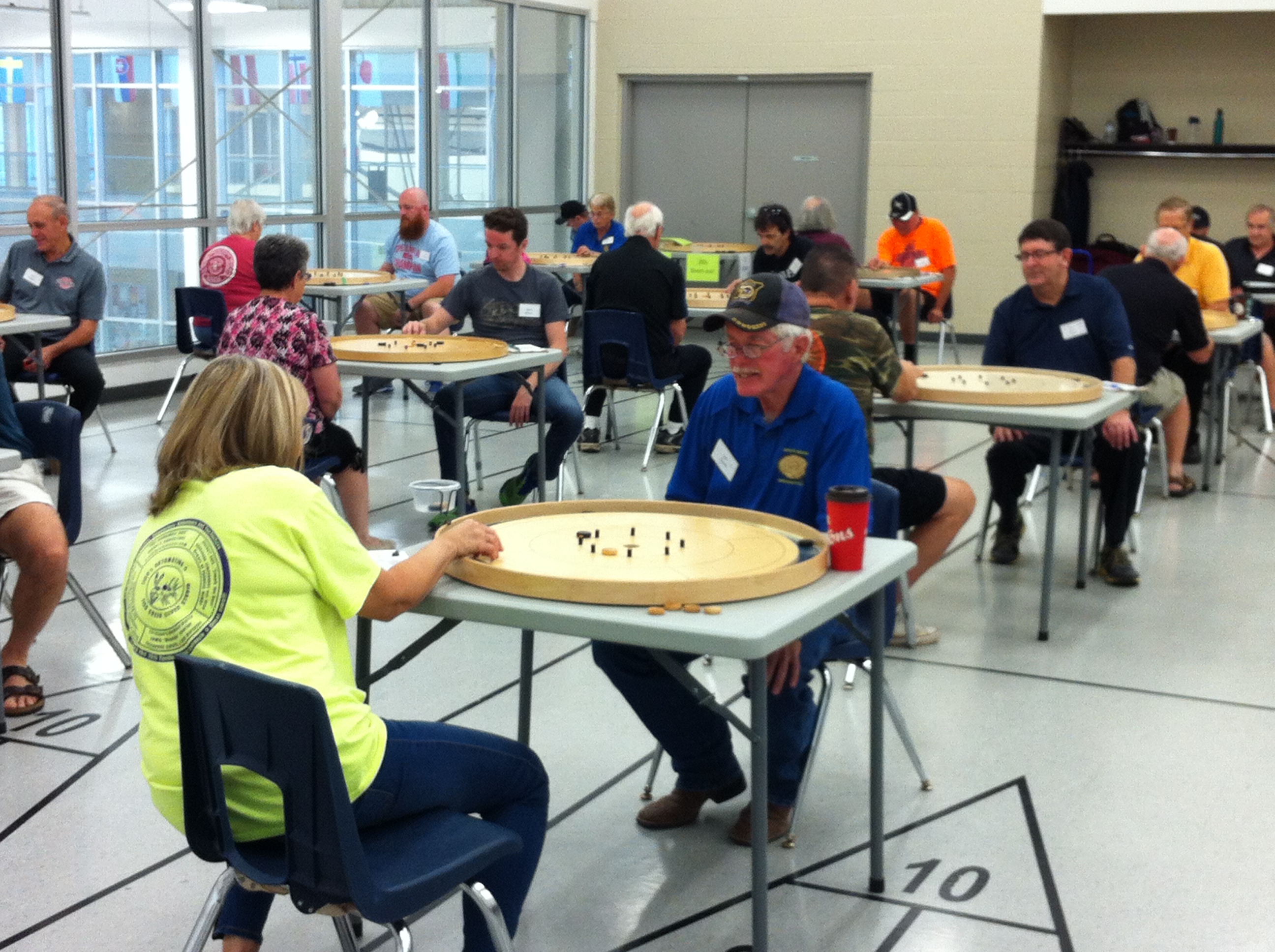 In Groups A and B, players vied for spots in the top 4 to advance to the playoff stages. Group B scores ended up being pretty close with 7 points between first and and sixth. Eric Miltenburg and Peter Carter both scored 48 points (in 10 games), while Doug Gibson finished third at 47 and Clare Kuepfer took the final playoff spot at 43. This was just ahead of Glenndon Whitaker at 43 points and Maradyn Wood at 41. The spectators circled around the boards for the semifinal matches, but those didn't feature too much drama on the B side. Kuepfer defeated Miltenburg 10-2 and Carter took down Gibson 9-1, as it appeared that both victors quickly became comfortable with the boards while their opponents struggled to find form.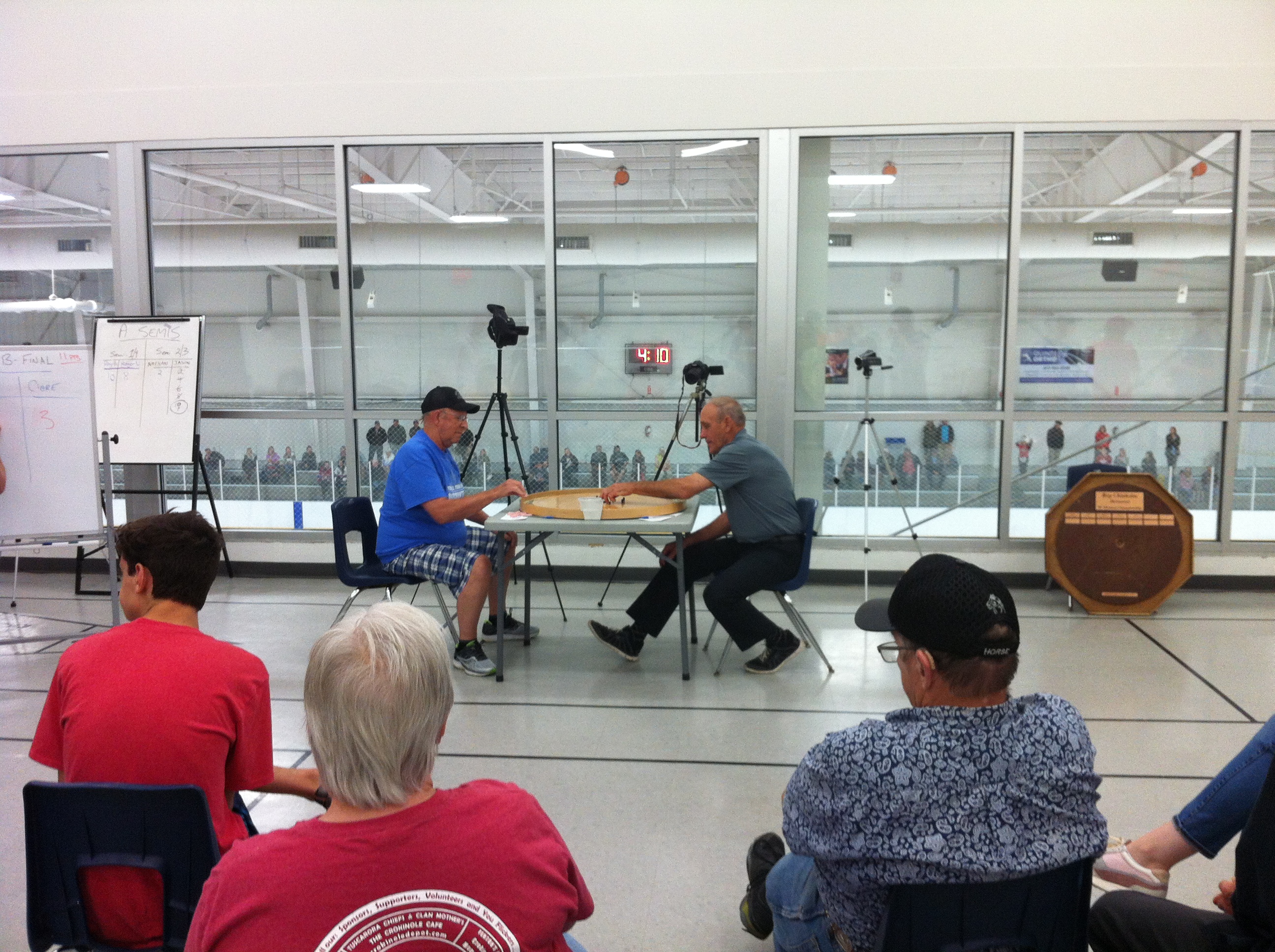 In the B finals, the match progressed to 5-5 with both players earning 2 relatively comfortable round wins, in addition to one complex round that ended in a draw. Kuepfer was able to earn a slight advantage when he went ahead 7-5, and then the player's continued to fight on level terms as they tied the next two rounds to go 8-6 and then 9-7. The 9th round was by far the best of the match, as Kuepfer scored a nice touch-20 and followed it up with a great double-takeout, while Carter got back into the round with a takeout-20. But the definitive moment was a gutsy combo-ricochet-20 Kuepfer made where he had to make a 20 off his own disc in the 15 and propel it towards the opposing disc in the 5. Carter missed the open 20 on the reply, and Kuepfer won the match and the B title 11-7.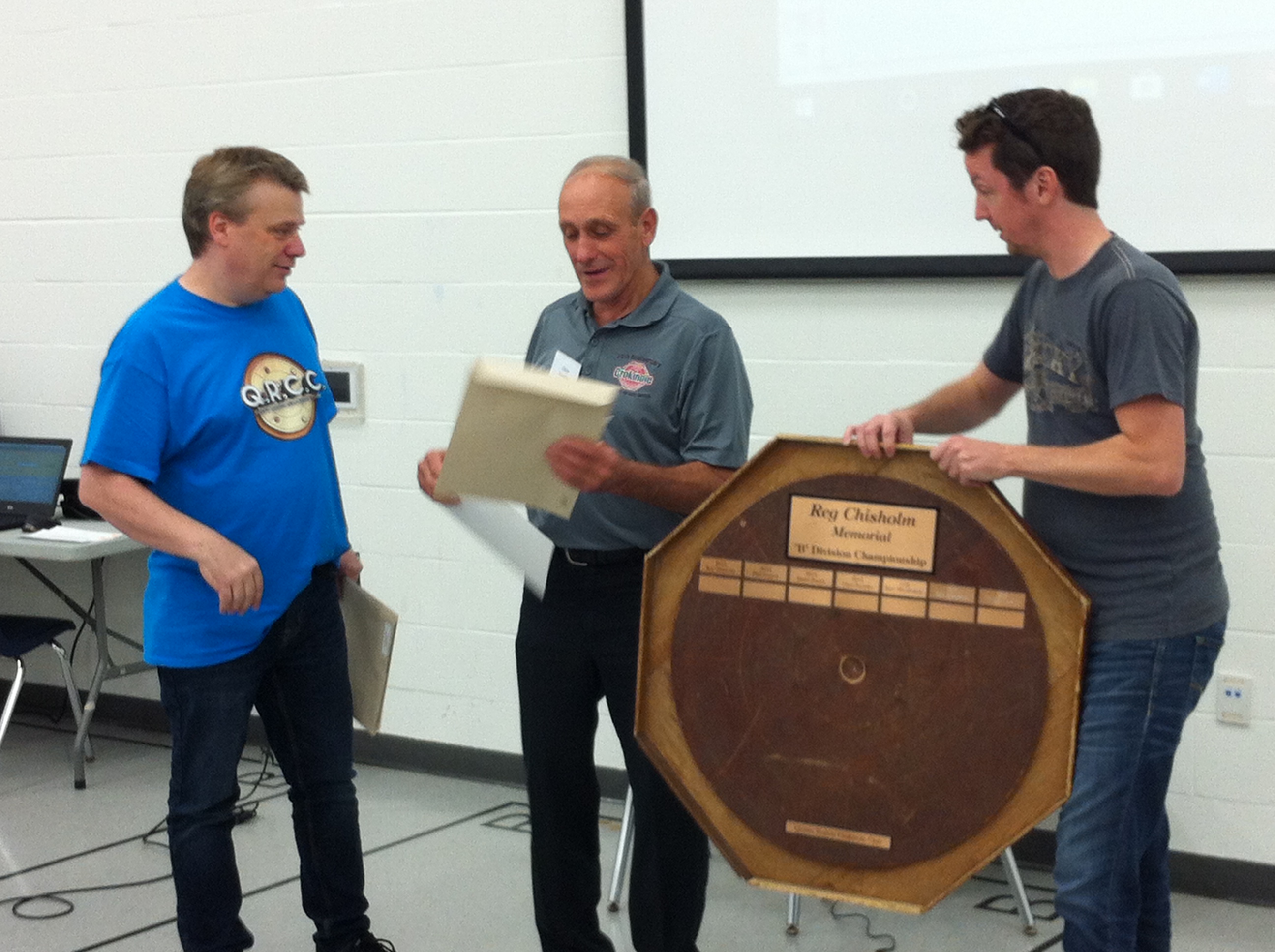 In Group A not a single player seemed to excel through the field, and in rare fashion no one surpassed 5 points per game. Ray Beierling finished as the top seed at 50 points in 10 games, along with 112 20s, and he was followed closely by both Jason Beierling and Nathan Walsh at 48 points. Roger Vaillancourt grabbed the final semifinal spot at 46 points to make his first ever Group A final 4 appearance, as he just beat out Andrew Hutchinson, Jeremy Tracey and Fred Slater, who all scored 44 points, and Matt Brown who had 43. Amazingly 7 points separate 1st from 8th, and 2 points separated 4th and 7th.
The Jason Beierling/Nathan Walsh semifinal was their second ever head-to-head match, with the first being Beierling's win in the 2018 Belleville semifinal. Jason Beierling was under some pressure in the first round of the match, but that was relieved when he hit a takeout-2-peg-20 which was followed by Walsh missing his reply open 20 through the house as Beierling took a 2-0 lead. Beierling then hit a long ricochet 20 in the second round that set him up for another 2 points, as he carried a truck-load of momentum into an 8-0 lead. Walsh would get on the board late to make it 8-2, but a near flawless round from Jason Beierling in the 6th made it a 10-2 semifinal victory.
In the other semifinal, the match started deadlocked at 2-2, and it appeared to be headed for 3-3 when Vaillancourt (leading by a 20) left his final shot close to the hole leaving a takeout-20 opportunity for Beierling. But on Ray Beierling's last shot, he scored a 20 only to have hit the opposing disc too squarely on a peg, just slowing its momentum enough so that it remained on the board in the 5, for a 4-2 Vaillancourt lead. The lead became 8-2 as Roger Vaillancourt was superior on open 20 scoring, and Ray Beierling struggled to manufacture 20s from behind. Ray fought back with a storming performance in each of the next three rounds where he seemingly comfortably earned 6 points and made the score 8-8 to setup a sudden-death round. In that final round, Vaillancourt earned the early edge by making his first 20 while Beierling missed. This put a lot pressure on Beierling as throughout the match neither player had much luck fighting from behind. But critically on his very next shot, Ray Beierling's follow-through-20 attempt careened regally off a peg to end up sitting nearly perfectly hidden on his side of the board.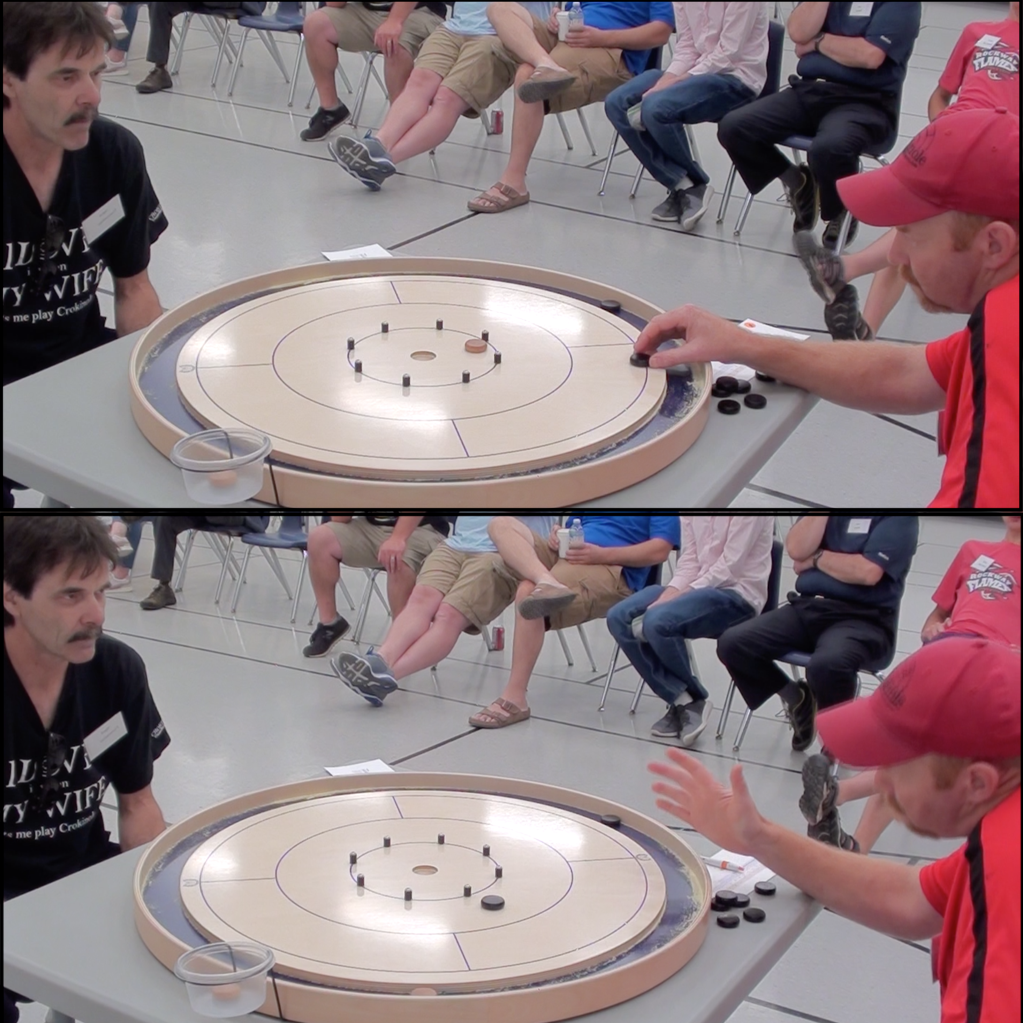 Vaillancourt missed on the takeout, but the drama wasn't done there as Beierling missed a chance by going long on his open 20. The two player's then tip-toed around each other searching for a 20 off of that single disc in the 15, before Ray Beierling finally got an opening and made the pivotal takeout-20 to win the match 10-8.
That setup the all Beierling final between Ray and Jason, in what was their 4th head-to-head battle. Previously, Jason had won their 2012 London final meeting, with Ray winning the next two matchups (2013 Hamilton final, 2018 World Championship 3rd/4th place game). Both players started with lots of open 20s scored, and it was easy to see Jason's confidence was high as in multiple cases he could (and perhaps should) have played defensive, but elected the more aggressive 20 attempt despite having the lead. Jason led 4-2, which then stretched to 8-2 when Ray's final shots in the 4th and 5th rounds were both missed when an opporunity for a tie or win was possible.
Ray Beierling was able to fight back to 9-5, but Jason Beierling capped off the match in round 8, affirmed by his first 2 shots of the round that included an aggressive follow-through 20, and then an exceptional defensive roll-out. The final 2 points gave Jason the 11-5 match and tournament victory.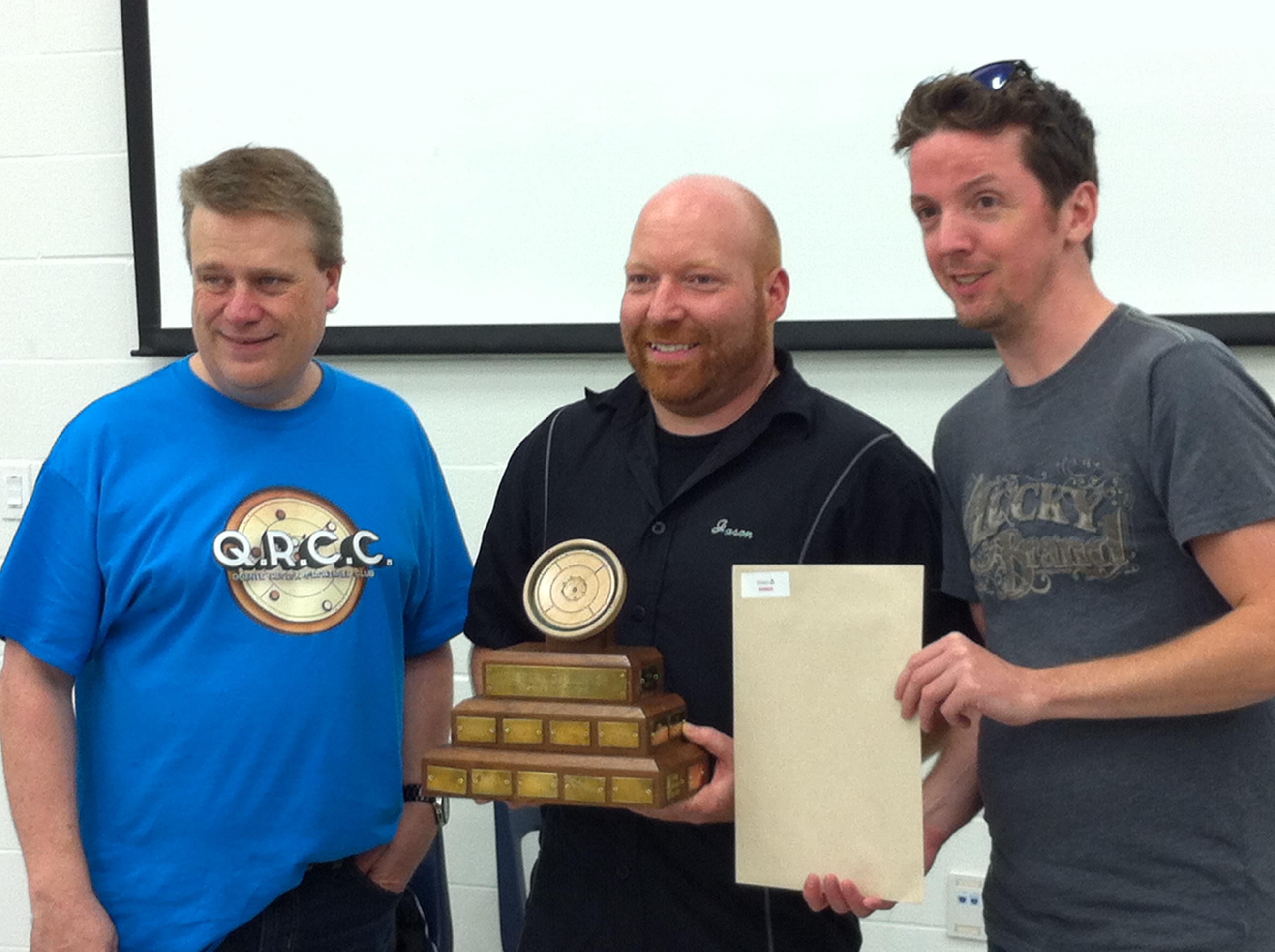 Following the event, Ray Beierling now has the top spot on the NCA Tour, though that is at least partly a result of him competing in 4 events already, as the previous leader, Connor Reinman, remained stationary at 138 points after 3 events. With the win, Jason Beierling is now positioned in the best spot on the NCA Tour. 141 points after 3 events, so one more solid performance would already put him among the likely top scores of the 2019-2020 season.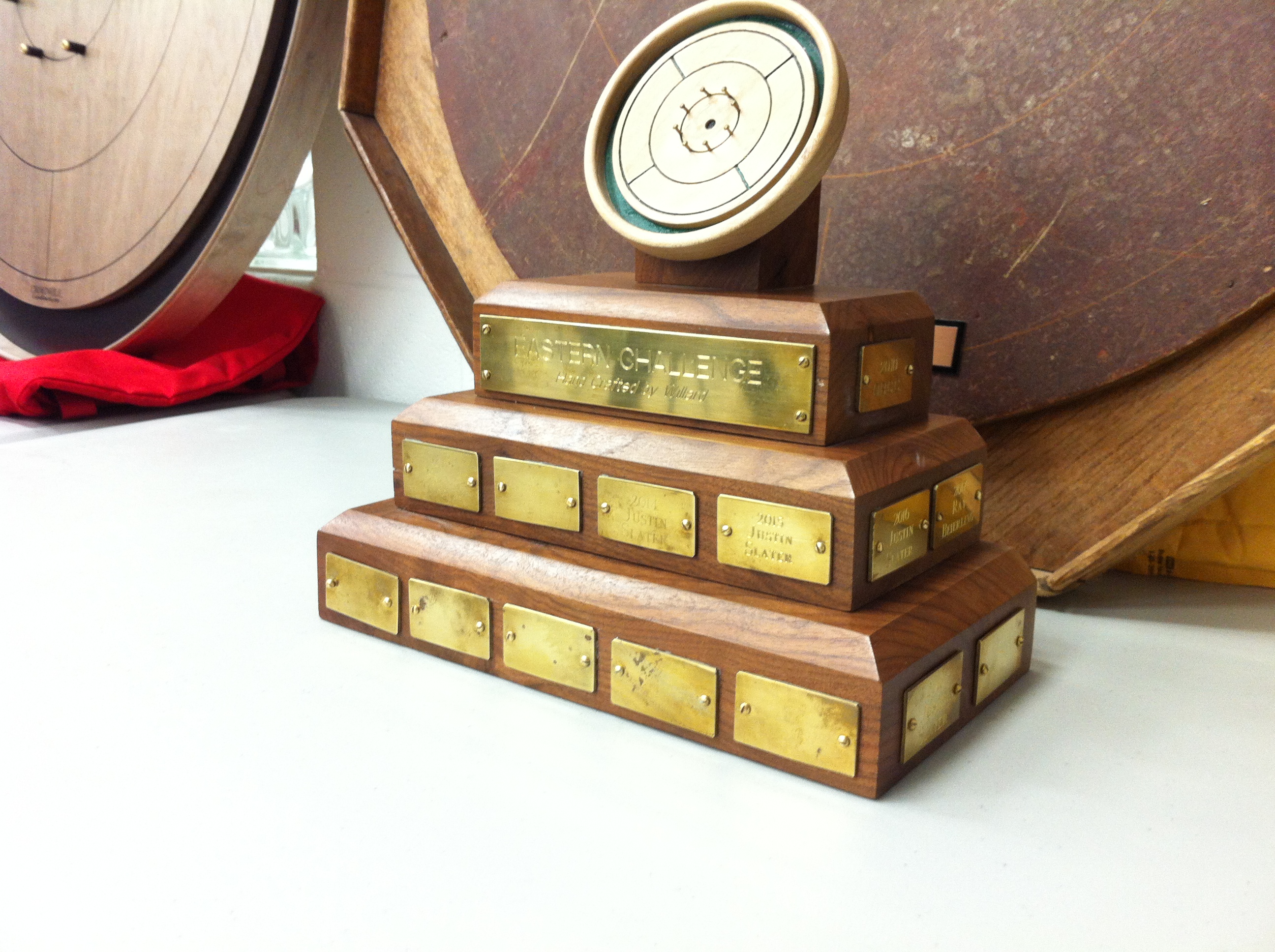 The win earned Jason Beierling the Belleville Crokinole Challenge title, though if you look closely the tournament trophy is clearly labelled "Eastern Challenge." There's a bit of history there as this trophy was previously used as the top prize for the Eastern Challenge Crokinole Tournament. The tournament is no longer active, but used to be a team event (the only event of its kind other than the Schneider Haus tournament) that featured the main clubs of Eastern Ontario, such as Kawartha, Ottawa and Belleville. In recent years the trophy has now been re-purposed for use in the Belleville Crokinole Challenge.