May 19, 2019
There is no doubt about it, Connor Reinman has been a contender ever since he made his NCA debut at the 2017 Ontario Singles Championship. In 2017 he was a complete unknown (except with a familiar voice from some CrokinoleCentre videos) and yet finished 9th in the provincial championship, and a month later finished 3rd in the world championship. Later he added an Ontario Doubles title and Ontario Singles runner-up finish to his short but impressive achievements list, and on Saturday he showed steely nerves against crokinole veterans to win the 2019 Ontario Singles Crokinole Championship.
Long-time St. Jacobs club member and organizer of the Ontario Singles Crokinole Championship, Howard Martin, welcomed the crowd of 53 to the 2019 edition. Martin also gave a brief oral history of the tournament, which stretches back to 1960 as its inaugural year and has always been hosted by the St. Jacobs Crokinole Club.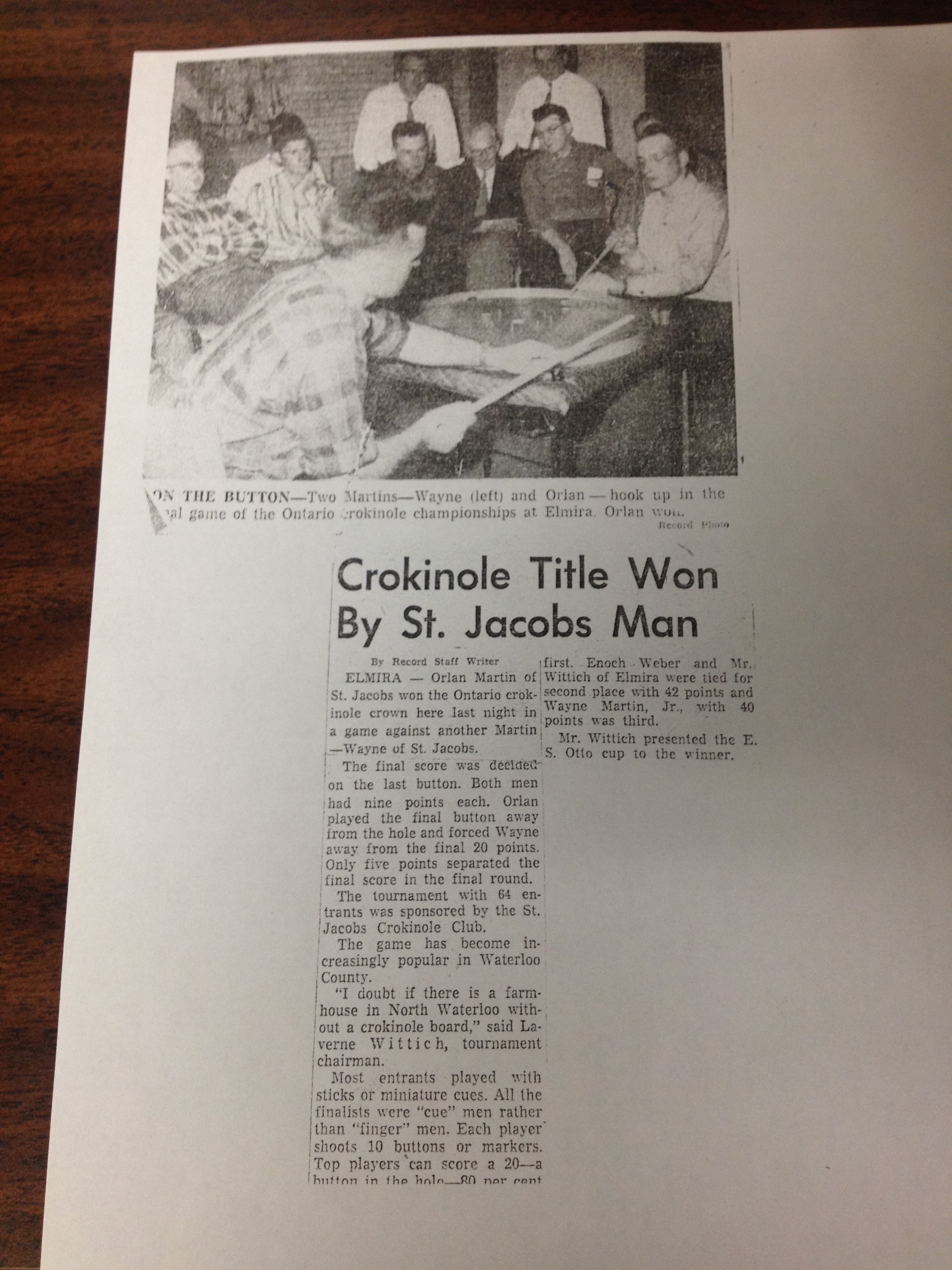 Just in case you thought CrokinoleCentre was an original idea, here's proof that there indeed was a precursor.
The 1960 tournament saw 64 entrants for the combined cues and fingers event. Following that year, the tournament went through some sporadic years of occurrence (and record keeping), and it wasn't until 1980 that the event was reborn with the vigour to be an annual staple in the crokinole calendar from 1980 until 2006. The event would then cease to exist in 2007, with little expectation of a re-birth, until the creation of the National Crokinole Association Tour in 2009, which revived the event and served as the final Tour stop in each of the 11 seasons that have followed.
The big group of competitors required the field to be split into Pools A through E for the morning and afternoon round robins. High scores in the morning went to Justin Slater (61 points in 9 games), Nathan Walsh (59 points in 9 games), Ray Beierling (64 points in 10 games), Jason Beierling (68 in 10) and Jon Conrad with a whopping 73 points. The cutoff for the afternoon A Pool ended up being 54 points in 10 games, which was scored by both Roy Campbell and Ron Langill, but the tiebreaker gave the final spot to Langill.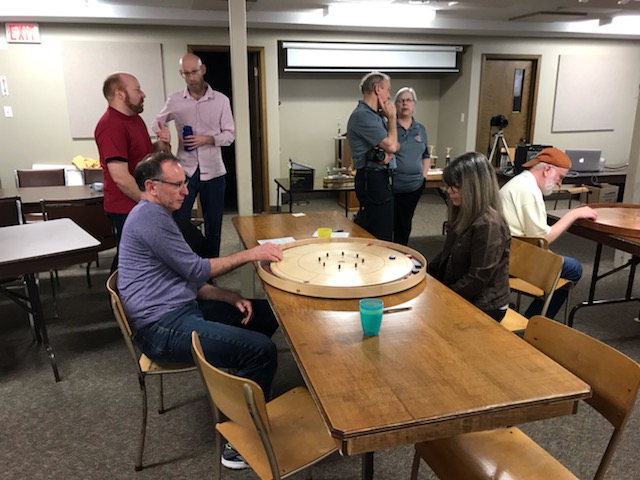 In the afternoon, the first ever E Pool in NCA history kicked off and was led handily by Cathy Kuepfer who scored around 6.5 points per game to earn 57 points in 9 games. Further away, Doreen Sulkye and Gloria Walsh finished 2nd and 3rd with 42 and 40 points respectively. Tom Walsh grabbed the final playoff spot with 37 points, just ahead of Moochie Printup and Gina Shick at 35 points. In the semifinals, the two Walshs caught fire to win their respective matchups and setup the very rare spousal playoff matchup. While there are more than a few married couples participating in NCA events, namely the Kuepfers, Campbells, Carters, Scotts, it is quite infrequent that two partners have competed against each other in a playoff battle. The E Pool final was incredibly tight, with Gloria Walsh coming away the victor by a score of 11-9.
The D Pool also saw one player dominate the round robin as Eric Miltenburg took the first seed with 59 points in 9 games. Howard Martin finished second with 45 points, while 3rd through 7th was separated by only 4 points. Wayne Bell was 3rd with 39 points and Dale Henry was 4th with 38 to round out the playoffs, just ahead of Dave Carnahan at 36 points and Maxine Whitmore and Dave McCormick at 35. It was Martin and Miltenburg who won their semifinal matches, with Martin retaining one of the titles for the home St. Jacobs Club by winning the Pool D final.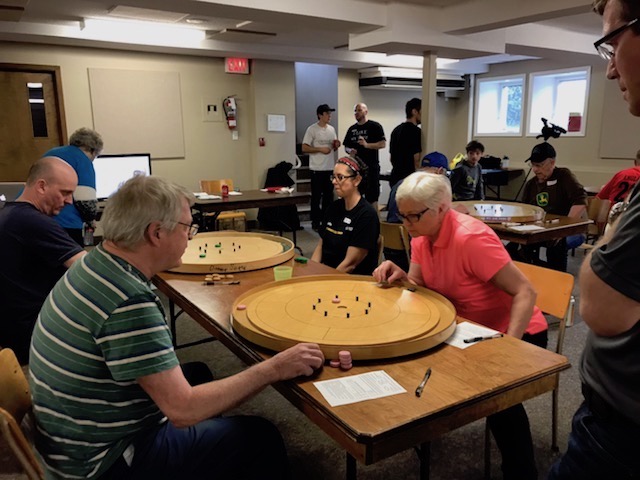 Rex Johnston and Christina Campbell led the Pool C action with 54 points each in 10 games. Darren Carr scored 48 for 3rd, while Janet Waite just edged out a playoff spot with 45 points. That left Josh Carrafiello, a name that should be familiar as he's been one of the top cues players at the World Championships in the last couple years, just missing out with 44 points for 5th place. Rex Johnston and Christina Campbell would hold true to their high seeds in the semifinals, both coming away victorious, but it was Rex Johnston who would finally emerge ahead by winning the C Pool title.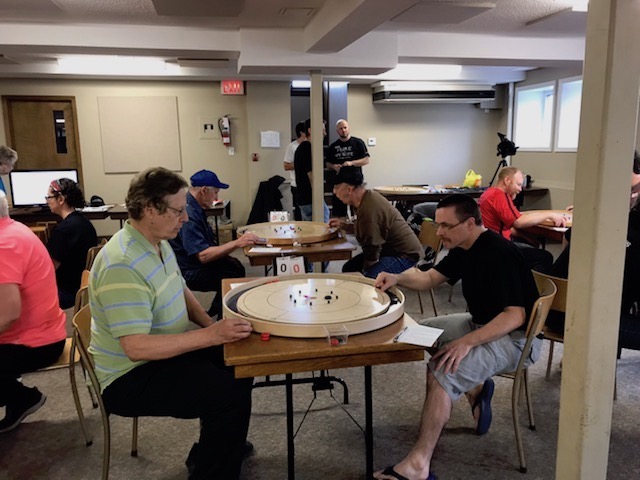 The B Pool saw a number of players who narrowly missed out on the afternoon A Pool still fighting among some terrific competition. Robert Bonnett and Fred Slater led the way with 58 and 56 points in 10 games. Roy Campbell finished 3rd at 46 points, and Peter Carter finished 4th with 42 points, beating Nolan Tracey who also scored 42, by virtue of a tiebreaker. In the semifinals, Bonnett defeated Carter in the all-Teeswater match, and Roy Campbell defeated Fred Slater. In a high quality final, Robert Bonnett took down Roy Campbell to capture the Pool B title.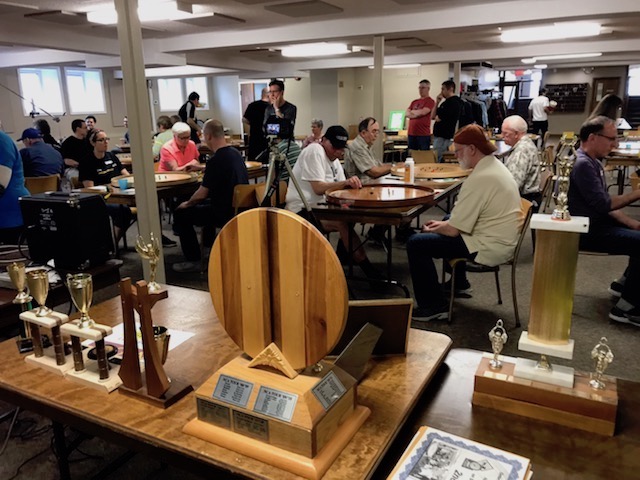 In the A Pool, the provincial title was on the line along with some players trying to score some extra NCA points to improve their season ending ranking. In what most players described as a turbulent round robin, Ray Beierling was the most steady, scoring 47 points in 10 games (along with a pool-high 126 20s) to make the playoffs. Andrew Hutchinson struggled early but found his groove to also score 47 points and earn the top seed into the playoffs. Connor Reinman finished 3rd at 43 points, and Jon Conrad finished 4th despite at pool-low 78 20s (easily living up to his defensive-expert stature). There was a shocking pileup behind with a 4-way tie for 5th place at 39 points containing Jeremy Tracey, Justin Slater, Ray Kappes, and Reid Tracey (the calculus of the tiebreaker math eventually gave Jeremy Tracey the 5th place finish).
The results of the A Pool round robin saw Justin Slater's hope of an 8th consecutive Ontario title come to a close. This simultaneously ended two streaks for Justin Slater, both of which are among the most impressive streaks of all-time in competitive crokinole. Debate on the ranking of the difficulty of these achievements can wait for another day, but surely these streaks must be recognized as the most prestigious of the modern era:
Jason and Raymond Beierling win 4 straight WCC Doubles titles (2007-2010)
Brian Cook advances to the WCC Singles final in 8 consecutive years (2004-2011)
Brian Cook wins 3 consecutive WCC Singles titles (2007-2009)
Justin Slater wins 7 consecutive singles NCA titles (2018 Hamilton to 2019 Hamilton)
Justin Slater wins 7 consecutive Ontario Singles titles (2012-2018)
The semifinals were both extraordinarily tight matches. Jon Conrad levelled his first to 9 points semifinal with Andrew Hutchinson at 7-7 after Conrad scored a critical takeout-20, and Hutchinson was cruelly handed a leaner on his final 20 attempt. Conrad then completed the match on his hammer to advance to the final with a 9-7 win. Connor Reinman and Ray Beierling were tied 8-8 and were set for overtime as the St. Jacobs event uses the Wimbledon rule that requires both players be given an equal number of rounds with the hammer advantage. Reinman won 2 points on his hammer to go ahead 10-8, and then capped off the match with a perfect round for a 12-8 victory.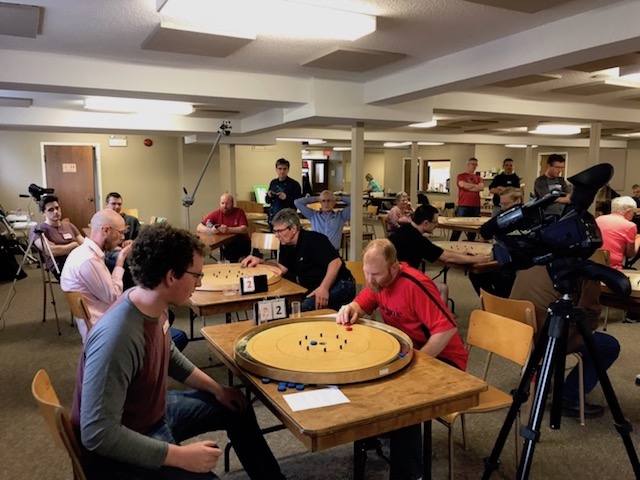 For both Conrad and Reinman, it was their 2nd finals appearance in St. Jacobs, while both were seeking their first win. Reinman had lost to Justin Slater in 2018, while Jon Conrad had lost to Brian Cook in 2011. The first to 11 points match began very steadily with the first break going to Reinman. In the 4th round with Reinman up 4-2, after 6 20s apiece he was the first to miss, but fortunately his disc sat directly in front of a peg. Conrad was unable to make the takeout and had to settle for a tie and a 5-3 Reinman lead. Both players would steal in the next 2 rounds to make the score 7-5 for Reinman as they switched sides.
After Reinman won his hammer, Conrad was facing elimination down 9-5, but he responded by going 7-for-7 on open 20s over the next 2 rounds, which was enough to tie the match at 9-9 and force a one-round-winner-take-all scenario. In the 10th round, Reinman got an early 20 edge, but needed to hold off Conrad from scoring a 20 over his final 6 shots. A terrific takeout and roll-out to the 5, as well as a nice takeout against a disc Conrad had sitting tight to a peg were the critical points of the final round as Reinman won the match 11-9 to take the 2019 Ontario Singles Crokinole Championship.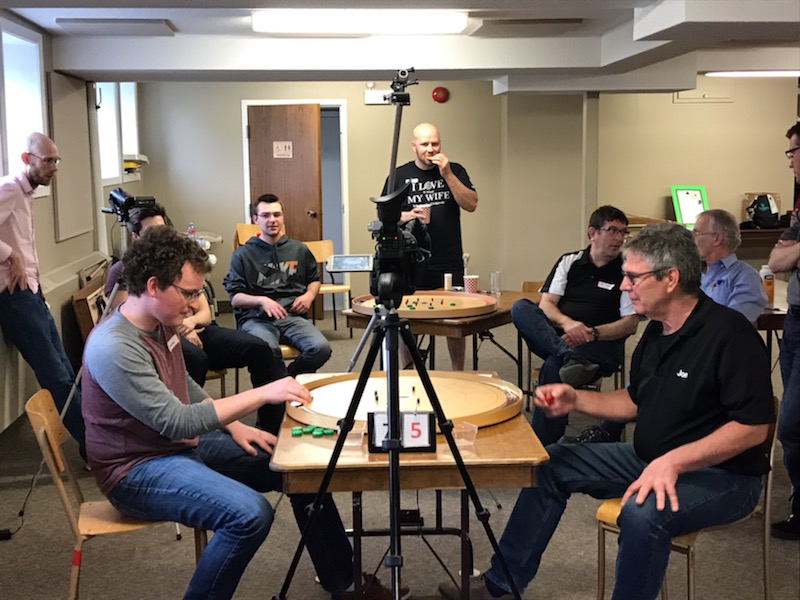 The win is Reinman's first ever singles victory, and his second NCA title after winning the Ontario Doubles title in 2017 with Nathan Walsh. Interestingly the 11-9 2019 victory for Reinman mirrors the 1960 championship score where Orlan Martin defeated Wayne Martin 11-9.
For Jon Conrad, the runner-up finish in St. Jacobs is a positive to suggest he's peaking at the right time. Not only that, the performances of both Conrad and Reinman should put some doubles teams on notice as Conrad and Reinman will be partners once again at this year's World Championships.
2018-2019 NCA Tour
As was reported after the London event, Justin Slater had already clinched the 2018-2019 NCA Tour title, taking away from some of the dramatics that can occur at the NCA Finale. All that remained in the final event was the question marks around who else would be on the NCA podium.
Roy Campbell equalled his best ever Tour finish with a 5th place at 186 points, resulting from runner-up finishes at the Turtle Island, Hamilton, and WCC doubles events, as well as a 3rd place finish at the Ontario Doubles.
Andrew Hutchinson had by far his best ever year, and was the only player to finish in the Top 5 in every event he played this season. In fact, he made the Top 4 of every event except for a 5th place finish at the WCC singles, which resulted in his first 2 NCA tournament victories. He'd finish the Tour ranked in 4th with 190 points.
Jason Beierling finished on the NCA podium for the first time with a 3rd place finish at 190 points (but the tiebreaker edge over Andrew Hutchinson), while Ray Beierling was 2nd at 192 points for his 9th Top 3 finish on the NCA Tour. The Beierling brothers greatly contributed to each others scores after sharing two doubles victories. They also both earned a runner up finish at a singles event, while the only difference in the two players rankings came as a result of Ray defeating Jason at the 3rd place game of the singles event at the World Championships.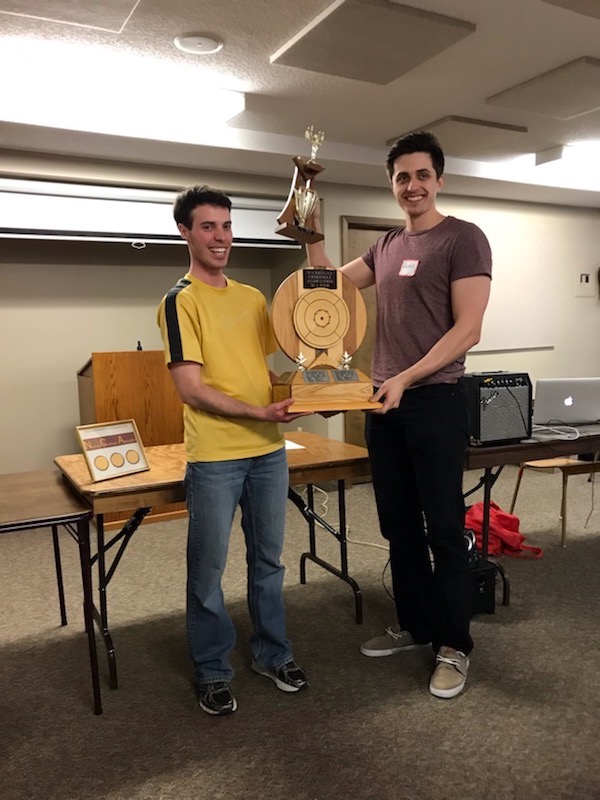 The 2018-2019 NCA title is Justin Slater's record-extending 5th Tour Championship and third consecutively. Still just 4 players have won the NCA Tour (Slater, Brian Cook, Ray Beierling and Jon Conrad). The only blemishes on Slater's results this season came from the World Championship and Ontario Doubles tournaments, and his 6th place finish in St. Jacobs. Otherwise, he earned a maximum Tour score of 200 points thanks to his 4 victories in Belleville, Turtle Island, Hamilton and at the World Championships singles events.
The 2018-2019 NCA Tour is now finished, but one more tournament remains before players break for the summer. And that event is of course the 21st edition of the World Crokinole Championships in Tavistock, which also marks the beginning of the 2019-2020 National Crokinole Association Tour.